Topic: Bruce Myers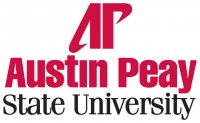 Clarksville, TN – Tucked down a hallway in the new Austin Peay State University Maynard Mathematics and Computer Science Building, there's a little-known computer lab that operates off the main campus grid. The 24 PCs that line the room have access to the internet, but they are not part of the APSU network.
"They're totally disconnected from anything on campus," Dr. Bruce Myers, chair of the APSU Department of Computer Science and Information Technology, said. "We use it to teach computer networking, but to teach that, you can't just take your typical computer in a lab and let people starting working. They're going to reconfigure things." «Read the rest of this article»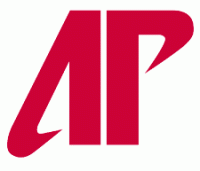 Clarksville, TN – Fifteen Austin Peay State University athletics alumni and student-athletes were scheduled to participate in Winter Commencement ceremonies, Friday, at the Dunn Center.
Dr. Bruce Myers, who was the 2013 APSU National Alumni Association Distinguished Professor Award recipient and who serves as the Faculty Athletic Representative, served as commencement speaker.
«Read the rest of this article»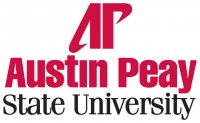 Clarksville, TN – When Keith Wilson, 51, first arrived at Austin Peay State University, George H.W. Bush was president of the United States, Johnny Carson ended his 30-year tenure as host of the Tonight Show and Barcelona hosted the Summer Olympic Games.
Much has changed since 1992, except for Wilson's status as an APSU student. A series of health problems delayed his studies over the years, causing him to sometimes drop out or take only one class a semester. «Read the rest of this article»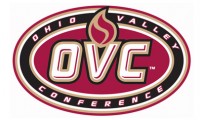 Brentwood, TN – Dr. Bruce Myers and Dr. Gail Richard have been named the inaugural winners of the Ohio Valley Conference Thurston Banks Award for Distinguished Academic Service.
The award was established to recognize an individual (e.g. academic advisor, professor, tutor, etc.), with at least five years of service at one or more OVC member institutions, for his or her outstanding contributions to OVC student-athletes' academic success, learning and development as well for his or her overall commitment to the institution's athletics program.
«Read the rest of this article»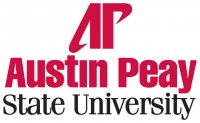 Clarksville, TN – Alpha Delta Psi, the Austin Peay State University chapter of Alpha Sigma Lambda National Honor Society for nontraditional students, held its annual induction ceremony on March 24th.
The main goal of Alpha Sigma Lambda is to recognize the special achievements of adults who accomplish academic excellence while facing competing interests of home and work.
«Read the rest of this article»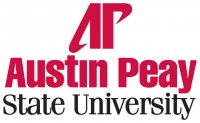 Clarksville, TN – Several faculty and staff members at Austin Peay State University share their recent professional and scholarly activities.
Chris Burawa, director of the Center of Excellence for the Creative Arts, had an article, titled "An Interview with Afaa Michael Weaver," published in the Summer 2011 edition of Contemporary Literature. The article also was written by Cynthia Hogue and Stacey Waite. Burawa also will have a poem, "Dripping Surgery," to appear in the October 2011 edition of Hayden's Ferry Review. «Read the rest of this article»

Clarksville, TN – Dr. Bruce Myers, who has served Austin Peay State University and its athletics department in multiple capacities during his 40 years at the school, was inducted into the Red Coat Society, Saturday.
The Red Coat Society serves as a Hall of Fame of service for the Governors Club, APSU's Athletics booster club. This is the eighth year for the Red Coat Society.
Dr. Myers was recognized at halftime of the Governors' 7:30pm, Saturday basketball contest with Tennessee State. A reception took place 4:00pm, in the second level Governors Club Room. He was honored with a red coat. «Read the rest of this article»

Clarksville, TN – Since the successful launch of its own iPhone app last fall, Austin Peay State University has moved toward another endeavor in mobile application development by offering a new course on programming for handhelds this spring semester, which begins January 13th.
The course, CSCI 3010 Mobile Software Development, will introduce the student to application development for small, mobile devices such as cell phones and smart phones. The class will examine topics including user interface design, application portability, Web protocols, data storage and security on platforms such as Android and iPhone. Apps will be implemented using java on Google's Android operating system. «Read the rest of this article»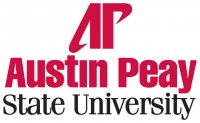 Clarksville, TN – Russell Christensen, computer science major at Austin Peay State University, won first place for his talk "Developing and Releasing an iPhone Application" at the Association for Computing Machinery (ACM) Mid-Southeast Chapter Fall Conference Student Paper Competition held recently in Gatlinburg.
His talk was among 24 presentations by undergraduate students from four-year institutions from a six-state area. His talk provided a demonstration of the APSU iPhone app, discussing the programming language used, problems encountered and solutions and the process of having an app approved by Apple. «Read the rest of this article»

Austin Peay State University launched its own iPhone app August 25th. The app is available as a free download through the iTunes Store, operated by Apple – the manufacturer of the iPhone, iPad and other Mac computer products.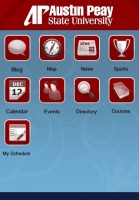 The APSU iPhone app has eight features for users:
A blog by APSU President Tim Hall.
Google map of the main campus.
APSU news.
Sports news.
Event calendar.
Faculty and staff directory.
Course catalog.
My Schedule, allowing students to see their class meetings.   
Two APSU students and an alumnus created the University's iPhone app. «Read the rest of this article»