Topic: bus routes

Montgomery County, TN – For parents who did not yet receive an email from the Clarksville-Montgomery County School System (CMCSS) regarding their children's bus route information (bus number, pickup and drop off times), that information is available on the school system's website: http://businfo.cmcss.net
«Read the rest of this article»
Clarksville, TN – Clarksville Academy will open two hours late for school tomorrow, Monday, February 23rd, 2015. School will begin at 10:00am.
Bus routes will run 2 hours later than the regular route time. «Read the rest of this article»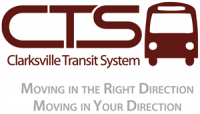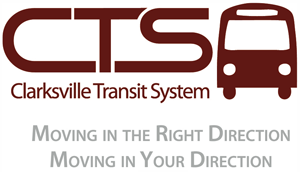 Clarksville, TN – Citizens and visitors across Clarksville are invited to ride Clarksville Transit  System (CTS) buses for free all day long Thursday, February 3rd.  For route and schedule information, go to www.ridects.com.
"The reason we're offering this free day is that public transportation throughout middle Tennessee, and especially in Clarksville, is becoming more and more important due to our community's growth and to rising gas prices. People are looking for better ways to get around town while saving money, saving time and avoiding traffic congestion," says Jimmy Smith, CTS Director. "With this free day, we're inviting all Clarksville citizens and visitors who haven't had a chance to ride the bus to do so. And this is also a great way to thank all of our current riders for their patronage.  Our buses are clean, safe and convenient, and we'll get you to where you need to go.  Besides, riding the bus is fun!" «Read the rest of this article»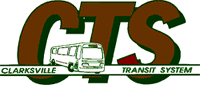 Approve an increase in bus fares, then hold a public hearing. The city's Transportation Committee has unanimously approved the new CTS rate structure. The Clarksville Transit System has now scheduled a public hearing for August 11 at 5:30 p.m. at the Clarksville Public Library, where it will explain to the public the planned fare structure and proposed route changes and take public input on those changes. Concerned CTS riders and all citizens can also respond to the increases by mail if unable to attend the hearing (legal notice and mailing address at end of story). Currently, the changes will go into effect on September 1.
As it stands, the new fare structure means cost of riding city buses could nearly double for many people who use the Clarksville Transit System. While the actual fare per ride will remain unchanged at $1.00 per ride, the 25 cent transfers will be history. That means riders who need to transfer would pay full fare for that second ride, the second half of their journey. Since it is impossible to go from the western side of town along Fort Campbell Boulevard to the mall area along Wilma Rudolph Boulevard or to Madison Street and the Sango area without a transfer, all of those passengers could see their transit costs nearly double. The elimination of transfers translates to a de facto 75 cent increase in bus fare for riders who need to utilize two buses navigate across town or into adjoining residential neighborhoods. «Read the rest of this article»