Topic: California
NASA Headquarters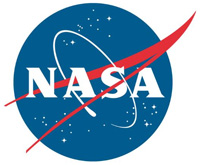 Washington, D.C. – One of the most successful and enduring feats of interplanetary exploration, NASA's Opportunity rover mission is at an end after almost 15 years exploring the surface of Mars and helping lay the groundwork for NASA's return to the Red Planet.
The Opportunity rover stopped communicating with Earth when a severe Mars-wide dust storm blanketed its location in June 2018. After more than a thousand commands to restore contact, engineers in the Space Flight Operations Facility at NASA's Jet Propulsion Laboratory (JPL) made their last attempt to revive Opportunity Tuesday, to no avail. The solar-powered rover's final communication was received June 10th.
«Read the rest of this article»
Written by Carol Rasmussen
NASA's Earth Science News Team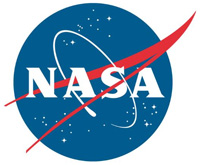 Washington, D.C. – "Stable landslide" sounds like a contradiction in terms, but there are indeed places on Earth where land has been creeping downhill slowly, stably and harmlessly for as long as a century. But stability doesn't necessarily last forever.
For the first time, researchers at NASA's Jet Propulsion Laboratory in Pasadena, California, and collaborating institutions have documented the transition of a stable, slow-moving landslide into catastrophic collapse, showing how drought and extreme rains likely destabilized the slide.
«Read the rest of this article»
Journal of the American Heart Association Report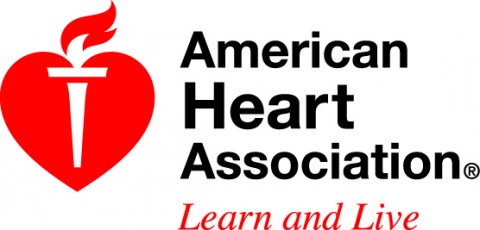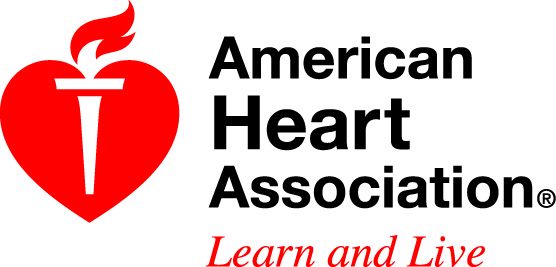 Dallas, TX – Rising temperatures stemming from global climate change may increase the number of infants born with congenital heart defects (CHD) in the United States over the next two decades and may result in as many as 7,000 additional cases over an 11 year-period in eight representative states (Arkansas, Texas, California, Iowa, North Caroline, Georgia, New York and Utah), according to new research in the Journal of the American Heart Association, the Open Access Journal of the American Heart Association/American Stroke Association.
«Read the rest of this article»
AAA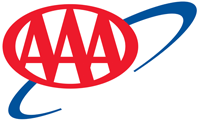 Tampa, FL – Many motorists filling up across the country are noticing gas prices that are increasing slightly. While nearly 25 states' averages increased on the week, the national average is only a penny more than a week ago at $2.26.
The fluctuating national and state gas price averages come alongside an increase in gasoline demand and reflect the higher crude oil prices as of late, but it's likely not to be a long-term trend.
«Read the rest of this article»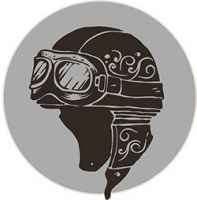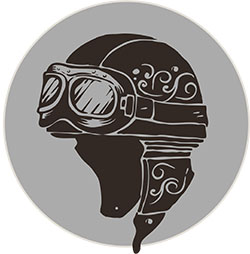 Clarksville, TN – Just flipping through the mail the other day, and lo and behold, a letter from "Black Beauty." Hmmmm, let's see what's on her mind.
"Hey there! Black Beauty here!
Thought I would drop you a line and discuss 2019 (from where I see it of course). I would have sent you an email, but I don't have a computer.
I know you're excited about the upcoming travel season so I thought I would share some observations with you since we'll be spending a lot of time together (as always).
«Read the rest of this article»
AAA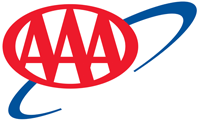 Tampa, FL – The latest Energy Information Administration (EIA) data registers gasoline demand at 8.6 million b/d for the week ending December 28th – the lowest level on record since February 2017.
Despite record motor vehicle travel for the holiday, demand was down nearly 900,000 bbl, suggesting that demand this winter could be lower than expected.
«Read the rest of this article»
AAA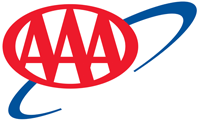 Tampa, FL – The New Year has ushered in the cheapest national gas price average in three years. To boot, at $2.25 today's national average is even one cent cheaper than on January 1st, 2019 and trends indicate that pump prices will likely remain cheap for at least the first half of the month.
Today, 29 state gas price averages are at or below the national average of $2.25 with Missouri touting the cheapest at $1.83. Hawaii ($3.34) carries the most expensive average.
«Read the rest of this article»
American Red Cross

Clarksville, TN – In a second consecutive year of record-breaking disasters, millions of people from coast to coast turned to the American Red Cross for shelter, food and comfort.
This year, massive wildfires scorched more than 8.5 million acres—in California alone, residents have suffered back-to-back years of the most destructive wildfires in state history, with the Camp Fire being the most severe.
«Read the rest of this article»
AAA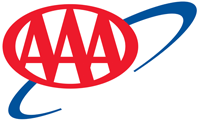 Tampa, FL – Nearly 20 percent of states are currently enjoying prices below $2.00 per gallon. Nationally, retail averages have dropped ­­­83 of the past 90 days. The national average for regular unleaded gasoline currently sits at $2.30 per gallon, which is six cents less than one week ago, 24 cents less than one month ago and 16 cents less than at the same time last year.
Heading into 2019, gasoline demand is expected to dwindle during the month of January, an expected change following the busy holiday travel season.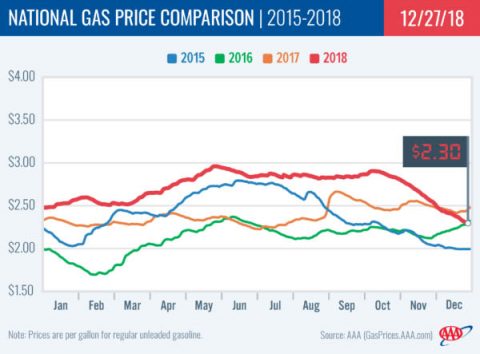 «Read the rest of this article»
AAA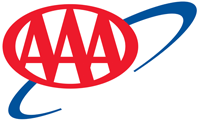 Tampa, FL – At $2.37, the national gas price average continues to drive toward the cheapest pump prices seen during the month of December since 2016, which is welcome news for the millions of Americans expected to begin holiday travel later this week.
"AAA expects 102 million Americans to drive to their holiday destination this year, which is a four percent increase year-over-year," said Jeanette Casselano, AAA spokesperson. "No doubt cheaper gas prices are fueling their decision to hit the road."
«Read the rest of this article»