Topic: Catie Summers Memorial Scholarship

Clarksville, TN – Clarksville High students Alexis M. Bynum and Austin Pitts are the first two recipients of the Catie Summers Memorial Scholarship.  Each will receive a $1,000 scholarship for their freshman year in college. Applicants have to be graduating seniors from the Clarksville-Montgomery County Public Schools who have battled cancer during their lifetime.
Recipients must have a 3.0 grade point average OR a mininum ACT score of 21 and be accept to a college or university.
«Read the rest of this article»
Application Deadline March 15th
Nashville, TN – The Community Foundation of Middle Tennessee, a charitable organization benefiting nonprofits in Middle Tennessee, announces its annual scholarship application process and invites students to apply by March 11th, 2011, at www.cfmt.org.
Whether a student is studying law, horticulture, chiropractic medicine or musical composition; planning a career in technology or dentistry; or studying at a technical school or four-year university, The Community Foundation's scholarship program offers opportunities for hundreds of students from various backgrounds and communities. «Read the rest of this article»
All too often the news is filled with negative images and information about what goes on in our city and county. Often that dark news seems to focus on our students and young adults. For the next few days I will be sending information on a group of Clarksville High School students and parents that are off on a great adventure to represent our city and county and to raise money for two causes.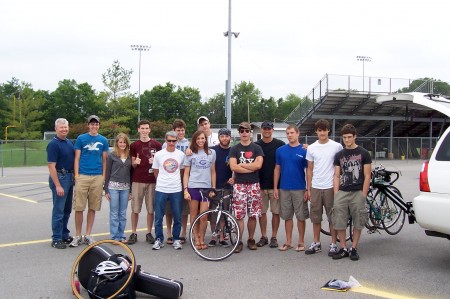 These young adults are members of the Clarksville High School H.O.P.E (Helping Other People Everyday) club. The causes they are raising money for are the Lance Armstrong Foundation and the Catie Summers Memorial Scholarship. «Read the rest of this article»