Topic: CDE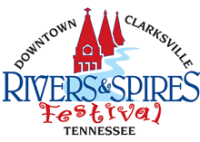 Clarksville, TN – The 13th annual Rivers and Spires Festival continued Friday evening, April 18th with thousands of people descending on downtown Clarksville. Again, the weather was perfect with temperatures in the mid 60's.
Everyone was had a good time. There were plenty of things to do like the laser tag area, face painting, the sports zone and the family fun zone. As for entertainment, the stages were jammed packed with talented artist performing.
«Read the rest of this article»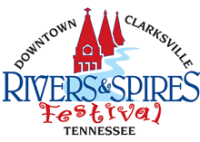 Clarksville, TN – Clarksville's Rivers and Spires Festival begins tonight, Friday, April 17th at 5:00pm. Come out and music, artistic exhibits, thrilling competitions, and vendor booths.
The Northeast High School Exit One and JV Show Choirs will start things off on the Courthouse Stage at 5:00pm. Also at 5:00pm, Khamsin will be on the Strawberry Alley Stage, Few Miles On will play on the Public Square Stage and The Art of Hula will be on the Main and Third Stage.
«Read the rest of this article»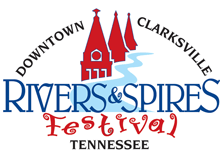 Clarksville, TN – Video game aficionados have a place to unite, unwind and show their gaming skills at this year's Rivers and Spires Festival.
For the second year, the Festival will be bringing a free, fully interactive gaming area to the underground parking garage located on Franklin Street. Gig City Gaming, presented by CDE Lightband, will feature over 50 titles and will cater to over 30,000 gamers. Tons of gaming will be available for everyone to enjoy on systems including the Xbox 360, Xbox One, Play Station 3 and Play Station 4.
«Read the rest of this article»
Clarksville, TN – As expected, the inclement weather Clarksville experienced over the last two days initially created some issues with roadways. Clarksville Mayor Kim McMillan provides this update on the City's overall response.
The Clarksville Street Department has been working around the clock to clear roadways throughout the City. Major improvements have been made on all major roads. Crews began working on the secondary and neighborhood roads yesterday and will continue that work.
«Read the rest of this article»

Clarksville, TN – EMA Director Jerry Buchanan closed the Emergency Operations Center at 10:00pm tonight. The EOC will reopen at 5:00am to monitor morning road conditions and calls for service.
From 4:00pm until 9:30pm, 49 crashes were reported to the E911 Center. Thirty-one of those crashes were inside the Clarksville city limits and eighteen were on county roads. «Read the rest of this article»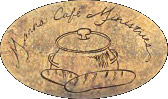 Clarksville, TN – Manna Café Ministries announces Manna Madness, a 31-day event to raise awareness about and take action against hunger in the Clarksville area. The past few weeks have caused many Montgomery County workplaces to close, and, as a result, people have less money to put food on the table.
For the entire month of March, Manna Café will be collecting food and monetary donations to ensure we have enough food on our shelves to meet the needs in our community.
«Read the rest of this article»

Clarksville, TN – The Emergency Operation Center was activated at 5:00pm to monitor weather activity and emergency responses.
Representatives from the Clarksville Police Department, Montgomery County Emergency Management Agency, Coast Guard Auxiliary, American Red Cross, Montgomery County Emergency Medical Services, and the Clarksville Department of Electricity are staffing the Center until further notice. «Read the rest of this article»

Clarksville, TN – The Clarksville Police Department reportst that on Wednesday morning, February 18th, at 9:06am, a Dodge truck was being driven by a 22 year old male traveling Southbound on Wilma Rudolph Boulevard and said he lost control when someone came into his lane of traffic and he slid on some struck the utility pole.
The truck hit the pole with enough force to knock the pole in half at the base.
«Read the rest of this article»
Clarksville, TN – Due to inclement weather and hazardous travel conditions, City of Clarksville offices will be closed on Tuesday, February 17th, 2015.
CDE, Gas and Water, Street Department and safety personnel will remain on duty and will continue to address emergency situations as they arise.
Offices are scheduled to open for regular business hours on Wednesday, February 18th, 2015.

Clarksville, TN – CDE Lightband has recently seen an increase in customer calls reporting that they have been targeted by a scammer, with local businesses being hit especially hard.
Scammers are calling CDE Lightband customers and attempting to convince them that power will be disconnected unless payment is made on the account immediately. «Read the rest of this article»