Topic: CFR
Clarksville, TN – Due to the onset of inclement weather, all City of Clarksville offices will be closing at 2:00pm today.
All essential employees will remain on duty and the Clarksville Police Department, Clarksville Fire Rescue, CDE, Clarksville Gas & Water and the Clarksville Street Department will continue to address any and all safety issues. «Read the rest of this article»
Clarksville, TN - Clarksville Fire Rescue was busy this weekend with two house fires, one that's been deemed "suspicious" by Fire Marshal Ray Williams.
Saturday, a call came in from residents at 916 Lucas Lane, reporting a fire in the kitchen.  Clarksville Fire Rescue stations #1 and #4 responded within six minutes and had the fire under control within five minutes of their arrival.  The cause of the fire was grease that had caught on fire in the kitchen.
One woman and a child escaped the house, and there were no injuries reported.  Williams estimates that there was over $25,000 worth of damage done to the home.  Willliams says these types of fires are common. «Read the rest of this article»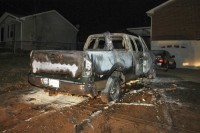 Clarksville TN – Arson is suspected in a series of vehicle fires early this morning in North Clarksville.  According to a press release from Clarksville Police Department spokesman Officer Jim Knoll, the fires occurred within a fifteen minute time frame.
Emergency responders, including Clarksville Fire Rescue, got the call at 3:00am, and had their hands full when they arrived.  Two of the fires occurred in the driveways at 1538 Cherry Tree Drive, and 1593 Boxcroft Court.  The third vehicle torched was in front of 312 Gomer Road. «Read the rest of this article»
Clarksville, TN – On Thursday December 20th, at 1:31pm, Clarksville Fire Rescue and Clarksville Police responded to a smoke alarm call at The Bluffs apartment complex located at 939 Riverside Drive.
"When units first arrived on the scene, there was no visible sign of smoke or a fire," stated Fire Marshal Ray Williams. "Upon further investigation, some smoke was seen coming out of apartment C-19."
«Read the rest of this article»
Clarksville Police and Fire Investigations are working in unison to determine the cause of a residential fire in which an 80 year old woman was found deceased inside.

Clarksville, TN – On November 5th, 2012, around 11:07pm, Emergency responders were called to the scene of a residential house fire. Emergency personnel were on scene within three minutes and the house was already engulfed in flames.
The investigation into the cause of the residential house fire in which Carolyn Hinton died was determined be accidental.
«Read the rest of this article»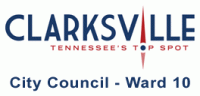 Clarksville, TN – In recent weeks I have received calls or emails concerning the Clarksville Department of Electricity (CDE). Some concerned billing while others were related to service, especially during the outages due to the storms.
This past week I had the opportunity to meet with Brian Taylor, Director of CDE, for over two hours. He was very gracious in wanting to address my questions and provide factors and details CDE faces in providing electrical service to our city. I want to publicly thank him for taking time to meet with me. «Read the rest of this article»