Topic: Chattanooga TN
Tennessee State Representative Curtis Johnson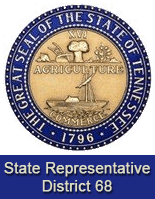 Nashville, TN – The 109th Tennessee General Assembly adjourned on April 22nd, 2016 to become a part of Tennessee history with passage of major legislation to reduce crime, cut tax burdens, spur job growth, accelerate the state's success in K-12 education, boost the number of college graduates, curb drug abuse and curtail drunk driving.
State lawmakers also passed significant legislation to ease traffic congestion, reduce child abuse, aid farmers, increase access to healthcare and medication, increase voter participation and provide a safer environment for the elderly.
Following, please find a copy of some of the highlights of this year's legislative action.
«Read the rest of this article»
Tennessee Fallen Heroes Medal Posthumously Awarded

Nashville, TN – Tennessee Governor Bill Haslam joined Tennessee Department of Veterans Services Commissioner Many-Bears Grinder and Major General Terry "Max" Haston of the Tennessee Military Department to pay tribute to seven service members killed in action to include four Marines and one Sailor killed in Chattanooga on July 16th, 2015.
«Read the rest of this article»
Written by Maj. Darrin Haas
Tennessee National Guard Joint Public Affairs Office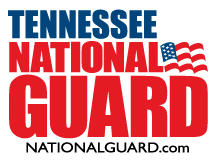 Nashville, TN – Maj. Gen. Terry "Max" Haston, Tennessee's Adjutant General, declared that the opening exercise for Tennessee Maneuvers 2016, the Guard's largest statewide disaster drill in history, was "a complete success."
From May 13th-16th, more than 600 Soldiers and 20 units from Tullahoma's 30th Troop Command completed a series of grueling disaster preparedness exercises throughout Middle Tennessee testing the Guard's ability to provide military assistance in the event of a catastrophic emergency. Soldiers worked alongside many state and local emergency agencies designed to test the abilities of all involved.
«Read the rest of this article»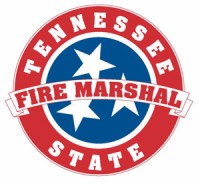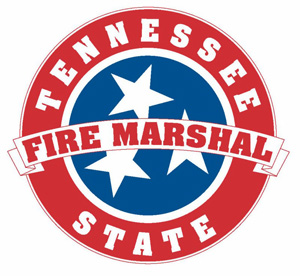 Nashville, TN – With the summer season quickly approaching, music lovers are counting down the days until the kick off of Tennessee's major outdoor festivals such as Bonnaroo in Manchester, the CMA Music Festival in Nashville, Chattanooga's Riverbend Festival and others across the state.
The Tennessee State Fire Marshal's Office reminds music fans to always incorporate safety into their plans for summer music, no matter the festival.
«Read the rest of this article»
Austin Peay Sports Information

Lexington, TN – If Saturday serves as a gauge of readiness, the Govs are all set for Nashville.
Austin Peay State University track and field's quartet of competitors at Saturday's Kentucky Relays acquitted themselves nicely with a week to go before Ohio Valley Conference Championship action.
«Read the rest of this article»
Residents Can Provide Suggestions and Comments during Nine Public Meetings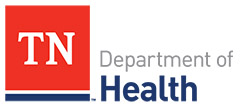 Nashville, TN – The Tennessee Department of Health has scheduled nine meetings across the state to collect input from the general public about the State Health Plan.
Each meeting will be in a workshop setting, allowing participants to provide comments and recommendations for setting health objectives for communities and to address the state's population health improvement plan. «Read the rest of this article»

Nashville, TN – On Wednesday, April 5th, the Tennessee House of Representatives unanimously approved House Bill 1407 by House Majority Leader Gerald McCormick (R-Chattanooga).
House Bill 1407 provides the opportunity for children of military parents, who die as a result of a targeted attack on Tennessee soil, to receive in-state tuition.
«Read the rest of this article»
Tennessee Representative Curtis Johnson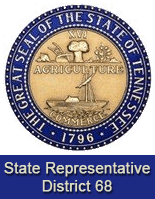 Nashville, TN – The Tennessee House of Representatives was pleased to welcome Mr. Masami Kinefuchi to attend Wednesday's session of the House and to present him with a House Joint Resolution recognizing the great contribution he has made to the economy of Tennessee.
The consul-general's job is to facilitate economic and cultural exchange between Japan and the United States. He has jurisdiction over five states—Arkansas, Kentucky, Louisiana, Mississippi, and Tennessee. In these five states, there are more than 400 Japanese companies.
In Tennessee there are over 180 Japanese-based business employing more than 46,000 individuals with the largest company being Nissan with an assembly plant in Smyrna, Tennessee. Other Japanese companies in Tennessee are Denso, Bridgestone, Calsonic, and Yorozu.
«Read the rest of this article»
Nashville, TN – The members of the Tennessee Black Caucus of State legislators are joining with the Mayors of Memphis, Knoxville and Chattanooga in opposition to HB0779/SB0749.  The bill would allow areas that have been annexed into those cities to vote on de-annexing or withdrawing from the city that annexed them.
The mayors say the bill could potentially be disastrous for the cities resulting in major population loss and torpedoing efforts to attract new businesses.
Caucus Chair Brenda Gilmore said that the majority of the Caucus represents areas that would be adversely affected by the bill and added, "The economic issues that these cities could be facing because of this legislation could be catastrophic.  The Black Caucus cannot stand idly by while these cities and some of the majority-minority communities around them face the possibility of extreme economic hardship." «Read the rest of this article»
Tennessee State Representative Curtis Johnson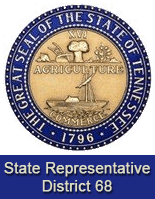 Nashville, TN – House Bill 2578 passed out of the House Government Operations Committee this week (March 1st) and is scheduled to be heard in the Finance, Ways & Means Subcommittee this next Wednesday.
Last fall, Tennessee saw a 10 percent increase in overall first-time freshman enrollment in our public higher education institutions and a nearly 25 percent increase in first-time freshman enrollment at community colleges.  The purpose of the legislation is to better align our postsecondary colleges and universities to meet the goal of graduating more Tennesseans with post-secondary certifications.
«Read the rest of this article»