Topic: Chick-fil-A
Event gave Clarksvillian's a sneak peak of what is available for  Valentine's Day

Clarksville, TN – Whiskey Fudge, Brownies covered in Chocolate Chips, Chocolate Cherry Coke Float Cake, Banana Cake drizzled with Chocolate Ganache, Chocolate Donuts, and Double Dutch Chocolate Marshmallows were just some of the unique treats enjoyed by the sell out crowd that attended A Chocolate Affair at the Wilma Rudolph Event Center on Saturday night.
Chocolate lovers were able to enjoy a large selection of sweet and savory treats while listening to music provided by the Cumberland Winds Woodwind Quintent, a Solo Harpist, and a Jazz Combo.
«Read the rest of this article»
Clarksville, TN – Local singer/songwriter and 105.1 FM radio personality Lydia Walker has just released her newest music video on YouTube, illustrating her song, "Butterfly". What better way to celebrate your latest achievement than with over 200 friends and fans?
That's exactly what happened last Monday night, November 12th, at Chick-fil-a of Madison Street in Clarksville, TN. The Chick-fil-A dining area was packed with fans and supporters of Lydia's music, who gathered to watch the premiere of the new video before it was made public online.
«Read the rest of this article»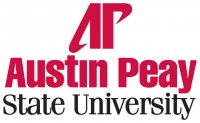 Clarksville, TN – The Austin Peay State University Center for Extended and Distant Education will hold a rebroadcast of the 12th annual Chick-fil-A Leadercast Conference from 8:00am–4:30pm, August 17th in the Morgan University Center.
The event is designed for those interested in becoming leaders in their community and for those wanting to strengthen their leadership skills to better themselves and those around them. «Read the rest of this article»
Moving company to deliver Red, White and Baby shower donations for military families July 13th
Evansville, IN – During its partnership with Birdies for the Brave® Patriots' Outpost and the Web.com Tour United Leasing Championship, Atlas Van Lines collected more than 4,000 baby items and more than $300.00 in cash donations for families at the Fort Campbell, KY, military base.
Atlas, one of the nation's leading moving companies, will deliver the Red, White and Baby collection items on Friday, July 13th. «Read the rest of this article»

Clarksville, TN – On Saturday Hilldale Baptist Church played host to third annual Unity Day celebration. The goal of Unity Day is to build a stronger community by recognizing and joining together religious, governmental and business leaders in fellowship.
Unity Day was founded by Treva Gordon, the owner and publisher of the Convenient Shopper Magazine. "I was watching an awards show on television and I was so inspired by the way they honored the pop star's and the rap artists. It was wonderful; they had the gift bags, bling bling, the limos, and everything that went with it. That was awesome!" she said to herself.
«Read the rest of this article»

Clarksville, TN – The Clarksville Area Chamber of Commerce announces upcoming events during the month of June.
On Tuesday, June 5th at 7:30am the Chamber will host a Power Breakfast at the Riverview Inn, 50 College Street. At this Power Breakfast, sponsored by the APSU College of Business, we will welcome Chick-fil-A Vice President, Training and Development, Mark Miller. «Read the rest of this article»
Clarksville Massage Therapy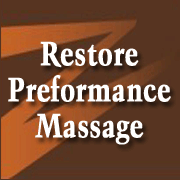 Clarksville, TN – A veteran triathlete who is now a licensed massage therapist will lead a new massage therapy practice dedicated to sports massage treatment, therapeutic, Swedish and deep tissue massage.
Restore Performance Massage, also called RPM Massage, is located inside the Clarksville Chiropractic Center building on Madison Street next to Chick-Fil-A. The new business opened Monday, May 7th.
«Read the rest of this article»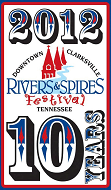 Clarksville, TN – The final day of the 2012 Rivers and Spires Festival on Saturday opened with unseasonably cooler weather to the point of being really chilly.  Warm coats, hats, and/or gloves were the order of the day.  Turnout started out slow, and might have been a little bit depressed over all from previous years as a result, but the people who did come out had a really great time!
Arriving around 11:00am, I found dribs and drabs of people mostly scattered around the various stages. As the morning progressed the numbers steadily increased. I made my way up strawberry alley and watched a vendor playing with one of the many items he had for sale. «Read the rest of this article»

Clarksville, TN – The weekly Clarksville Parks and Recreation Department Recreation Report provides Clarksvillians with a glimpse at the activities and events that are available from the Parks and Recreation Department for them to enjoy together as a family.
This weeks highlights include:
Baseball, Softball & T-ball Youth Recreation Leagues
Mayor's Youth Council Fundraiser
Registration for the 50+ Olympics is Underway
Friends of the Blueway
Jazz & Hip Hop
People's Choice
Book Signing
«Read the rest of this article»

Clarksville, TN – The City of Clarksville Parks and Recreation Department is happy to announce the winners of the Queen City Road Race Art Contest. Two finalists were selected from each of the participating elementary schools.
The overall winning artwork is featured on the official race T-shirt and event poster. Along with that honor, the top finalist has been awarded $100.00 for their art class. The top three finalists each won a Chick-fil-a party for their art class. Each finalist received a certificate and art kit which were presented at their schools.
«Read the rest of this article»