Topic: Christmas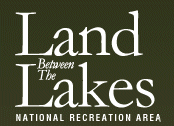 Land Between the Lakes, KY/TN – Free Christmas tree permits for Land Between The Lakes National Recreation Area will be available online at www.LandBetweenTheLakes.us/reservations/ November 27th-December 24th.
Permits, maps, and cutting guidelines may be obtained online anytime. Members of the public may also obtain a permit in person at the Administrative Office, 8:00am-3:30pm, Monday-Friday, November 30th through December 23rd.
A permit entitles a family to cut one cedar tree between November 27th and December 24th.
«Read the rest of this article»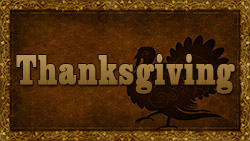 Clarksville, TN – Thanks is given often in joyful celebration and sometimes in solemn, even prayerful, ceremony. People have given thanks for many reasons throughout history.
The United States, over hundreds of years, has come to observe a national holiday for giving thanks.
It is a time to celebrate family and friends, the arrival of crisp fall weather, the turning of the leaves, football, turkey, cornbread dressing and pumpkin pie.
«Read the rest of this article»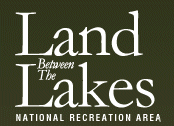 Land Between the Lakes, KY/TN – The Homeplace 1850s Farm invites members of the public to experience Christmas in 1850 on Saturday, November 28th, from 1:00pm-4:00pm at Land Between The Lakes National Recreation Area.
Adults and children alike can whisper their Christmas wishes to Santa Claus and participate in traditional Christmas activities. Homeplace admission includes Christmas in 1850 programs:  $5.00 ages 13 and up, $3.00 ages 5-12, and free ages 4 and under. All ages are welcome at this family event.
«Read the rest of this article»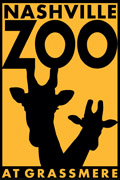 Nashville, TN – Join Nashville Zoo for a traditional Victorian Christmas tour at The Grassmere Historic Home. Yuletide tours will be held the first three weekends in December (December 5th, 6th, 12th, 13th, 19th and 20th) and are included with Zoo admission.
The home is decked for the holiday season with greenery, ribbon and vintage decorations that had been collected over the years by Margaret and Elise Croft, the former tenants of the Grassmere property whose family owned the land and home for five generations.
«Read the rest of this article»

Clarksville, TN – The Cumberland Bank & Trust Winter Baroque concert will be presented by The Gateway Chamber Orchestra at the Madison Street United Methodist Church, December 6th, 2015 at 3:00pm.
Gateway Chamber Orchestra's holiday concert tradition features Charpentier's inspirational Mass based on traditional French Christmas carols (Noels).
«Read the rest of this article»
Written by Alan Buis
NASA's Jet Propulsion Laboratory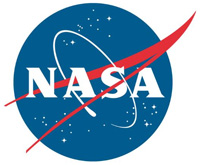 Pasadena, CA – El Niño: An unusually warm pool of water off the west coast of South America, usually arriving around Christmas time, linked with complex, large-scale interactions between the atmosphere and ocean in the Pacific.
If you live anywhere El Niño has important impacts, you've heard forecasters say this year's event looks just like the monster El Niño of 1997-98. NASA satellite images of the Pacific Ocean in November 1997 and November 2015 show almost identical, large pools of warm water in the eastern equatorial Pacific.
«Read the rest of this article»

Nashville, TN – Are you looking for a way to generate some holiday spirit that doesn't involve a mall? Between now and Christmas, there's no better place for an outing than a nearby Christmas tree farm. Even if you already have your tree, tree farms offer all sorts of options from wagon rides and hot chocolate to wreath-making classes and visits from Santa.
Natural trees from local tree farms are completely renewable, recyclable, 100 percent biodegradable and are close to home, leaving a negligible carbon footprint.
«Read the rest of this article»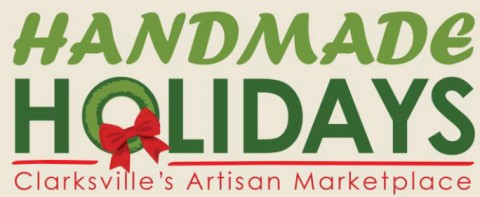 Clarksville, TN – On Saturday, November 14th, Clarksville Parks and Recreation held their 4th annual Handmade Holidays event from 9:00am until 4:00pm at the Wilma Rudolph Event Center at Liberty Park. The event continues tomorrow, Sunday, November 15th, from 12:00pm until 4:00pm.
Handmade Holidays opened to a large crowd of shoppers all looking for that special gift for Christmas as well as decorations for the holidays.
«Read the rest of this article»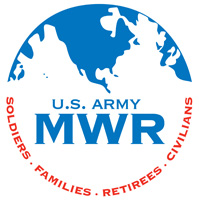 Fort Campbell, KY – Let us do all the work for you so you can enjoy your time with Family and friends!
For Thanksgiving, the Smokehaus at the Sportsman's Lodge is offering a feast for six that includes a 10-12 pound smoked turkey, 24 ounces of mashed potatoes, 24 ounces of green beans, 24 ounces of cornbread dressing, 24 ounces of gravy, 16 ounces of cranberry relish and 12 dinner rolls.
The menu is the same for Christmas but you get to choose between the smoked turkey or 4 pounds of sliced smoked ham.  You can also pick and choose your items and order ala carte.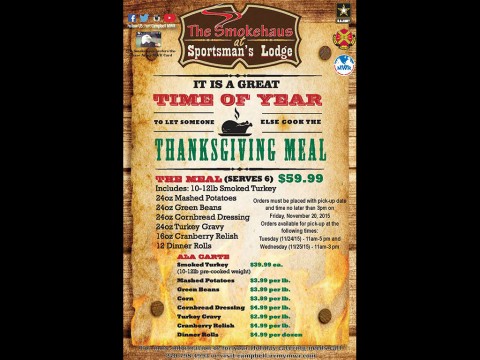 «Read the rest of this article»
Gas prices fell 74 cents from November – December 2014; will that happen again this year?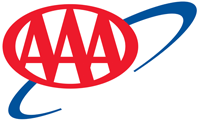 Tampa, FL – The price of gasoline tumbled lower last week as it continues to adjust to increased supplies and low oil prices. The average price of gasoline was $2.19 on Sunday, a 2 cent decline from last week.
"Prices should remain low through the holiday season," said Mark Jenkins, spokesman, AAA – The Auto Club Group. "The national average could dip well below $2.00 a gallon by Christmas as long as oil prices remain low and there are no interruptions in gasoline supply."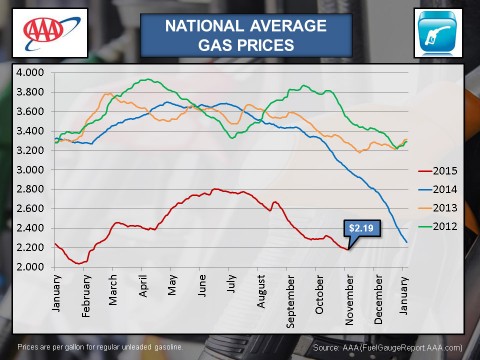 «Read the rest of this article»