Topic: City Council Ward 10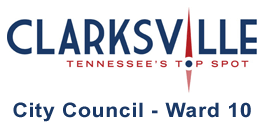 Clarksville, TN – The Clarksville city council met in the usual first of the month regular voting session on Thursday evening. The light agenda resulted in one of the shorter sessions lasting about 35 minutes.
There were a couple of items of note and I have listed another item of interest not connected to the session. «Read the rest of this article»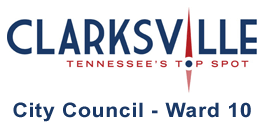 Clarksville, TN – My family and I want to wish each of you a very safe and Happy Thanksgiving!
Please remember that many families will sit down to a Thanksgiving table that may have an empty chair due to a loved one keeping watch over our nation's security or overseas in active combat zones.
«Read the rest of this article»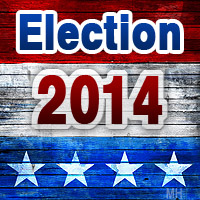 Clarksville, TN – Bill Summers formally announced his candidacy for Mayor of Clarksville Monday evening on the stage of the auditorium in the Customs House Museum.
"Tonight, I am officially announcing to you and all of Clarksville that I am a candidate for the Office of Mayor for the City of Clarksville," Summers announced.
It was the introduction to a speech outlining the aspects of leadership he will bring to the position of Mayor as well as a synopsis of the major issues he will address.
«Read the rest of this article»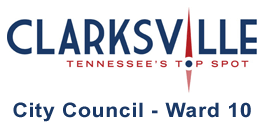 Clarksville, TN – Clarksville City Council representative Kaye Jones and Bill Summers will be host a joint Ward 10 and Ward 11 Town Hall meeting on Wednesday, November 6th, 2013 at 6:30pm.
The location will be the Clarksville Gas & Water Building located at the corner of Madison Street and Richview Drive.  They will go over several topics to include the new proposed rezoning code called R-6. «Read the rest of this article»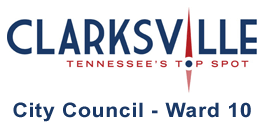 Clarksville, TN – The Clarksville City Council met in a quickie session Thursday afternoon to fill the vacant city councilman position of Ward 1. Councilman Burkhart was absent.  The two citizens requesting to fill the position were Mr. John Leckrone and Mr. Michael McNeill.
Mr. McNeill received all of the votes of the council members.  Congrats to Mr. McNeill and our thanks to Mr. Leckrone for his interest to serve his ward.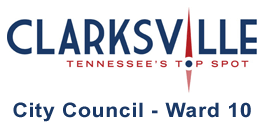 Clarksville, TN – Here are some additional items that the Clarksville City Council looked at during the work on the 2014 budget.
Clarksville Flood/Hazard Mitigation Program – Clarksville has homes that, for various reasons, are in drainage corridors, newly defined floodways or are low-level properties that due to development (or other factors) are now flooding. «Read the rest of this article»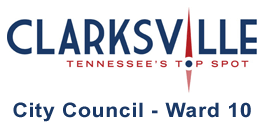 Clarksville, TN – This report has two sections. The first highlights the regular July council session that was moved up to tonight since Thursday (the usual date) is the 4th of July. Council members Steward and Lewis were absent. The second part covers budget items.
Regular Session Report – It was a light agenda with the one major topic being the approval of five individuals to the city's new Ethics Commission. «Read the rest of this article»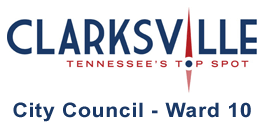 Clarksville, TN – I don't know if there is a Guinness Book record for long council meetings, but I believe we would qualify after Thursday's regular session. The meeting started at 6:55om Thursday and ended about 2:20am Friday morning.
Things started mild enough, then got feisty and progressed downhill to the point that at the end of the meeting Councilman James Lewis stormed over to Councilman David Allen as they were leaving and said he would see him outside. Police were requested to go outside to ensure the situation did not turn into a knock down and drag out affair.
So basically, it was a regular night at the Clarksville City Council. «Read the rest of this article»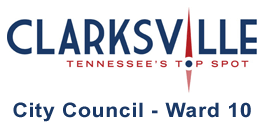 Clarksville, TN – I want to thank all the folks that were able to join Kaye Jones and myself in a joint Ward 10 and Ward 11 community meeting this past Monday, June 3rd. A surprise attendee was Councilman Marc Harris, Ward 6, and we were glad to have him visit.
In order to bring everyone up to speed, I'll cover the major surprise item I had for citizens.
«Read the rest of this article»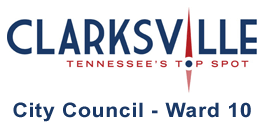 Clarksville, TN – On Monday June 3rd, 2013 at 6:30pm, I will hold a joint community/ward meeting at the Gas and Water building located at the corner of Richview Drive and Madison Street with Councilwoman Kaye Jones of Ward 11.
We will meet in the large conference room that is located in the hallway behind the main entrance (where all the glass doors are) of the Gas and Water building. We will be there to guide you as needed. Please be on time as we usually lock the entrance doors after the meeting starts to ensure building security. «Read the rest of this article»