Topic: Civil Liberties
Youth In Action: Know Your Rights, Make Some Change is the topic of the American Civil Liberties Union of Tennessee's fourth-annual Students' Rights Conference, which will take place Saturday, March 8, at the Nashville Public Library's Main Branch at 615 Church Street. This event, designed for Tennessee's public and private high school students, runs from 10 am – 4 pm with registration at 9:30 am.
The conference will focus on young people's rights, both in school and in the community. Topics include freedom of speech and expression, discipline, dress code, youth violence, LGBT rights, and drug testing. Special sessions will focus on what to do when stopped by the police and Activism 101 (the tools needed for making change), Freedom of Expression (including student rights related to speech, press, dress, and the Internet), and Street Law (including student rights and responsibilities related to police and the courts, racial profiling and police/community relations). «Read the rest of this article»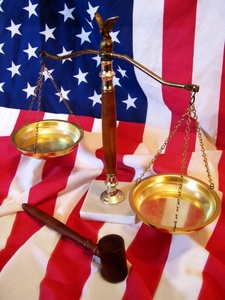 We read in the local media daily about the plight of citizens across America. Headlines, featuring epitaphs that describe the demise of democracy as it was known in the past. Delivering detail accounts of stories that further diminish the level of security that we have grown accustomed to. Yet, our elected officials seem to have grown callous to the accounts, choosing to ignore the information, focusing their attention on lesser issues.
The question rings aloud, "when will they hear"? How can they not see the erosion of our safety net, and why are we sitting idly by allowing our elected representatives go unaccountable?
Each representative is responsible for making sound and timely decisions on issues that are plaguing the survivability of our city, county, state, and nation. As responsible citizens we're supposed to be the trumpets that sound the alarms signaling them to take actions.
Are we doing our forefathers justices by allowing these infractions of justice to continue unabated? Should we not be addressing these issues through the proper channels, reminding those in leadership positions that we will not permit their turning deaf ears to our uproar? «Read the rest of this article»
In the waning days of this administration's tenure, President Bush's lack of interest in opinions contrary to his own is as striking as ever.  Most recently in New Mexico, a group of peaceful demonstrators was removed from the president's sight, continuing the administration's long-held tradition that dissenters should be neither seen nor heard.  Sound undemocratic? Indeed.
Last August, President Bush attended an exclusive, high-priced fundraiser for New Mexico Senator Pete Domenici.  Local activists opposed to the president's policies were, of course, not invited.  To let the president know that not everyone agreed with him, they planned to stand along his motorcade route holding up signs expressing their views, especially their opposition to the war in Iraq.
The peaceful demonstrators' attempt at free speech was quickly squashed when police officers forced them to stay at least 150 yards away from the motorcade route, walling them off by placing numerous police cars and officers on horseback between the protesters and the president.  Meanwhile, a group of Bush supporters was allowed to stand right along the motorcade route, where their "God Bless George Bush!  We pray for you!" sign was in plain view of both Bush and the journalists accompanying him. «Read the rest of this article»

Verdicts are in on the two day mock trial, U.S. vs. Bush. Bush was found guilty on the charges relating to illegal and unauthorized domestic surveillance and wiretapping of American citizens and violating the Separation of Powers and FISA by ordering a secret Executive Order authorizing such action.
Bush was acquitted on the other charges though the presidential signings would have been a guilty verdict if not for a prosecutorial procedural error in not providing verification of a signing statement entered as evidence.
The Prosecutors, from left: Michael Price, Michael Hughey and helper Karl Lukis
The trial took place over two days, in two-hour sessions, not a lot of time to present evidence. Time constraints limited the number of witnesses and the presentation of evidence for both prosecutors and defense teams, and resulted in the guilty finding on one of the four counts. Given the apparent ease with which, in just four hours, this student panel managed to convict the President on one of four counts, it would be interesting to see what a week's worth of trial would produce. As it stands, the APSU prosecution team scored a major victory for civil liberties. «Read the rest of this article»
The Clarksville screening of UnCounted, a film targeting issues in electronic voting, drew fifty people to the Unitarian Universalist Fellowship Friday evening, filling the screening room to capacity for this special event. The film's producer, Patricia Earnhardt, and activist Bernie Ellis, addressed the group and fielded questions about the film and the increasing controversy over the accuracy and security of electronic voting machines.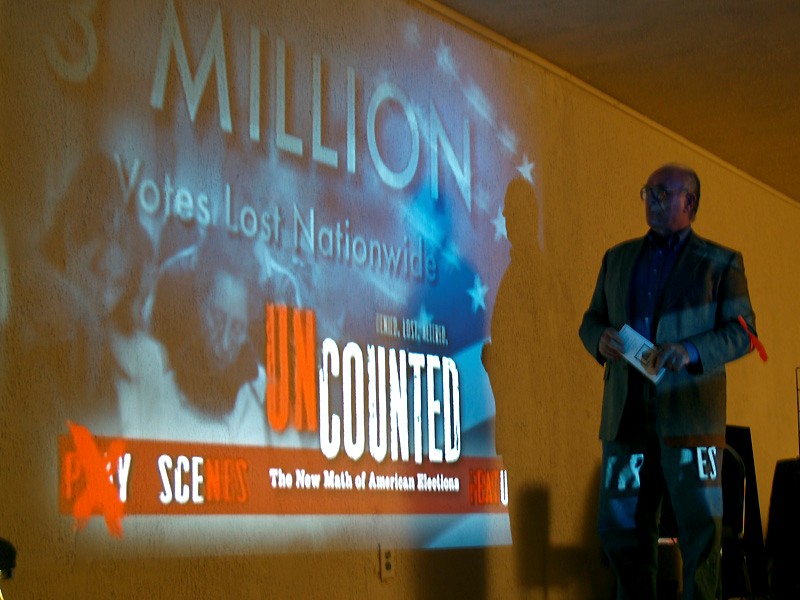 Bernie Ellis introduces "UnCounted"
Producers describe UnCounted as "an explosive documentary that shows how the election fraud that changed the outcome of the 2004 election led to even greater fraud in 2006 — and now looms as an unbridled threat to the outcome of the 2008 election. This controversial film examines…how easy it is to change election outcomes and undermine election integrity…" «Read the rest of this article»
The Clarksville premiere screening of UnCounted the Movie will be held tonight at the Unitarian Universalist Fellowship on Highway 41A South at 7 p.m. Admission is free. The film, written and directed by Nashville filmmaker David Earnhardt, addresses the issues surrounding electronic voting and calls for a paper trail documenting all electronic voting.
Activist Bernie Ellis, who is featured in this film, will facilitate a panel discussion on electronic voting following the film.
Earnhardt was also originally scheduled to attend this session and field questions, but a traffic accident on Thursday that injured family members precludes his attending this event.
The program is sponsored by the Unitarian Universalists, the Freethinkers for Peace and Civil Liberties, and Clarksville Online. Refreshments will be served and the public is welcomed to the first public showing in Clarksville of this important film.
While America Sleeps is "an occasional column" and commentary on the state of Civil Liberties in America.
While America sleeps in the illusion of freedoms guaranteed by the Bill of Rights and the United States Constitution, America's gatekeepers (in the form of the the FBI, CIA, Homeland Security, Oval Office and even our Congress, all of whom have failed miserably at controlling illegal immigration in the USA) are hard at work finding new, creative, under-the-radar ways to press down ever harder that growing thumb of "security" on the average American citizen.

Too many Americans, asleep at the wheel in their sheltered cocoons of ambivalence, inattentiveness and a faulty assumption that government is always working in their best interest, keep hitting that snooze button as, one by one, their rights are revoked and their private lives invaded by bureaucratic snooping.
Wake up, America. Time to smell the coffee. It's getting bitter.
As I browsed the web these past few weeks, cruising for news that comes from anywhere, everywhere but Fox and its growing ilk, or corporately directed newscasts, I've stumbled across quite a few interesting but troubling stories.
The first story that jumps to mind concerns travel beyond U.S. borders, and the apparent governmental monitoring of all the things we bring aboard a plane: the titles of the book(s) we carry, the kinds of medications we pack, our destinations and frequency of travel, who we travel with and how often we share the same flights (we don't have to be seat mates, just on the same flights). Snoopy. Spooky. «Read the rest of this article»
"Democracy abhors undue secrecy … an unlimited government warrant to conceal… has no place in our open society… – US District Judge Victor Marrero
At least one part of the revised USA Patriot Act of 2001 has fallen under a federal judge's gavel in a ruling that requires a court approval before investigators can order internet providers to turn over customer records. The ruling is another blow to already beleaguered Bush administration and its anti-terrorist policies.
The USA Patriot Act of 2001 (revised in 2005) is a perpetually controversial package of anti-terrorist legislation that has been sharply criticized for its apparent violations of basic constitutional rights and civil liberties.
In a 120-page ruling, US District Judge Victor Marrero supported the American Civil Liberties Union contention that the government's ability to demand records and use administrative subpoenas known as security letters without warrants or judicial review was a violation of free speech and individual rights. The letters under protest include a gag order that also prohibited businesses from disclosing that such demands were even made. Marrero said the law "substantially deters any judicial challenge." «Read the rest of this article»
CO Author Debbie Boen, founder of FreeThinkers for Peace and Civil Liberties in Clarksville, comments on Rep. Blackburn's August newsletter

Representative Marsha Blackburn (R-TN) says in her August newsletter that "the liberal majority of Congress will not deliver these promised goals: curb government spending, secure our nation's borders, and institute the most ethical Congress in U.S. history."
Congresswoman Blackburn is right to blow the whistle on these urgent matters!
We desperately need to curb government spending.  Our government charges the taxpaying citizens of the United States a daily fee of $200 million dollars to support the invasion and occupation of Iraq, while corporations such as Halliburton are getting rich off both the war, oil production and the average American.
We need to secure our nation's borders!  It's not just a matter of illegal immigration, or the threat that can sail through porous ports and land in our airports nationwide.

We need to stop corporations from outsourcing their work to sweat shops in other countries. Wal-Mart alone is putting all of its potential competitors and smaller local companies out of business by offering the lowest prices while paying its employees poverty level wages with no benefits.
We need to elect and install the most ethical Congress in U.S. history.  All those elected and appointed folks who do not follow, uphold and defend the Constitution of the United States of America need to go. It's our job to vote them out of office. «Read the rest of this article»

Last night Tennessee became the 16th state to pass a resolution opposing implementation of the REAL ID act. The American Civil Liberties Union of Tennessee played a major role in making this happen. We had strong bi-partisan support which helped to ensure a unanimous vote in both the Senate and House.
If implemented, this federal legislation would have violated the rights and liberties of Tennesseans as guaranteed under the state and federal constitutions.
«Read the rest of this article»