Topic: Clarksville City Finance Department

Clarksville, TN – Clarksville Mayor Kim McMillan congratulates four individuals from the City of Clarksville's Finance Department who have recently received certification as Certified Municipal Finance Officers from the Municipal Technical Advisory Service, a program of the University of Tennessee.
Interim Director Debbie Frazier, Jean Adcock, Regina Hampton and Wanda Morrison will graduate on February 22nd, 2013 in a ceremony to be held at the War Memorial Auditorium in Nashville. «Read the rest of this article»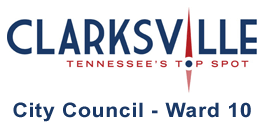 Clarksville, TN – As I start this second report on the final Clarksville City Council meeting/result of the FY 2013 budget, you need to know that I sponsored an amendment to reduce it.  At first, I recommended a $2 million cut of the total spending request.  This would have lowered proposed expenditures to $79 million for FY 2013.
This would still represent a spending increase of $1.5 million over the initial projected budget of $77.5 million for FY 2012. Due to the $2.3 million that was eventually cut from the FY 2012 budget, actual spending was $75.2 million. Thus, true spending growth from FY 2012 to FY 2013 could have been $3.8 million ($79 mil-$75.2 mil) or 5%. «Read the rest of this article»