Topic: Clarksville Freethinkers for Peace and Civil Liberties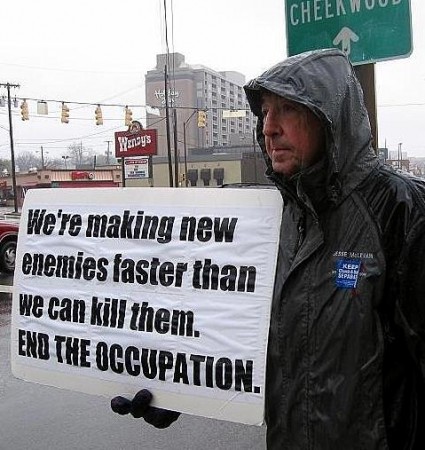 Despite heavy rains, the Nashville Peace Coalition held a planned Peace street  rally at Centennial Park in Nashville today, just days before the anniversary (March 19) of the Iraq War.
The Nashville Peace Coalition has called  for peace in Afghanistan and Iraq on the sixth anniversary of the occupation of Iraq; the street protest went on as planned but rain washed out plans for an accompanying concert and speaker program that was to have from noon to 4 p.m.
"Now is the Time for Peace" was intended as an appeal to President Obama and the Democratic House and Senate to withdraw all troops from Iraq including non-combat troops and reverse the recently announced troop surge in Afghanistan.  «Read the rest of this article»

Protest George Bush's visit to Nashville!
Dear NPJC (Nashville Peace and Justice Coalition) Community,
President George W. Bush is coming to Nashville as an appearance for GOP Senatorial candidate Bob Corker. This $2,100-per-person fundraiser at the Leows Vanderbilt Plaza Hotel will be held on August 30th. The honorary chairs for the event are Senate Majority leader Bill Frist, Sen. Lamar Alexander, and former Senators Howard Baker, Fred, Thompson, and Bill Brock. «Read the rest of this article»