Topic: Clarksville High School
Clarksville, TN – After falling behind early Clarksville High School's football team scored 17 straight points, Friday night, September 19th at Hilda J. Richardson Athletic Field, then held on to defeat Northeast High School in a District 10-AAA matchup, 17-12.
With the win, Clarksville High (2-3. 1-1 District 10-AAA) ends a three-game losing streak after opening the season with a win at Goodpasture High School, while Northeast High School dropped its fifth game in a row and falling to 0-2 in District 10-AAA play.
«Read the rest of this article»
Clarksville, TN – Clarksville High School's volleyball team strengthened its hold on second place in the District 10-AAA standings, September 18th, with a 3-1 victory over Rossview High School, by scores of 18-25, 25-23, 25-16 and 25-22.
But it didn't look it would go that way early-on for Clarksville High (12-3, 9-2 District 10-AAA), with Rossview jumping out to a 13-3 advantage in Game 1 and were never really challenged in getting out to a 1-0 advantage.
"Our goal tonight was to come out as the team we know we can be because we didn't play well against Henry County High School earlier in the week," Rossview coach Krystal Weber said. "We came out and knew what our game plan was and knew what to expect from Clarksville High.
«Read the rest of this article»
Clarksville, TN – Scoring two goals in the first three minutes, September 16th at Hilda J. Richardson Athletic Field, Clarksville High School's girls soccer team was never threaten in their District 10-AAA match versus Henry County High School in dispatching the Lady Patriots 8-0.
Fans hadn't even settled into their seats when Clarksville High (10-0-3, 4-0-0 District 10-AAA) got onto the board with their first goal, as just 49 seconds into the match. Salera Jordan put in a rebound of a shot by Ella Baggett for the quick 1-0 lead.
«Read the rest of this article»
Clarksville, TN – It was déjà vu all over again, September 15th at Swan Lake Golf Course, with the Rossview High School's girls golf team and Clarksville High's boys golf team repeating as the District 10-AAA tournament title winners.
The Lady Hawks would edge the Clarksville High Lady Wildcats by three shots (149-152) to not only win the tournament title, but remain undefeated on the season.
"I was having to be a scorer on another hole, so I wasn't with my girls and I was really stressing out," Rossview head coach Phil Burkhart said. "I didn't exactly know we stood, but I heard it was pretty much even, but we had a stroke or two more lead than I thought.
«Read the rest of this article»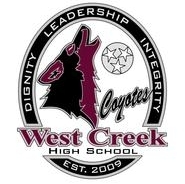 Clarksville, TN – West Creek High School's volleyball team battled its way into the championship game of the Gold Division, at the Coyotes Clash September 6th, but slow starts against Battle Ground Academy proved to be their undoing in falling to the Wildcats in straight games, 25-22 and 25-17.
The Lady Coyotes (19-3) had earned a spot the finals by defeating Hillwood High School and Jackson South Side High School in the single-elimination part of the Clash, after earning the second seed out of Pool A.
But the Lady Coyotes fell behind right out of the gates in Game 1 versus Battle Ground Academy (10-4), as the Wildcats scored eight of the first 11 points to hold an early 8-3 advantage. «Read the rest of this article»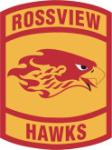 Clarksville, TN – Scoring touchdowns on five of its six first-half possessions, September 5th, Rossview High School not only picked up its first win of the season; but also retained the Warfield Shield with a 48-3 District 10-AAA victory over Clarksville High School.
It wouldn't take long for the Hawks (1-2, 1-0 District 10-AAA) to start their night's scoring, as they took their opening possession right down the field, 80 yards on six plays, with Isaiah Johnson going in from five yards out to put Rossview up 6-0 just 1:44 into the game – after the extra-point attempt was no good after hitting the upright.
«Read the rest of this article»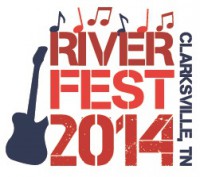 Clarksville, TN – The opening day of Riverfest was summed up in one word, hot! I was sweating from the moment I arrived at 5:00pm, until I left at 11:00pm. A chance of rain had been forecast but thankfully did not appear, or it would've made it even more humid.
Crowds begin trickling in shortly before the 5:00pm opening, and things picked up steadily through the evening. Turnout was lower than expected but that was likely due to people avoiding the heat, and the forecast showers.
«Read the rest of this article»
Clarksville, TN – After hundreds of artists had their works of art on display at two locations in downtown Clarksville, then judged by artist Mary Addison Hackett, winners were awarded at Clarksville Riverfest's Tour d'Art Receptions held Thursday, September 4th and Friday, September 5th, 2014.
Over $2,500 in prizes were awarded.
The competition included five categories: Photography & Digital Images, Sculpture, Painting, Mixed Media/Collage, and Drawing. Monetary awards are given to first through third place in each category (for each division) and a Best of Show Award.
«Read the rest of this article»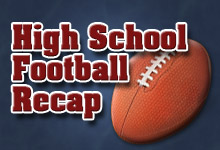 Clarksville, TN – Pristine uniforms, pads and footballs are now grass-stained, dented and scuffed because the high school football season is underway.
With two weeks of play done, parents and fans are beginning to get an idea of their teams strengths and weaknesses. While some are excited by their team's proficiency so far, others are hoping they have yet to see the best of what their team has to offer.
«Read the rest of this article»
Clarksville, TN – Clarksville High School's football team only trailed Ravenwood High School by six points at halftime, August 29th at Hilda J. Richardson Athletic Field, but couldn't get anything going after intermission in a 41-7 loss to the Raptors.
The Wildcats (1-1) looked like they had the momentum heading into the second half, despite trailing 13-7, after holding Ravenwood to no points from inside its own 10-yard line in the final seconds of the opening half.
But the Raptors (2-0) held the Wildcats to a three-and-out on its first possession of the second half, while taking its first of the third quarter into the end zone to go up two scores and they never looked back.
«Read the rest of this article»