Topic: Clarksville Jaycees Foundation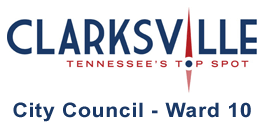 Clarksville, TN – We have had some issues within the ward with crime, speeding, and traffic. The Rudolph Town neighborhood has had some vehicle break-ins a couple of weeks ago. In response to citizen concerns, I asked our Clarksville police precinct to run any extra patrols possible through the neighborhood.
As a reminder during this holiday season, whether at home or out shopping, do not leave valuable items in sight within your vehicle and lock it up when it is parked. Also, for goodness sake do not leave a vehicle running while you pop into the "quickie mart" for that loaf of bread or milk. «Read the rest of this article»

Clarksville, TN – The Customs House Museum and Cultural Center is proud to announce that Heritage Hall, the museum's main exhibit gallery in the 1898 Customs House building will be named in honor of the Clarksville Jaycees Foundation.
«Read the rest of this article»