Topic: classic cars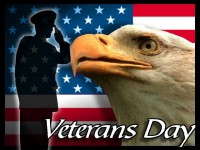 Clarksville, TN – When I woke up this morning, I had forgotten that the Veteran's Day parade was being held today. You see, I teach beginning digital photography for the Community School of the Arts (CSA) on Saturday mornings, and as I was nearing Austin Peay, I saw that 8th Street and College Streets were blocked and still didn't realize what was going on. I had to detour to get to my class and so did all of my students.
When we got to the classroom we discussed the parade and what a fabulous learning experience it would be for the class. Everyone grabbed their cameras and to the parade we went. All we had to do was walk outside the classroom and we were at the parade with a perfect spot to watch.
«Read the rest of this article»

Restoring a rusted 1959 Pontiac Catalina may be a daunting task but perhaps not as challenging as helping at-risk teens better their lives.
However, empowering these teens to perform a full restoration of the '59 Catalina is the mission of Project 59, an initiative led by Mitch Rollins, an adjunct faculty member in the APSU Department of Psychology.
Rollins also is the owner of Maaco, a collision repair center in Clarksville, which partners with the Clarksville Police Department in a program called Operation Turnaround. Project 59 is a component of the program, with 24 at-risk teens participating.
«Read the rest of this article»
Sections:
News
|
Comments Off

on APSU, Maaco, & Operation Turnaround helps teens turn their lives around with Project 59
At the "World's Biggest Fish Fry," they know catfish and they do it proud!
The annual West Tennessee festival is a three-day celebration that draws from all points West of Dover. Pageant winners, from the cradle and petite, to the more traditional teens and young ladies, civic groups, marching bands, medical care entities and agricultural assets all participate in this annual bellringer of West Tennessee's Spring and Summer festival season.
Floats, beauty queens, little princes and princesses, royalty courts, clowns, roving souveneir vendors, pee-wee and high school cheer squads, cowboys, cowgirls and horsemen of all stripes, drag racers, Shetland ponies, motorcyclists, recreation centers, coon dogs, classic and antique cars all fill up the line-up for the big parade. The streets of Paris are lined with spectators who come to view the parade of floats and all, but also people watch the crowd as it migrates as well. Law enforcement support comes from a wide area as well. That is  only fitting for a celebration that draws from Martin to Memphis for participants.
«Read the rest of this article»