Topic: Collectibles
For some yard sale enthusiasts, Guthrie will be the beginning. For others, it will be the end.

Guthrie, KY – The Guthrie Tourism Commission is announcing that it will join Trenton, Hopkinsville and cities stretching all the way to the Indiana state line in a massive yard sale, June 28th and 29th.
Billed as the Highway 41 Yard Sale, the organized event extends the length of U.S. Highway 41 in Kentucky, from Henderson in the north and to Guthrie in the south, nearly 100 miles in length. In addition, it includes approximately 50 miles of Hwy. 41A in Henderson, Webster and Hopkins counties. «Read the rest of this article»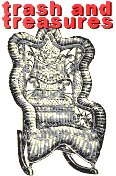 Cross Plains, TN – Trash and Treasures celebrated its 25th Anniversary this year. This yard sale extravaganza  takes place in Cross Plains, a small town on Route 25 East, about 15 miles from Springfield. If you've never visited the town, you don't know what a great time you've missed.
On Friday and Saturday during the last weekend in June, the town becomes a yard sale junkie's paradise. Up and down both sides of the main street of Cross Plains are scores of yard sales with everything from furniture to tiny collectibles.
You can find wooden ironing boards, toys, clothing, books, glassware, flowering plants, sorghum, canned jams and jellies, antiques, lemonade, bird houses, mounted deer heads, knives, lamps, cars, pedal cars, old and new tools, dishes, crystal, jewelry, handmade cards, stationery, barbecue, baked goods, and almost anything else you can think of! «Read the rest of this article»