Topic: CPD

Clarksville TN – Just after 12:00pm Saturday, May 23rd, 2015, Clarksville Police Department District Three Patrol Officer Brad Crowe was dispatched to the Victoria's Secret store in Governors Square Mall at 2801 Wilma Rudolph Boulevard to investigate an E911 report of intimidation and shoplifting.
A store manager told the officer that three black females had gotten into a confrontation with her, cursing her, throwing a dress, and threatening to hit her.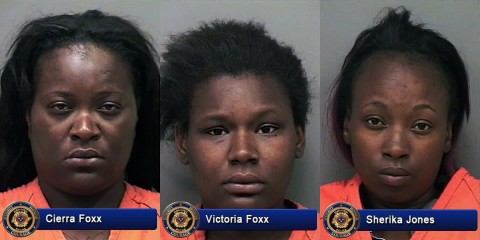 «Read the rest of this article»

Clarksville, TN – The victim of yesterday's shooting in Summit Heights is Dshawn R. Blount, 23, of Clarksville.
Blount was in a white 2007 Envoy when he was approached by an assailant and shot numerous times through the driver side window. Two small children were in the vehicle at the time. The 11-month old baby and 8-year-old boy were not injured in the shooting.
«Read the rest of this article»

Clarksville, TN – Clarksville Police Officers have arrested two men for the shooting death of Charles Whitfield that occurred on College Street about 1:00am Friday morning. The arrests, which were about thirteen hours apart, were made in different areas of the city.
The Clarksville Police Department TACT team executed a search warrant in the Timberlake subdivision shortly before Midnight last night. Tequan Evans, 18, was arrested on a warrant for Criminal Homicide. He is currently being held without bond in the Montgomery County Jail.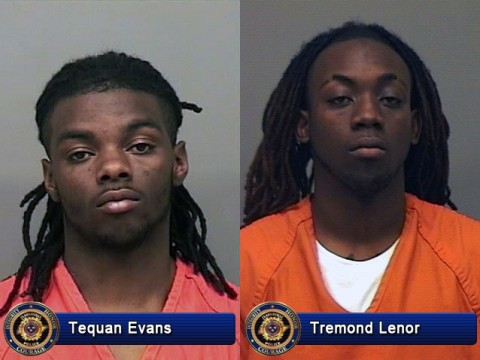 «Read the rest of this article»

Clarksville, TN – State of Tennessee and local officials from both Kentucky and Tennessee took the podium to explain the upcoming roadside safety checkpoints and saturation patrols slated for Montgomery County, Tennessee and Christian County, Kentucky tonight and tomorrow night, May 22nd and 23rd.
The locations of the checkpoints will be on U.S. 41-A near the state line.
«Read the rest of this article»

Clarksville, TN – District Two patrol units were dispatched to a reported shooting in the Summit Heights neighborhood at 3:34pm today, May 22nd, 2015. Officers discovered a man with multiple gunshot wounds and a white SUV with bullet damage at the Summit Heights exit onto Paradise Hill Road.
The man was taken by ambulance to a landing zone at Barksdale Elementary School and loaded onto a Life-Flight helicopter for transport to a Nashville hospital. The victim is still alive at this time.
«Read the rest of this article»

Clarksville, TN – In response to multiple E911 calls, Clarksville District Two patrol officers were dispatched to the scene of a shooting on the 1100 block of College Street this morning, May 22nd,  at 1:05am.
A man with multiple gunshot wounds was identified as twenty-year-old Charles Whitfield of Clarksville. Whitfield was transported to Gateway Medical Center where he died of his injuries. Next-of-kin have been notified.
«Read the rest of this article»

Clarksville, TN – Jaquez Willis is on a mission. His determination to earn his high school diploma is so great that he walks seven miles from his home near Northwest High School in Clarksville, Tennessee to the Continuing Education Center on Greenwood Avenue where he is enrolled in Adult Education.
Then he walks seven miles home. Day after day, his goal gets a little closer and the hope in his heart grows a little bigger.
«Read the rest of this article»

Clarksville, TN – The Clarksville Police Department conducted impaired saturation patrols on May 15th and May 16th, which was partially funded by the Governor's Highway Safety Office.
During this time, there were 163 vehicles stopped and 154 individuals charged.
«Read the rest of this article»

Washington, D.C. – A group of Montgomery County Sheriff's deputies and a Clarksville Police officer sat around the dinner table during National Police Week last week. They first exchanged stories about Deputy David "Bubba" Johnson, but they soon found themselves discussing the devastating night they lost him.
On January 12th, 2014, Johnson was killed in a crash where his car left the roadway.
They all remember responding to the crash, unable to believe that they had lost one of their own. Some couldn't finish their stories as tears welled up in their eyes and their voices broke.
«Read the rest of this article»

Clarksville, TN – Shortly after 4:00am today, Montgomery County Sheriff's Deputy Randy Paddock was travelling South on Fort Campbell Boulevard when he smelled smoke. Paddock began checking the area and found a building behind the Starlite Lounge with flames shooting fifty feet or more into the air.
Clarksville Fire/Rescue was dispatched at 4:04am and had to pull down a locked gate to get to the structure.
«Read the rest of this article»