Topic: Cumberland River
Liberty Park Grill to remain open
Clarksville, TN – Rising waters on the Cumberland River and its tributaries have closed several City of Clarksville parks and boat ramps.
Liberty Park will remain closed Tuesday, April 26th, 2017 because water over roads is blocking access to much of the park, including Freedom Point, Clarksville Marina and the park's boat ramps.
«Read the rest of this article»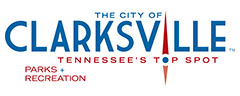 Clarksville, TN – The Clarksville Parks and Recreation Department reports that because of rising waters on the Cumberland River and its tributaries, these City of Clarksville parks, facilities and boat ramps will be closed until further notice:
Liberty Park and Freedom Point, with the exception of the Wilma Rudolph Event Center and Liberty Park Grill, McGregor Park boat ramp, Trice Landing boat ramp, and Clarksville Marina.
«Read the rest of this article»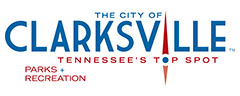 Clarksville, TN – Springtime is near and Clarksville Parks and Recreation offers a wide variety of fun activities for you to enjoy while school is out during Spring Break.
The Kleeman Community Center, Crow Community Center and Burt-Cobb Community Center will be open daily during normal operating hours.
«Read the rest of this article»
Enjoy Chocolates, Champagne, and Chamber Music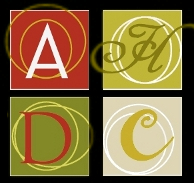 Clarksville, TN – Clarksvillians can buy Valentine's gifts from local artists, sip champagne, sample heart-healthy chocolates along with more substantial appetizers, and enjoy chamber music by Cumberland Winds at the eighth annual Valentine's Day Afternoon with the Arts, Sunday, February 12th.
The Clarksville-Montgomery County Arts & Heritage Development Council (AHDC) and F&M Bank are hosting this event from 1:00pm until 4:00pm in F&M Bank's Franklin Room, with its spectacular views of downtown and the Cumberland River.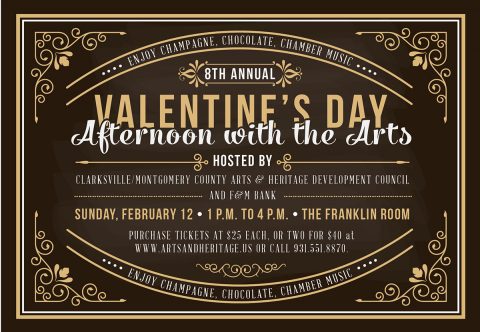 «Read the rest of this article»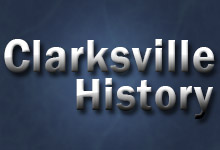 Clarksville, TN – In 1780 a group of 300 daring pioneers decided to journey upon the Tennessee River and the Cumberland River in flatboats and canoes.
The destination for some of them would be present day Montgomery County, upon the Red River at the mouth of Passenger Creek. Yet, in order to arrive at their destination they had to guide their boats through a frontier full of Native Americans determined to attack them.
Why would they attempt such an endeavor which seemed to almost promise violence, deprivation, and other hardships?
«Read the rest of this article»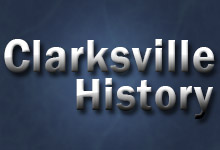 Clarksville, TN – Have you heard the story of the first frontier settlement on the Red River?
Many times the history beneath our feet here in Montgomery County is not in the forefront of our minds. It can be easily forgotten that the many places we live, shop, or work every day contain stories from multiple historical periods of Tennessee. In this case, it is the history of westward expansion and the Indian Wars of the 18th century.
People may wonder why these stories matter. Many of us were at one time young students who felt history class was incredibly boring and even called it our least favorite subject. Yet, in truth, it is those who devote some time to the subject in depth who are a very fortunate group of people. They gain insights and knowledge; they increase their wisdom.
«Read the rest of this article»
Nashville, TN – Nashville rocker Rich Lynch (www.richlynchband.com) returns with a third new track in 2016 and his latest single "You Can't Push Over a Standing Rock" takes a page out of one of his musical hero's playbooks.
"You could say I'm doing the Neil Young thing with this one," said Lynch of the timely new track recorded to help raise awareness about the happenings on the ground right now in North Dakota. "But, the reality is the subject matter for the song hit close to home and the lyrics arrived nearly fully formed as I tried to sleep one night – so I was compelled to record it as soon as possible."
«Read the rest of this article»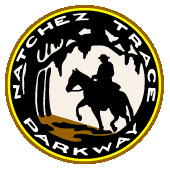 Tupelo, MS – The Natchez Trace, also known as "Old Natchez Trace," is a 440 historic forest trail that links the Cumberland River, Tennessee River and Mississippi River. The trail was used by Native Americans and later, by European and American Explorers.
Today, the Natchez Trace Parkway and bridge, commemorates the path used by early explorers.
It's a recreational favorite among bikers, bicyclists, hikers, campers, boaters and just about anyone who enjoys the great outdoors, surrounded by incredible history.
«Read the rest of this article»

Clarksville, TN – If you can picture a nation as a living body with cities serving as vital organs and transportation paths such as roads, railways and rivers filling the roles of the arteries that provide life-sustaining blood to those major settlements, then it becomes easy to understand the significance of the Battle of Fort Donelson during the American Civil War.
Waged between February 11th-16th, 1862, the Union's capture of the Confederate fort near the Tennessee-Kentucky border accomplished a number of important tasks for its army.
«Read the rest of this article»

Clarksville, TN – Since about 1950, the small-scale darter—a tiny fish that lives in tributaries of the Cumberland River—has existed in relative obscurity. Few scientists have heard of the darter or checked to see if the fish is in danger of disappearing.
But for the last year and a half, Joshua Stonecipher, a graduate student with the Austin Peay State University Center of Excellence for Field Biology, has waded into local streams, trying to get an accurate estimate of the darter's population size.
«Read the rest of this article»