Topic: Curtis Johnson

Nashville, TN – On Tuesday, January 10th, 2017, the House and Senate of the Tennessee General Assembly met in organizational session to start the 110th General Assembly.
The First Order of Business was the swearing in of all newly elected members of the General Assembly.
«Read the rest of this article»

Nashville, TN – Tennessee House Republicans met this week in Nashville to elect new leadership to guide the GOP caucus during the 110th General Assembly set to begin in January.
During the meeting, State Representative Curtis Johnson (R–Clarksville) was reelected by his peers as Speaker Pro Tempore.
«Read the rest of this article»

Clarksville, TN – When the Austin Peay State University Department of Agriculture was a long way from being the fastest-growing college department of agriculture in Tennessee that it is today, one man believed in the potential of both the department and the APSU Farm, a 440-acre plot of land now known as the Farm and Environmental Education Center.
"Dr. Gaines Hunt single-handedly kept the APSU Farm going for several years – sometimes with his own equipment, time and money," John Bartee Jr., co-chair of the APSU agriculture advisory committee, said. "From an alumni perspective, he's had a huge impact on the department and the university."
«Read the rest of this article»
Bigger, safer lot serves expanded 94X Clarksville Express to Nashville
Clarksville, TN – Clarksville Mayor Kim McMillan welcomed home several busloads of happy commuters Tuesday afternoon at the new, clean and spacious Park & Ride lot at Exit 11.
The Park & Ride opened Monday, and McMillan joined with John Schroer, commissioner of the Tennessee Department of Transportation, and Regional Transit Authority CEO Steve Bland on Tuesday for a grand opening ceremony.
«Read the rest of this article»

Clarksville, TN – On Tuesday, July 12th at 1:30pm, State and local officials joined representatives from Hankook to celebrate the designation of Hankook Road, the segment of SR 237 (Rossview Road) beginning at the entrance/exit turnouts of the west side of Exit 8 from I-24 to the Rollow Lane intersection.
The road sign is located just past Rossview High School on the right before the overpass.
Tennessee State Representative Curtis Johnson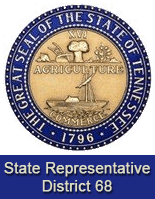 Nashville, TN – The 109th Tennessee General Assembly adjourned on April 22nd, 2016 to become a part of Tennessee history with passage of major legislation to reduce crime, cut tax burdens, spur job growth, accelerate the state's success in K-12 education, boost the number of college graduates, curb drug abuse and curtail drunk driving.
State lawmakers also passed significant legislation to ease traffic congestion, reduce child abuse, aid farmers, increase access to healthcare and medication, increase voter participation and provide a safer environment for the elderly.
Following, please find a copy of some of the highlights of this year's legislative action.
«Read the rest of this article»
Tennessee State Representative Curtis Johnson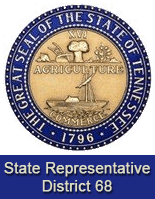 Nashville, TN – Three citizens from Clarksville testified before the House Local Government Committee this week urging support for House Bill 2156 which helps restore some property tax relief for disabled veterans. There are currently several bills dealing with Property Tax Relief for veterans.
"I support these bills, and feel strongly that some tax relief will be funded in the 2016-17 budget," Tennessee State Representative Curtis Johnson said.
Ms. Sherry Pickering with the Montgomery County Veterans Coalition was first to testify. Also adding their expertise were Brenda Radford, Montgomery County Trustee, and Bill Summers, legislative representative for the Military Officer Association of American and a retired Air Force Officer.
«Read the rest of this article»
Tennessee Representative Curtis Johnson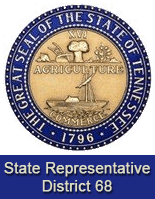 Nashville, TN – The Tennessee House of Representatives was pleased to welcome Mr. Masami Kinefuchi to attend Wednesday's session of the House and to present him with a House Joint Resolution recognizing the great contribution he has made to the economy of Tennessee.
The consul-general's job is to facilitate economic and cultural exchange between Japan and the United States. He has jurisdiction over five states—Arkansas, Kentucky, Louisiana, Mississippi, and Tennessee. In these five states, there are more than 400 Japanese companies.
In Tennessee there are over 180 Japanese-based business employing more than 46,000 individuals with the largest company being Nissan with an assembly plant in Smyrna, Tennessee. Other Japanese companies in Tennessee are Denso, Bridgestone, Calsonic, and Yorozu.
«Read the rest of this article»
Tennessee State Representative Curtis Johnson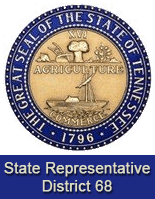 Nashville, TN – After much debate, the House passed out the Focus Act, one of the Tennessee Governor's initiatives in his Drive to 55 program.
The FOCUS Act, which is part of Governor Bill Haslam's legislative priorities, includes: A sharpened focus by Tennessee Board of Regents (TBR) on the state's 13 community and 27 technical colleges;
Creation of local boards for Austin Peay State University, East Tennessee State University, Middle Tennessee State University, Tennessee State University, Tennessee Technological University and the University of Memphis;
«Read the rest of this article»
Tennessee Representative Joe Pitts
"Say Dyslexia" bill to be heard in the House and Senate committees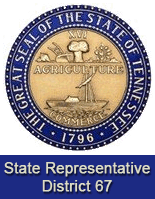 Nashville, TN – Several bills sponsored by Tennessee Representative Joe Pitts (D-Clarksville) moved along in committees last week. This is a general update on the bills and events on the Hill from last week.
House Bill 1513/Senate Bill 1658 (Senator Jim Tracy, R-Shelbyville) is a proposal from the Tennessee Sheriff's Association to allow county governments to give to retiring full time deputies their service weapon (pistol) that was carried in the line of duty. This legislation has passed both the House and Senate and is on its way to the Governor.
«Read the rest of this article»