Topic: David Allen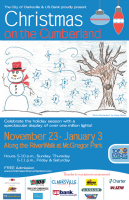 The City of Clarksville last night kicked off the 12th Annual Christmas on the Cumberland, which continues until January 3rd. The annual free holiday display features over 1,000,000 individual Lights in a amazing Christmas display that spans the entire length of McGregor Park in Downtown Clarksville.
Entertainment was provided by the band Short Notice, a passionate group of musicians whose name is derived ability to work a set list as spontaneously, as they draw the attention of their audience in short order. The band invited children up to dance to their lively Christmas tunes.
«Read the rest of this article»
Executives from Business Facilities magazine visited Clarksville on Tuesday to present community leaders with the publication's Silver Award for 2009 Economic Deal of the Year. The award was based on Hemlock Semiconductor's decision to base their $2.5 billion polysilicon plant in Clarksville.
Ted Coene, co-president of Group C Media, the publisher of Business Facilities, and senior account executive Ben Nachsin were on hand to present the award to the Economic Development Council, represented by EDC Chairman Mark Holleman; the Industrial Development Board, represented by current Chairman Bryce Sanders and Past Chairman Sammy Stuard; Montgomery County Mayor Carolyn Bowers; and City Mayor Johnny Piper who was represented by City Councilman David Allen, due an unavoidable conflict. «Read the rest of this article»
The weather on the second day of Riverfest turned out to be just as good as on the first. The full day of entertainment and wholesome family fun kicked off early with the Riverfest Regatta. The Regatta featured 26 teams racing custom made boats all crafted entirely from corrugated cardboard, Duct Tape, Silicone Sealant, Construction Adhesive, and paint.
This has to be one of the funnest events to watch during the entire festival. The shoreline was packed with people all on hand to cheer on their favorite teams.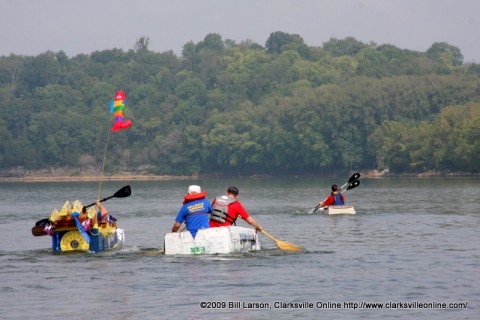 «Read the rest of this article»
"Sued for a half million dollars for speaking out…"
"This ordinance is detrimental to the community…"
"The City Council 'rubber stamped' the mayor…"
"I don't think they have a plan…"
"Our Leadership doesn't want to listen to us…."
"CHA is a shadow, not a voice…"
"Preying on minority communities…"
"I've never been to a public forum where the public couldn't speak…"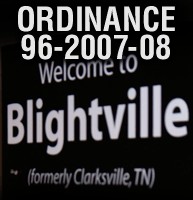 This is what representatives from the United States Department of Justice, the Department of Housing and Urban Development, and the Institute for Justice  heard when they came to Clarksville Thursday to listen to community concerns about the about the city's controversial redevelopment plans. Seventy people participated in a fact-finding meeting at the New Providence Community Center on Oak Street sponsored by the NAACP and the Urban Resource Center.
Walter Atkinson, Senior Conciliation Specialist with the U.S. Department of Justice Community Relations Service (Southeast Region IV), in stating that the meeting was "to hear community concerns," said his role was in part to try and avert "litigation."
"I am here to listen and observe," Atkinson said, noting that it was letters from NAACP Chapter President Jimmie Garland and Terry McMoore of the Urban Resource Center that focused federal attention on this local issue. Atkinson had been "in communication" with Mayor Johnny Piper and with the Downtown District Partnership Board. Piper, DDP members and most sitting City Councilors did not attend this meeting. Jim Doyle, who was not re-elected to his Ward 8 seat, along with newly elected councilors Candy Johnson, David Allen and Jeff Burkhart did attend the meeting and spoke with the Ward 6 constituency. «Read the rest of this article»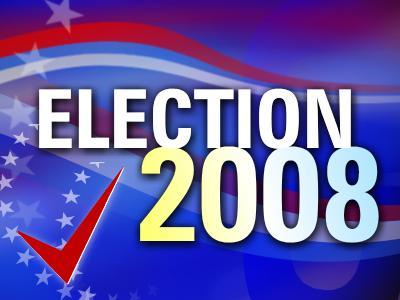 What a difference a day makes. From a lackluster and embarrassingly apathetic primary race across Montgomery County in which less than 12% of the county's registered voters turned out to vote, the early voting surge with its 40% turnout and the November 4 turnout of an additional 23% of registered voters made the 2008 ballots one for the record book. It was a wild ride.
Tennessee stayed Red, selecting John McCain as its presidential choice over Barack Obama, 30,167 to 25,702, a disappointment to the Clarksville for Obama organization, which ran a strong and well-organized Democratic effort on Obama's behalf.
Republican Lamar Alexander retained his U.S. Senate Seat handily with 32,006 over his closest challenger, Democrat Robert D. Tuke, with 16,329.
Marsha Blackburn (R) comfortably held her seat in the U.S. House of Representatives, 22,573 to 13,150 over challenger Randy G. Morris.
John Tanner held his U.S. House of Representatives 8th District seat with 97% of the vote, or 6,420 votes.
Democratic Challenger Tim Barnes took the District 22 State Senate Seat, ousting incumbent Rosalind Kurita, 27,996 to 15,700.
Joe Pitts easily retained his Tennessee House of Representatives 67th District seat with 12,519 votes (97,26%).
Tennessee House of Representatives 68th District seat was retained by Curtis Johnson with 18,172 votes (97.94%).

The much touted Wheel Tax Referendum was soundly defeated, 32,924 to 18,353.
With 99.085 (28,282 votes), Judge Charles Smith retained his judiciary seat.
City Council races are as follows:
Ward 3: James Lewis, 1243; Vincent S. Kruk 345.
Ward 4: Wallace Redd, 1358; Edward Fowler, 672.
Ward 5: Candy Johnson, 1501; Gary K. Brown, 611, Aaryn Coyle, 268.
Ward 8: David Allen, 2517;  Jim Doyle, 1359, David Cutting, 633.
Ward 9: Joel Wallace, 2035.
Ward 12: Jeff Burkhart, 2297; Wayne Harrison, 1981.