Topic: Dickson County High School
Austin Peay Sports Information

Nashville, TN – Austin Peay State University freshman running back Otis Gerron was named the Offensive Player of the Week by the Tennessee Sportswriters Association for his efforts against Mercer last Saturday.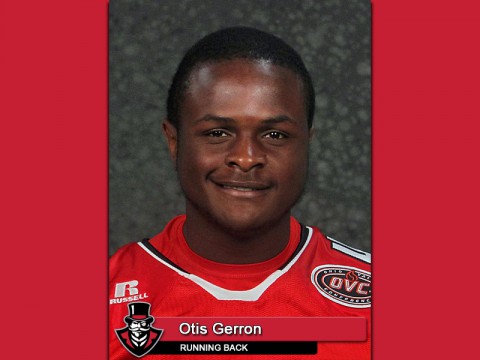 «Read the rest of this article»
Dickson, TN – Clarksville High School's softball team saw last year's first ever trip to the state tournament end at the hands of then District 10-AAA member Dickson County High School in the tournament's semi-final contest.
This year Dickson County (41-7) is no longer in District 10-AAA, having moved over into District 11-AAA, but the Lady Cougars still ended the Lady Wildcats season again – this time in the TSSAA Sectional Round on May 16th – with a 5-1 final.
Clarksville High (33-16) was hurt by a slumbering offense, that was shutout for the second straight game after only suffering four shutouts in the regular season, and a couple of miscues in the field that led to three of the five runs being scored by Dickson County being unearned.
«Read the rest of this article»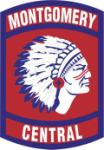 Cunningham, TN – Montgomery Central High School's girls soccer team finished an undefeated season in District 11-A/AA play, September 26th, but had to do it coming from behind, as the Lady Indians rallied for two goals in the final 44 minutes for a 2-1 victory.
When Fairview's Morgan Mooney scored in the 14th minutes to put the Yellowjackets (8-6, 6-2 District 11-A/AA) up 1-0, it marked the first time since the opening week of the season that the Lady Indians had found themselves behind on the scoreboard.
«Read the rest of this article»
Program to Educate Teens on Importance of Buckling Up

Nashville, TN – Each year, dozens of Tennessee teens die in traffic crashes and many of those are not wearing safety belts. Traffic crashes are the leading cause of death for teenagers.
The Governor's Highway Safety Office (GHSO) wants to help save lives by encouraging more teens to wear their safety belts. The GHSO is partnering with State Farm Insurance, Jackson Area Council on Alcoholism and Drug Dependency (JACOA) and four Tennessee high schools to sponsor a program called Click It AND Ticket.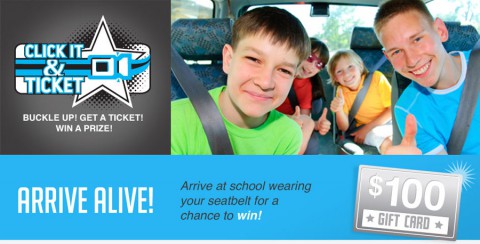 «Read the rest of this article»
Clarksville, TN – Every year, Clarksville's Riverfest Tour d'Art exhibits feature the talents from artists across the Clarksville-Montgomery County area.
There are three divisions; the Senior (Downtown Artists Co-op), the High School (Customs House Museum) and the Amateur and Professional Divisions (Smith-Trahern Mansion).
After hundreds of artists had their works of art on display at various locations in downtown Clarksville, then judged by artist Dane Carder, winners were awarded at the Tour d'Art Receptions, Friday, September 6th, 2013. «Read the rest of this article»

Clarksville, TN – Clarksville High School's girls soccer team used an unrelenting offensive attack in the first half, Tuesday, August 27th at Hilda J. Richardson Field, to build a 4-0 cushion on its way to a 6-0 victory over West Creek High School – in a District 10-AAA opener for both teams.
The Lady Wildcats (2-1-0; 1-0-0 District 10-AAA) seemed to have the ball on the West Creek side of midfield for most of the opening half in getting off 15 shots, including five on goal, while scoring four times in the first 40 minutes of play.
«Read the rest of this article»
Clarksville, TN – In looking for its third head wrestling coach in as many seasons, Clarksville High School turned to a familiar face to local prep wrestling fans, with Tommy Badon moving from former district rival Dickson County High School to take charge of the successful program.
Along with having coached against the Wildcats for several seasons, Badon has personal ties to the school, with his father being a former assistant principle at CHS in the middle to late 1970's before moving to Franklin, TN and becoming an administrator in the Franklin Special School District.
«Read the rest of this article»
Clarksville, TN – If Clarksville High School's softball team is to make its first trip to the state tournament in school history it will have to be as road warriors, as the Lady Wildcats lost to Dickson County 11-2 May 15th in the Region 5-AAA finals.
Coming into the region finals, Clarksville High (34-10-1) had won eight in a row, giving up just four runs over that period, but the Lady Cougars pounded out 15 hits in scoring its 11 runs – including six of those coming in the seventh inning when CHS was down just three runs.
«Read the rest of this article»
Exceptional Talent and Art from Middle Tennessee Students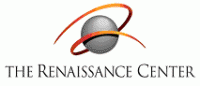 Dickson, TN – The Tennessee Art Education Association (TAEA) and The Renaissance Center have partnered again to present the 5th Annual Middle Tennessee Regional Student Art Exhibition, featuring exceptional artwork created by middle and high school students from Middle Tennessee.
The exhibit is on display at The Renaissance Center through January 11th, 2013. A free Reception and Awards Ceremony is scheduled for Saturday, December 1st, 4:00pm–7:00pm.
«Read the rest of this article»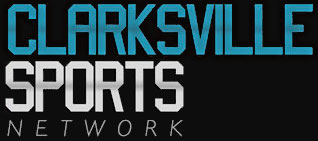 Clarksville, TN – Northeast High needed a little perfection and some simple good old fashion will to hold off Dickson County in the District 10-AAA Boys Tournament Championship game at the Eagles Nest  and they got both in it 55-46 victory Tuesday night.
The perfection came from the 10-for-10 shooting and 9-for-9 from the free-throw line performance put forth by Kentucky signee Alex Poythress in scoring a game-high 29 points and he made it a double-double with a game-high 14 rebounds.
«Read the rest of this article»