Topic: District 22
Clarksville TN – Tennessee State Senator Mark Green launched his new website Friday, modernizing it's look and adding several new features to provide a more constituent friendly site.
"We will provide updates often. This site will give the constituents a new and easier way to hear from me," said Senator Green.
«Read the rest of this article»
Clarksville, TN – The man who spent "A Night With Saddam" has tossed his hat into the political ring.  Dr. Mark Green, who authored the book describing the capture of Saddam Hussein and his subsequent medical care is planning to challenge State Senator Tim Barnes in the 2012 election.
"I was encouraged to run by Lt Governor Ron Ramsey" said Green.  "I've seen many opportunities missed by the incumbent, and I want to represent the district and take advantage of those opportunities" according to Green.
In an exclusive interview with Clarksville Online,  Doctor Green said ""The size of government and individual opportunity are inversely related.  As government grows, individual opportunity plummets. «Read the rest of this article»
Clarksville Arts & Heritage Development Council, City of Clarksville Parks & Recreation and Roxy Productions, Inc. awarded matching grants.

NASHVILLE – Senator Tim Barnes has released the list of grant award recipients from the Tennessee Arts Commission for Fiscal Year 2010 (July 1, 2009 – June 30, 2010) in the 22nd district, which includes Cheatham, Houston and Montgomery Counties.
"The arts are important; they improve education when integrated into curriculum, contribute to our economy, and make our communities exciting," stated Sen. Barnes. "The organizations that will benefit from these grants this year will be able to continue to provide Montgomery County with invaluable services that enhance our daily lives." «Read the rest of this article»
'A Week's Worth' is a feature that gives Tennesseans an in-depth look at what State Senator Tim Barnes has been working on this past week, and a preview for the coming week in the Senate.
This week:
Summer
Protecting hometown car dealers
Local Water improvments

«Read the rest of this article»
State Senator Tim Barnes announces state grant for Houston County aviation and industry recruitment efforts. Money for county facility will help the area compete for companies that hire.
Senator Tim Barnes said that a grant for Houston County's airport is the kind of investment that helps the area compete for companies with good-paying jobs.
"Our rural airports, like the one in Houston County, are important to their communities, Senator Barnes said. "They need to have their facilities  in top shape because they are part of the total package when a company is looking for a place to locate." «Read the rest of this article»
The Montgomery County Legislative Delegation gained a new member Tuesday morning. The State Senate held swearing-in ceremony for the new members amid pomp and circumstance.
Tuesday morning marked a change in Tennessee political and legislative history. For Montgomery County, it marked a new name joining our legislative delegation. As the State Senate was called to order, the new members of Senate stood and took their oath of office. With his family watching, Clarksville Attorney Tim Barnes raised his hand and swore his commitment to the people of this state, its laws and governance.
Attending the swearing-in ceremony, the Barnes Family looked on as Attorney Tim Barnes became Tennessee State Senator Tim Barnes, District 22. The chamber was filled with family, friends, supporters and colleagues. The atmosphere was filled with anticipation and drama at what the moments to come would herald.
"There are not any words to express how honored I am to be serving the citizens of Cheatham, Houston and Montgomery county," Barnes said, "I ran for this office to help the working families of the 22nd District, and I intend to get to work immediately doing just that." «Read the rest of this article»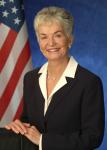 The Clarksville-Montgomery County Voters Council and the National Federation of Independent Business have both endorsed Senator Rosalind Kurita in her State senate re-election bid.
The Clarksville-Montgomery County Voters Council has thrown its support to Senator Rosalind Kurita (D-Clarksville) in the Democratic Primary for Senate District 22. The endorsement was made at a rally held at New Providence Outreach Center. The council is a voter advocacy group focused on minority issues.
"I am honored to receive the endorsement of the Voters Council," Kurita said. "I am and will continue to be a staunch advocate for women, minorities, children and seniors in the state legislature." Senator Kurita is speaker pro tempore of the Senate.
On the heels of that endorsement, the National Federation of Independent Business, Tennessee's leading small business advocacy association, also announced its endorsement of incumbent Rosalind Kurita in Senate District 22. Sen. Kurita has been a strong supporter of the needs of her small business constituents, NFIB/Tennessee State Director Jim Brown said. «Read the rest of this article»
The Chamber of Commerce, Leadership Clarksville and the CDE sponsored a public forum at the CDE building in Clarksville on July 15, with Democratic Tennessee Senate District 22 candidates Tim Barnes and incumbent Senator Rosalind Kurita fielding questions about policy and platforms. The primary race will be held August 7.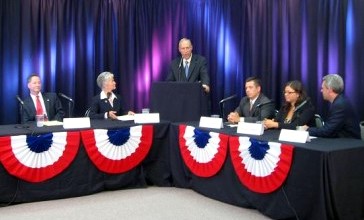 Senator Kurita and Tim Barnes presented opening and closing statements before fielding questions from panel members Frazier Allen, Britney Campbell and Jay Abertia. «Read the rest of this article»