Topic: Domestic Assault

Clarksville, TN – On Sunday, March 16th, 2014 at approximately 6:03pm, the Clarksville Police Department responded to a robbery and shots fired call near the Microtel and La Quinta hotels on Holiday Drive.
Initially, some streets around the area were shut down, and K-9 units were called to assist in the search of suspects. Vonzel Williams, Keshun Hester, and Darcell Wright were taken to District 3 CI for interviews conducted by Detective Howard Gillespie.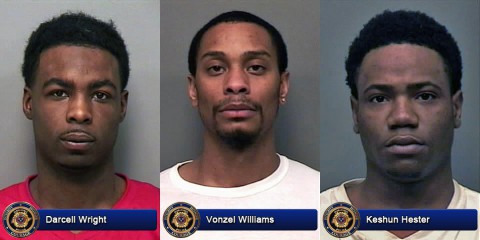 «Read the rest of this article»
Fugitive states that he will not go back to Jail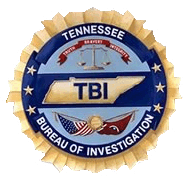 Nashville, TN – The Tennessee Bureau of Investigation added a Pulaski man wanted for homicide to the state's Top Ten Most Wanted list today after he removed an ankle monitoring device and fled authorities.
Jerrell Martinez Sizemore, 24, last known address 520 Mitchell Street, is wanted by the Pulaski Police Department on one count of first degree murder.
On May 13th, 2013, Sizemore went to 425 East Woodring Street where he knew the victim, Brandon Stinnett, was located. Sizemore shot Stinnett multiple times in the upper body killing him.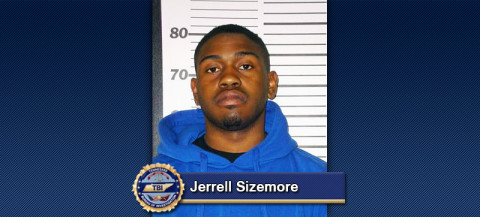 «Read the rest of this article»

Clarksville, TN – On January 15th, 2013, a man was attempting to buy drugs was shot in the foot and robbed in the the area of 31 Lincoln Drive. Mark Austin Ellis was identified as one of the robbers and an Aggravated Robbery Warrant was issued.
On January 19th, 2013, around 9:30am, Mark Ellis turned himself in at Clarksville Police Headquarters.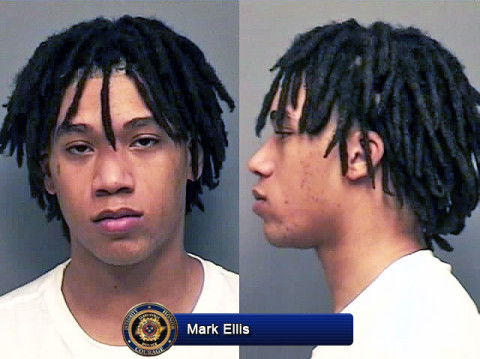 «Read the rest of this article»

Clarksville, TN – On November 7th, 2012, around 3:45pm, Clarksville Police Officer Nathan Lee responded to a 911 call at the 900 Block of Riverside Drive when a woman recognized a man with warrants from a photo disseminated by the media.
When Officer Lee arrived, he immediately recognized the man as Michael Eli Gray, who was alleged to have been involved in an incident which occurred at 145 Tandy Drive.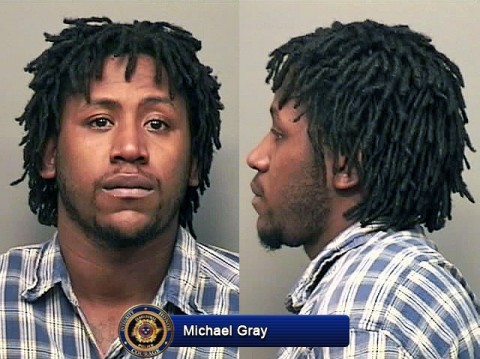 «Read the rest of this article»

Clarksville, TN – On October 31st, 2012, Clarksville Police were called to 1318 Sonja Drive for a domestic in progress. When officers arrived, they found a man, Matthew Walter, with an injury above his left eyebrow.
The investigation revealed there had been a physical confrontation between Walter and his girlfriend. Based on the officer's investigation, Matthew Walter was determined to be the primary aggressor and was taken in custody.
«Read the rest of this article»

Clarksville, TN – Four men, Gregory Elliot, Willie Collins, Timothy Ogburn and Lawrence Gillen were involved in a plan to forcefully take money from a Nottingham Drive man rumored to have a large sum of money as well as drugs.
They moved forward with their plan and approached the residence on September 5th, a little before 2:00am.
They spotted and approached a 30 year old man and a 29 year old woman who were sitting inside of a car outside of the house. A confrontation ensued resulting in the man being struck on the head several times with a handgun and the woman fleeing into the house and locking herself in a bedroom.

«Read the rest of this article»

Clarksville, TN – On June 12th, 2012, around 1:15pm, Clarksville Police received information that Abdujuan Napper who had  warrants on file would be at a residence on Needmore Road. They were also told the man normally carries a weapon, was off his medications, and was in possession of at least three knives.
When officers arrived at the residence, they heard a female arguing with a male inside of the residence. Police contacted the woman and told her to come outside.
«Read the rest of this article»
Powell has lengthy history of Burglary and Theft; Makes Most Wanted after Attempted Burglary in Williamson County
Law enforcement seeking his accomplice as well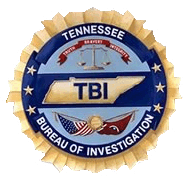 Nashville, TN – The Tennessee Bureau of Investigation has put a Smyrna, Tennessee man on the state's Top Ten List who law enforcement believes is responsible for an attempted aggravated burglary that occurred last week in Williamson County. He has a lengthy criminal history and is considered a predatory burglar due to the frequency and nature of his crimes.
Donald Powell, 38, last known address 3165 Morton Lane, Smyrna, Tennessee and his accomplice, Alyssa Cartwright, 36, last known address 225 Morton Hollow, McMinnville, Tennessee are wanted by the Williamson County Sheriff's Office on one count of attempted aggravated burglary.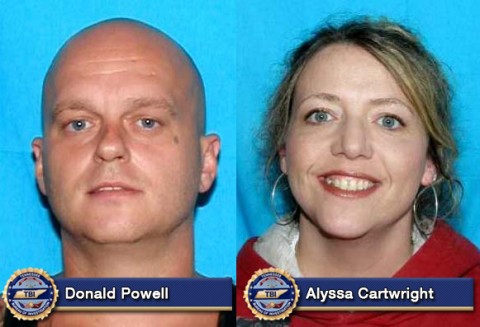 «Read the rest of this article»
After Police unraveled a tangled web of deception, they discover that a woman is married to two men at the same time.

Clarksville, TN – On May 17th, 2012, around 1:30am, Police were called to 643 Riverside Drive about a woman who had been assaulted and forced into a room and had been held against her will. Clarksville Police Officer Dennis Honholt arrived and began an investigation into the allegations.
According to the Krystal Schurtz, her husband, Andrew Roberts came to the Riverside Drive residence and started taking some of her items.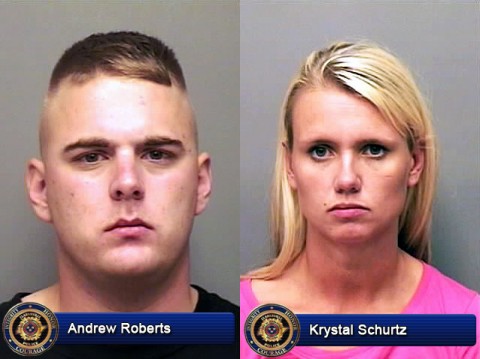 «Read the rest of this article»

Clarksville, TN – On January 10th, 2012, the Clarksville Police Department put out a notice asking for the public's assistance in locating a Robert Joseph Bridges who was wanted in connection to a break in of the Smoke 4 Less convenience store on Memorial Drive. He was also wanted for especially aggravated burglary and coercion of a witness.
Today, around noon, Robert Bridges turned himself into booking.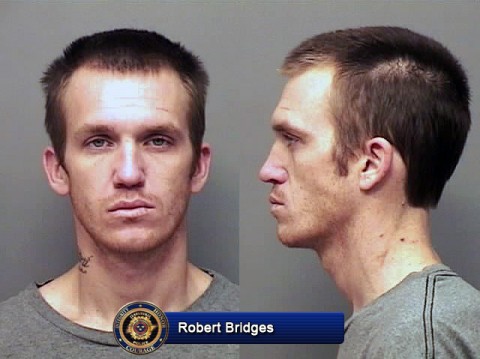 «Read the rest of this article»