Topic: East Montgomery Volunteer Fire Department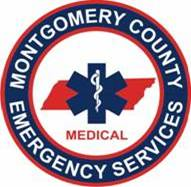 Clarksville, TN – Wednesday morning, around 9:45am at the EMS Station 23 across the street from the Hilltop Market at 385 Highway 149, a member of the on duty EMS crew smelled smoke, and when checking for the source found the garage where their ambulance was parked engulfed in flames.
As one of the crew responded to the fire, the other called for support from area Fire Departments; units from Clarksville Fire Rescue, Cunningham Volunteer Fire Department, East Montgomery Volunteer Fire Department, Palmyra Volunteer Fire Department, and the Woodlawn Volunteer Fire Department responded to help fight the flames which were under control within 20 minutes of the initial call being placed.
«Read the rest of this article»
Clarksville, TN – No injuries were reported as of 3:00am Wednesday in Montgomery County following a strong storm that swept across the area, damaging homes and downing trees and power lines.
A line of thunderstorms hit the Clarksville area just before 1:00am with high winds and heavy rain. One weather observer in the Woodlawn area reported a wind gust of 82 mph.
Early on 911 calls were received that two mobile homes had collapsed; one on Batts Lane and the other on Birch Road where a mother and her baby were trapped inside for about 30 minutes until emergency workers were able to free them. «Read the rest of this article»