Topic: Ecology

Clarksville, TN – Austin Peay State University alumni Lynn Von Hagen dreamed of working with animals as a young person. She donated to conservation groups and gave her time and talents to Freedom Farm Animal Sanctuary, a domestic animal rescue organization in Hendersonville Tennessee.
However, as is the case for many people, Von Hagen was forced to postpone her dreams of pursuing studies in zoology, ecology and animal biology and concentrate on earning a living.
«Read the rest of this article»
An exhibit of Duck Stamp art by area students is now on exhibit at the Custom House Museum in downtown Clarksville.
The exhibit is small, confined to a single wall panel, but features wonderful mixed media drawings and paintings by young artists. The Duck Stamp exhibit is part of a statewide initiative to bring awareness to local wildlife and its ecosystems.
«Read the rest of this article»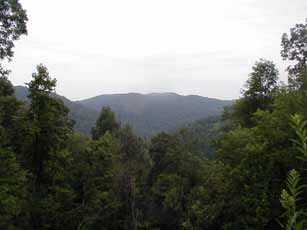 Not too far from Knoxville in Campbell County, TN there used to be a mountain (pictured at left). If you'll keep reading, you'll see what it has become. It is incredible to me that strip mining was bad enough to be outlawed in the 1970's and yet mountain top removal mining, which is much worse environmentally, is still legal in 2008 (well, sort of legal, if you don't count filling the streams with dirt, killing fish and wildlife, and leaving these huge slurry ponds of toxic sludge, which is technically against the Tennessee clean water laws). On July 20, 2008 at 1p.m. there will be a March on the former Zeb Mountain to protest further mountain top removal (MTR) mining in Tennessee. «Read the rest of this article»
Daytrips and Weekenders. As the summer months and the vacation/travel season approaches, we offer you, our readers, ideas for day trips and weekend excursions to places and events that can be done in a day, or maxed out over a weekend. Time and the high cost of gas fuel our efforts to find local entertainment and activities. This column will appear each Thursday through Labor Day.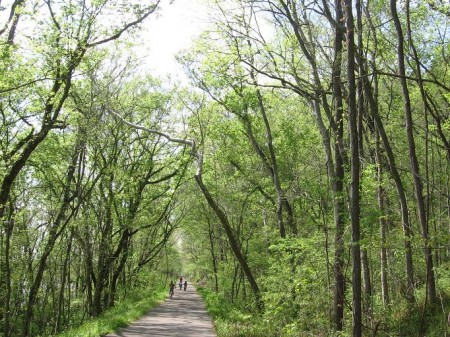 Does it get any better than this?
Looking for a scenic bike trail, horse riding trail, or a walking trail? What once was a railroad bed running between Nashville and Clarksville was turned into a beautiful, fairly level and almost completely paved trail. It is perfect for biking, hiking, power walking or a leisurely stroll with the intent of observing nature's best offerings. You can find it all on the Cumberland River Bicentennial Trail. «Read the rest of this article»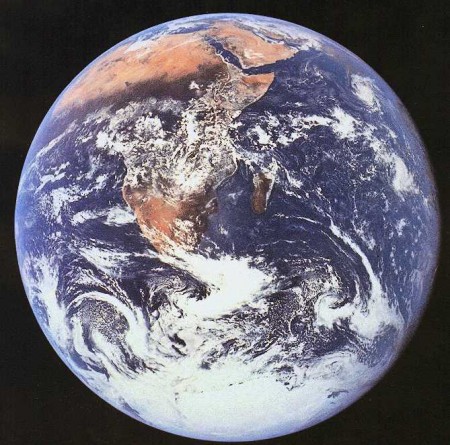 The Christian calendar distinguishes itself with its seasons of the year. The most publicized one is Advent; the second is Lent. Lent is a custom/ritual observed by the faithful that is a temporary surrendering of a pleasure for 40 days preceding the Easter celebration. It enhances our spiritual lives.
While in Roosevelt High School in St. Louis, I worked at lee's Drug Store, where prescriptions were filled , medical advice given to customers who couldn't afford a doctor, and sundry items such as toothpaste and tobacco were sold. Lee's had an ice cream bar where we served dipped cones to our customers. It was my job to staff this bar. I still remember the sad evening when Pat, a girl friend who ordered ice cream days before Lent, announced she was giving up ice cream for Lent. That's a long time for the teen-aged boy who had a crush on her. That was my introduction to Lent and heartbreak.
Now Lent is taking on a more significant meaning; it is recognized as a ritual accommodating spiritual growth and activating our spiritual resources. It is a spiritual enabler for recognizing, surfacing, and activating our inner spiritual resources. It is an ally in releasing our God-like inner nature. «Read the rest of this article»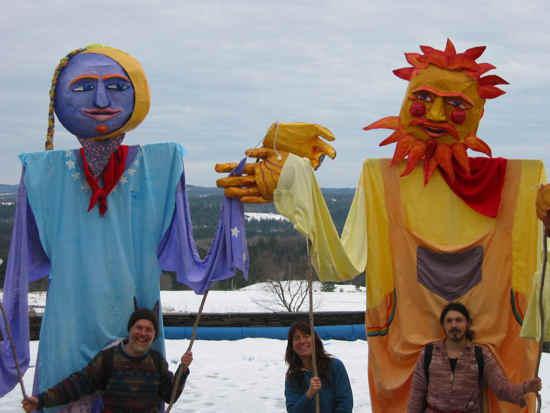 As I move about northern Vermont, with its rustic charm and innovative quirks, I stumbled across the upcoming SolarFest 2007 (July 14-15), an earth-friendly energy and music festival that draws about 4,000 people to the Forget-Me-Not farm in Tinmouth. Powered by the sun and bio-diesel fuel, the entire festival last year generated a walloping single trash bag of waste — EVERYTHING was recycled, composted or otherwise renewed.
Created in 1995, this non-profit has a microscopic bare bones administrative staff and a core of dedicated sponsors and volunteers promoting the best performing artists of the region and most importantly, the building of sustainable, earth friendly communities. «Read the rest of this article»