Topic: Embroidery

Clarksville, TN – The Bayeux Tapestry, a medieval embroidery that depicts the Norman invasion of England in 1066, contains such elaborate details that only a male artist could have produced it.
As one critic pointed out, it's impossible for a woman to have stitched such accurate-looking military weapons and uniforms.
«Read the rest of this article»
They took the quilt off my bed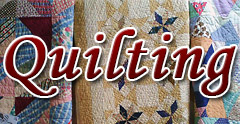 Trenton, KY – On Saturday. June 27th, a quilting tradition was continued in Trenton, Kentucky. Quilts both old and new were offered for viewing during the huge annual yard sale and heritage day festivities.
Viewers were amazed to find quilts that were over 100 years old and ultra modern quilts in the same show. Samples of projects from this year's Color Class, which was offered at Quilt and Sew at Golden threads, were proudly displayed, as well as beautiful traditional quilts which were loaned to the show by local residents.
«Read the rest of this article»