Topic: Estep Wellness Center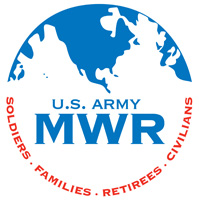 Fort Campbell, KY – The choices you make affect the health of everyone in your Family. You are invited to join Estep Wellness Center and Dr. Dale Brown for a Maximized Monday Picnic at the Playground on July 14th from 11:45am to 1:00pm at Cole Park (the playground across from the golf course).
Dr. Dale will discuss "Raising Healthy Families" – because your choices are their future! As an added bonus – at 1:00pm, Journey from Estep will be there to showcase playground exercises to incorporate into your Family fitness/playtime. «Read the rest of this article»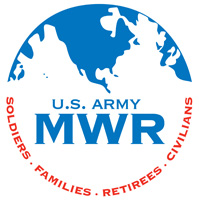 Fort Campbell, KY – Estep Wellness Center has released their July class schedule.
Estep Wellness Center wants you to feel comfortable while you are there so they are now offering a free Fitness Orientation for patrons.
This orientation, led by Certified Personal Trainers, will introduce you to Estep while educating you on the proper usage of equipment and encouraging correct form to prevent injuries.
«Read the rest of this article»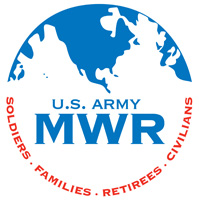 Fort Campbell, KY – First you said it was too cold, then it was too wet – no more excuses! Estep Wellness Center is holding Boot Camp Xpress – a shorter version of the traditional Boot Camp Xtreme. Boot Camp Xpress is only three weeks, nine sessions total but it is still an intense mix of the three major fundamentals of fitness: cardio, strength and agility.
Estep's staff has built an amazing mini program that will invigorate your body and mind.
Campers must prepare themselves for insane track workouts, crazy circuits, and innovative exercises set at the track located at Fryar Stadium or Estep field. «Read the rest of this article»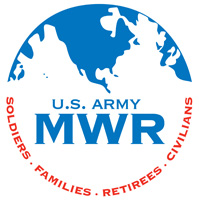 Fort Campbell, KY – Plan to join Estep Wellness Center as they celebrate the 101st le Tour de France.
During the month of July, Estep's certified instructors will lead you through a simulation of le Tour and encourage you to burn loads of calories with a high intensity low impact workout.
Each class will help you improve your cardio and improve muscular endurance while blasting away calories with challenging climbs, fast flats, breakaways and sprints.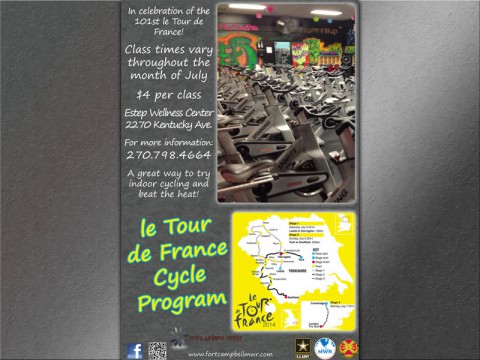 «Read the rest of this article»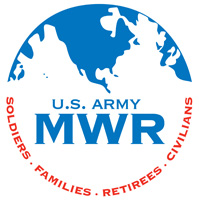 Fort Campbell, KY – Join Estep Wellness Center and instructors Journey, Emelia, Stephanie, and Mandy for their Total Pump Launch #18 on June 7th at 9:30am.
Hit all the major muscle groups, pump it out to the hottest music and be introduced to some new pump moves.
The cost is $5.00 and is not included in your monthly membership. «Read the rest of this article»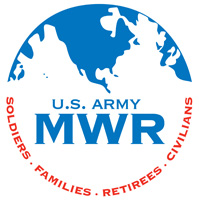 Fort Campbell, KY – Will you accept the Estep Summer Fitness Challenge? Estep Wellness Center challenges you to get active and make this the summer of change.
Some of the classes that you will see at Estep this summer are H.I.I.T. (High Intensity Interval Training), S T R E T C H, Love Your Bump (prenatal), Tabata, INSANITY®, TRX®, Total Pump, Cycle, Yoga, Pilates, PiYo®, Strength Plyometrics, Cardio Crunk, Bokwa® Fit, Zumba ® Fitness and Salsa Cardio. «Read the rest of this article»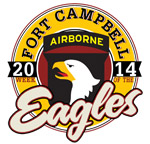 Fort Campbell, KY – The 2014 Week of the Eagles Celebration kicked off on Friday with a Division Run and the Week of the Eagles Concert headlined by Big and Rich with Special Guest Cowboy Troy, Joe Diffie, and Mallory Hope. Sporting events and athletic competitions continue throughout the week, and the 2014 Week of the Eagles closes out on Thursday with the 101st Airborne Division Review.
As things kicked off Clarksville Online spoke with Melissa Schaffner, the Marketing Manager for the Fort Campbell Morale, Welfare and Recreation (MWR). "We've got a great lineup for this evening! We started out with Cover Down, the 101st Airborne Division Rock Band; following them will be Mallory Hope an up-and-coming artists out of Nashville; then we will have Joe Diffie, a big country music star during the 90s, who is making a repeat visit to Fort Campbell; and our headliner tonight will be Big and Rich with special guest Cowboy Troy, personal favorite of mine! I love Big and Rich so I'm really excited about this show."
«Read the rest of this article»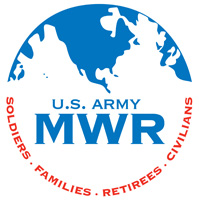 Fort Campbell, KY – Estep Wellness Center has released their May class schedule. A new month brings exciting changes and includes the following.
Cycle has been added to Monday and Wednesday at 9:00am with instructor Mandy, Tuesday at 4:30pm with instructor Journey.
Salsa Cardio replaces Zumba®Fitness on Monday at 5:45pm with instructor Roberto and Step Plus replaces Zumba®Fitness on Wednesday at 5:45pm with instructor Mona. «Read the rest of this article»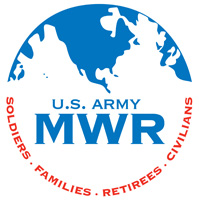 Fort Campbell, KY – Estep Wellness Center will be hosting its first ever FREE Dance Jam on May 3rd from 10:30am to 12:30pm. It's a dance party with a twist – food, fun and freebies!
Get your groove on and join all your favorite instructors for a nonstop two hour dance mash-up.  This high energy Dance Jam will offer dance segments from Zumba® Fitness and the newest explosions of movement from Cardio Crunk to Salsa Cardio and more. You will have so much fun dancing that you'll forget you're working out.
For more information about Dance Jam, please call Estep Wellness Center at 270.798.4664.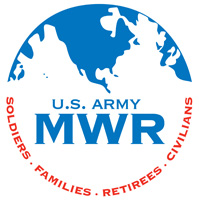 Fort Campbell, KY – You are invited to enjoy an afternoon of Family Fun Fitness, hosted by Estep Wellness Center.
Put some "Play" back into your fitness! "Playing" together as a Family is a great way to set an example, bond, reintegrate and get motivated.
Join Estep as they head out to Cole Park (located across from Cole Park Golf Course) on April 19th from 1:00pm to 2:30pm, where you will learn to use the playground in a whole new way. «Read the rest of this article»