Topic: F&M Bank
APSU Sports: Austin Peay Men's Golf

Clarksville, TN – With low 40 degree temperatures expected to greet it, Austin Peay State University men's golf team will open the 2013 "Spring" schedule when it plays host to Dayton, 9:00am, Friday, in a dual scrimmage at the Links at Novadell.
«Read the rest of this article»
Clarksville, TN – On February 23rd and 24th, the Clarksville-Area Chamber of Commerce held their fourth annual Home and Garden show at the Foy Fitness Center on Austin Peay State University.
The show was sponsored by the Clarksville-Area Chamber of Commerce, the Leaf Chronicle, and Furniture Connection. 57 Vendors were on hand to offer Clarksvillians tips on getting ready for the rapidly approaching spring.
«Read the rest of this article»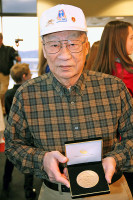 Clarksville,TN – Friends and family gathered on Friday to honor George Kazuo Nishimura, who was a member of the famed 442nd Regimental Combat Team, Military Intelligence Service.
Sponsored in part by F&M Bank and Clarksville Online, the ceremony was to present Nishimura with a bronze replica of the Congressional Gold Medal that had been awarded to his unit in 2010, in a unanimous vote of Congress, and approved by President Barack Obama.
Nishimura was left off of the list of veterans to receive their recognition due to a field promotion he received while serving his country, and a change in his serial number.  Through the efforts of friends and family, Nishimura received his award and was given his place in history on Friday.
«Read the rest of this article»
Clarksville, TN – In researching this story, and getting to know the life of George Nishimura, I've learned so much about World War II that I have never known before.  His personal handwritten account of his life is an amazing recollection of what it was like growing up in a country that came under attack from the Japanese, and how he wanted to "do something" to help the Americans fight back.
George Nishimura served his country in the best way he knew how.  He followed orders and did what he was told.  The Japanese-American soldiers who volunteered to serve, were treated differently.  There was a feeling of apprehension by most Americans, who wondered how can the "Japs" be the good guy and bad? «Read the rest of this article»
Clarksville, TN – George Nishimura was now half a world away from home, his family, and all that he had known, as a member of the United States Army, at Camp Shelby Mississippi. The trip had been long and hard, but they were ready to begin their training.
Thousands of Japanese-American men had joined the Army, and were ready to serve.
George and his fellow soldiers were joined at Camp Shelby by 1200 mainland volunteers from the relocation camps. They were called "Katonks" because of the sound their head made when hit, like the sound of a hollow coconut. «Read the rest of this article»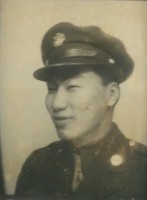 Clarksville, TN – George Nishimura joined the United States Army at a time when America was at war.  This teenager did what thousands of Japanese-American men did at the time, to show their patriotism to the country that had been their home all of their lives.
George was at home when he heard all of the noise and commotion going on in the neighborhood.  He soon learned that guys coming home from Honolulu saw planes, Japanese planes, bombing Pearl Harbor.  When he turned on the radio he heard the announcer shouting, "Pearl Harbor is under attack!  This is not a drill!" «Read the rest of this article»
Clarksville, TN – George Nishimura was born of Japanese parents on February 25th, 1923, in Hawaii. His father came to work in the sugar cane fields, as so many Japanese men had done before him.   When the Japanese bombed Pearl Harbor, George was eighteen years old.  He would watch the second wave of attack and wonder, "What has happened?"
Thousands of Japanese-Americans volunteered to join the United States Army after the attack. President Roosevelt approved the formation of a separate unit comprised of these Japanese-Americans, also known as "Nisei," or second generation, to be known as the 442nd Regimental Combat Team. «Read the rest of this article»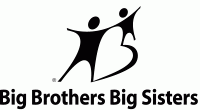 Clarksville, TN – Big Brothers Big Sisters is recruiting teams for their 31st annual Bowl for Kids' Sake. The annual fundraiser has brought the Clarksville community together to raise funds for the non-profit's mentoring programs for many years. This event is expected to raise $80,000 for Big Brothers Big Sisters of Clarksville.
The event will kick off on Tuesday March 5th, 2013 at The Pinnacle with the Banker's Challenge. Area banks have competed to raise the most funds for Big Brothers Big Sisters by raising money among the branches. «Read the rest of this article»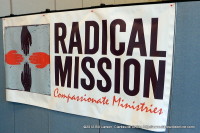 Clarksville TN – The 5th annual "Warm Souls Christmas Celebration" was held Monday at the Hilldale Baptist Church Activities Center on Old Farmers Road.
Over 1200 Clarksville area citizens were treated to live music, a free shopping spree, Christmas portraits, free haircuts, free gifts, and more, provided by Radical Mission Compassionate Ministries.
«Read the rest of this article»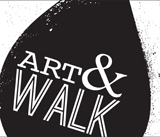 Clarksville, TN – Produced by The Downtown Clarksville Association, First Thursday Art Walk is a free, self-guided tour spanning a five block radius that combines visual art, live music, engaging events and more in the heart of Downtown Clarksville.
With 10+ venues, bars and businesses participating each month, the First Thursday Art Walk in Clarksville is the ultimate opportunity to savor and support local creative talent.

«Read the rest of this article»