Topic: Fort Sill National Bank
Share Lead; Takes over Top Spot in Stewart County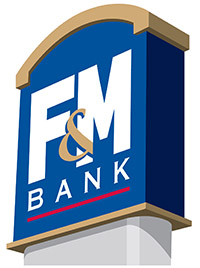 Clarksville, TN – F&M Bank continues to be the top bank in Montgomery County in deposits according to a newly published report released this week by the Federal Deposit Insurance Corporation. The report, which tracks all 11 FDIC-insured institutions in Montgomery County, shows F&M holds $389 million or 17.23 percent of local deposits. This is the 12th consecutive year F&M has claimed the number one spot in the intensely competitive Montgomery County market.
Overall, deposits in Montgomery County rose by 3.1 percent to $2.2 billion for the year through June 30th, which is slightly below the national average increase of 3.8 percent. Despite the increase in deposits, the deposit market share ranking among local institutions remains the same as last year.
«Read the rest of this article»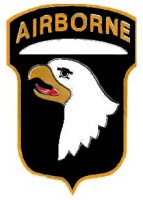 Fort Campbell, KY – Fort Campbell's Army Career and Alumni Program and the Army Community Service Family Employment Readiness Program held back to back jobs fairs, for soldiers, retirees, and their families which saw more than 119 international, national and local employers taking part. Over 4000 people took advantage of the two day event.
Maj. Gen James C. McConville appreciated the opportunity being presented to his soldiers, "Events like this give our well deserving 101st and Fort Campbell Soldiers the opportunity for a "Smooth Takeoff." We have some of the best trained, disciplined and fit Soldiers in the 101st Airborne Division, and they will certainly contribute to our great nation after they leave the Army."
«Read the rest of this article»

Draughons Junior College in Clarksville hosted their annual career fair on June 5th. The event brings local agencies and employers together with hundreds of  people who are actively seeking employment.
Some like Barbara Lucas had been looking for work (in the legal field) for over 6 months. She is currently considering returning to school. Jonathan Ligon said he was laid off 5 months ago, since then he has been unsuccessfully looking for work as a welder.  Beverly Cossingham unemployed for five months, is looking for an administrative or clerical positions. However, Katie Nolan probably summed it up best.  "I am looking for anything at this point, anything", she said.
«Read the rest of this article»

Draughons Junior College in Clarksville will be hosting "Hot Jobs in the City", a Community Career Fair on Friday June 5th from 10:00a.m. – 2:00p.m. Refreshments will be served! Q108 and The Beaver 100.3 FM, will be hosting a live remote from 11a.m. – 1p.m with  door prizes being given away every 10 minutes.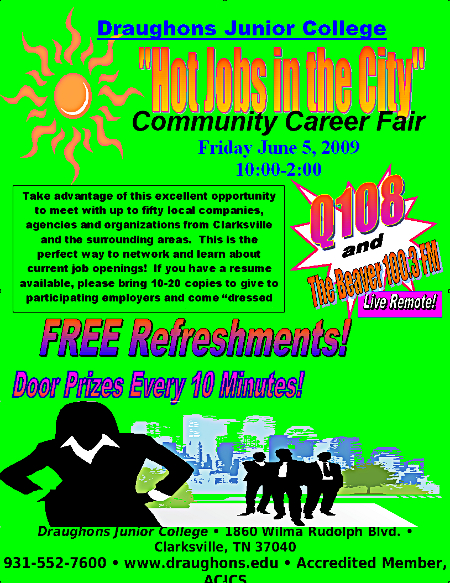 The last four career fairs they have held have been a huge success with over 300 people in attendance.
Employers and agencies planning to attend include: Montgomery County Government, 5 Star Radio Group, Goodwill Industries, THEC, Avon, Convergys, TN Department of Labor, Youth Villages, NIA Association, Cover Tennessee, Montgomery County Election Commission, Home Instead Senior Care, Fort Sill National Bank, US Bank, Blanchfield Army Community Hospital, Kelly Services, Troops for Teachers, Regions Bank,  Dr. Samson Orusa, Heat & Frost Insulators, Eiro Research, Tastefully Simple, TN Rehabilitation Center, Army and Air Force Exchange Services, Clarksville Police Department, Scentsy Wickless Candles, Sam's Club, Spring Meadows, The Kennedy Law Firm, Lowe's, Kohl's Brown, Brown and Associates, Clarksville Dental Center, Woodland Hills Youth Development Center, Tennessee National Guard, and Sendout Cards. «Read the rest of this article»