Topic: Franklin Street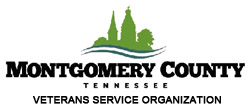 Montgomery County, TN – The Clarksville-Montgomery County Veterans Day Parade will take place on Saturday, November 11th, 2017 with pre-parade ceremonies set for 9:00am in front of the historic courthouse (south side) on Third Street in downtown Clarksville.
Keynote speaker is Army retired Chief Warrant Officer 3 John Clement, who currently serves as the Field Representative for Congressman Marsha Blackburn representing the 7th Congressional district of Tennessee.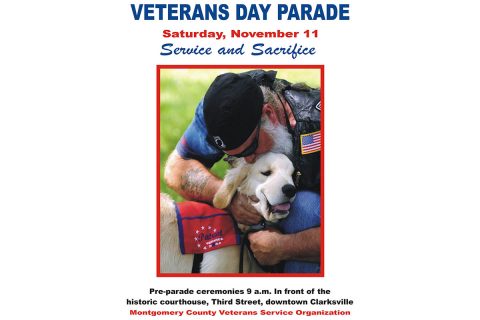 «Read the rest of this article»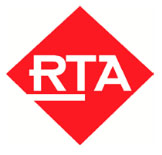 Nashville, TN – Steve Bland, C.E.O. of the Regional Transportation Authority of Middle Tennessee, will update interested Montgomery County citizens on the nMotion Strategic Plan for regional transportation and discuss transportation and mobility options for Montgomery County.
The event will take place 7:30am Thursday, November 9th, 2017 in the Franklin Room of the F&M Bank Building, 50 Franklin Street, Clarksville, TN 37040.
«Read the rest of this article»

Clarksville, TN – Take a little rock 'n' roll, throw in a thunderstorm and a flat tire, mix it with a creepy castle inhabited by a mad scientist, a muscle hunk and a handful of other questionable characters … and you have the recipe for a night out you will never forget!
Richard O'Brien's cult classic "The Rocky Horror Show" returns to the Roxy Regional Theatre for a limited engagement, October 20th – October 28th. So, dig out your fishnets and sharpen those stilettos … that sweet transvestite and his motley crew are back for the sixth year in this annual tradition on the corner of Franklin and First in Historic Downtown Clarksville.
«Read the rest of this article»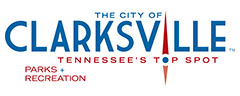 Clarksville, TN – Clarksville Parks and Recreation is offering a wide variety of spooky and fun events this fall.
Family-friendly events are affordably priced and will take place at several Parks and Recreation.
«Read the rest of this article»
"Planters Bank Presents…" Film Series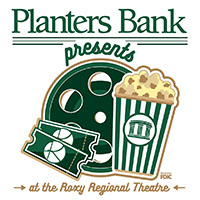 Clarksville, TN – The "Planters Bank Presents…" film series to show "BEETLEJUICE" this Sunday, October 15th, 2017 at the Roxy Regional Theatre at 2:00pm.
After Barbara (Geena Davis) and Adam Maitland (Alec Baldwin) die in a car accident, they find themselves stuck haunting their country residence, unable to leave the house. When the unbearable Deetzes (Catherine O'Hara, Jeffrey Jones) and teen daughter Lydia (Winona Ryder) buy the home, the Maitlands attempt to scare them away without success.
«Read the rest of this article»
Clarksville, TN – Clarksville Area Ministerial Association and Trinity Episcopal Church will host an ecumenical memorial vigil with local churches at 6:00pm on Tuesday, October 10th, 2017 at Trinity Episcopal Church, 317 Franklin Street, Clarksville, TN.
All members of the community are invited to attend this service which will remember the victims of the Las Vegas, NV tragedy.
«Read the rest of this article»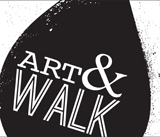 Clarksville, TN – Produced by The Downtown Clarksville Association, First Thursday Art Walk is a free, self-guided tour spanning a 5-block radius that combines visual art, live music, engaging events and more in the heart of Downtown Clarksville.
With 10+ venues, bars and businesses participating each month, the First Thursday Art Walk in Clarksville is the ultimate opportunity to savor and support local creative talent.
«Read the rest of this article»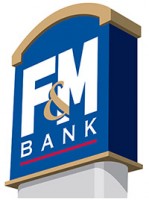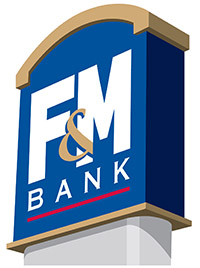 Clarksville, TN – On October 2nd, 2017, the Blood Assurance Blood Mobile and the F&M FunMobile are teaming up for a Blood Drive at F&M Bank's Main Office parking lot located at 50 Franklin Street in Downtown Clarksville. The event will go from 10:00am until 3:00pm.
Blood Assurance will be giving all donors a FREE "One Cool Donor" t-shirt and your choice of "I Bleed" football themed socks! You will also be entered to win a $250.00 gift card to Walmart!
The F&M FunMobile will be on site with FREE hot dogs, popcorn and drinks!!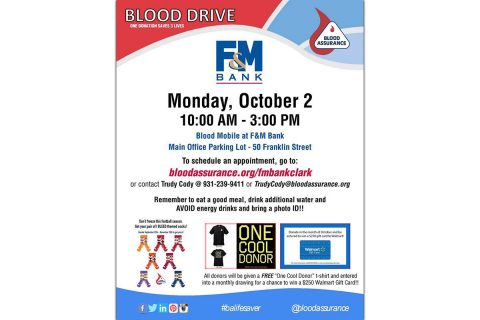 «Read the rest of this article»
Breast Cancer Awareness Event to be held at Kleeman Recreation Center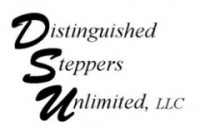 Clarksville, TN – On Saturday, September 30th, 2017 the Distinguished Steppers Unlimited (DSU) of Clarksville will kick-off this year's Breast Cancer Awareness Month with a visual reminder of the importance breast health, early breast cancer detection and treatment.
The highlight of this event has been to assemble and trim a tree beautifully adorned in pink in recognition of the many breast cancer survivors and in memory of those who lost their fight with this disease. This year the group will continue the tradition of assembling a display at the Kleeman Recreation Center, this year's reception event site.
«Read the rest of this article»

Clarksville, TN – The following downtown roads will be closed from 9:45am–11:00am on Saturday, September 16th, 2017 for the Welcome Home Veterans Celebration parade: Franklin Street from Hiter Street to Second Street, Second Street from Franklin Street to Commerce Street, and Commerce Street from Second Street to Hiter Street.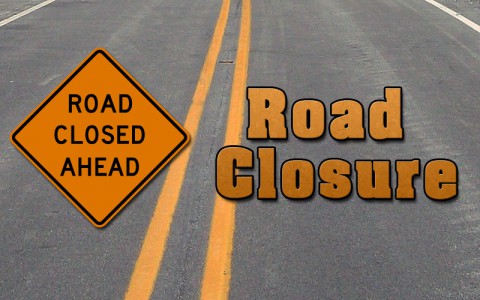 «Read the rest of this article»