Topic: Golf

Clarksville, TN - Spring sports for Austin Peay always have to deal with the possibility of bad weather, but so far this spring the weather had more than proven to be the Governors main opponent over the first month of play.
Baseball, softball, tennis, golf and track and field have all felt the grip of the late winter weather forcing game time changes, postponements, cancellations and even venue changes just to try to get their respective seasons in.
«Read the rest of this article»

Hopkinsville, KY – Senior Tucker Wallace and freshman Jonas Vaisanen each fired third round 70s to help Austin Peay State University men's golf team expand its lead en route to the team title at the F&M Bank APSU Intercollegiate, Tuesday, at The Links at Novadell.
Austin Peay entered the round with an eight-shot lead, but thanks to Wallace and Vaisanen expanded its lead to eight shots at tournament's end. The Govs, who won their home tournament for the ninth time in 15 tries, finished with an 842 (278-280-284) total that was 22-under par. UT Martin (850) finished second followed by Eastern Kentucky (851). Belmont and Southern Illinois were tied for fourth with 854s.
«Read the rest of this article»
Indianapolis, IN - As the season teed off in September, so have the honors as the first month of competition has come to a close in what will be a long and competitive season leading up to the conference championships on April 20th-21st, 2015.
After a month of competition,  Trevecca Nazarene University's Alexa Rippy, of Clarksville Tennessee, was named Great Midwest Athletic Conference Women's Golfer of the Month.
The 2014-15 women's golf season opened in September with a variety of events that featured a field full of G-MAC teams.
«Read the rest of this article»
Indianapolis, IN -The men's golf schedule teed off in September with teams playing in a variety of events, but the month closed out with the first regionally recognized tournament, where Tyler Phillips, from Clarksville Tennessee,  finished second overall and helped the Trojans place third.
For his efforts, Phillips was named Great Midwest Athletic Conference Men's Golfer of the Month for the month of September.
«Read the rest of this article»
Erie, PA - After winning the Evann Parker Memorial Tournament two days prior, the Trevecca Women's Golf team won the Michael Corbett Classic on Monday.
In the first round the Trojans set a school-record with a 310 score. In the second round TNU turned in a 226 for a 636 tournament total.
The Trojans return to action Saturday, September 27th at the NCAA DII National Championship Preview hosted by Grand Valley State University in Allendale, MI at The Meadows Golf Course.
«Read the rest of this article»
Clarksville, TN – Over 80 golfers teed off in unseasonably cool weather Saturday morning at Swan Lake Golf Course to compete in the 2014 Mayor's Golf Classic. The two day event features both young and older golfers vying for the top spot in two divisions, open and senior.
At the end of day 1 several seniors earned bragging rights with the top scores. Brad Van Kirk led all seniors and 99 percent of the field with a three under 68.
Van Kirk was last year's Senior Tournament of Champions winner and has been red hot this summer winning three events including his first non-senior division tournament title, the Clarksville City Amateur Golf Tournament.
«Read the rest of this article»
North East, PA -The Trevecca women's golf team started strong and leads the Evann Parker Memorial golf tournament with a first-round 327.
Alexa Rippy (SO/Clarksville, Tenn.) leads the Trevecca and the tournament with a first-round 77. Trevecca's Mikayla Dodson (JR/Sante Fe, Tenn.) is second place, just a stroke behind Rippy, with her opening round 78.
Mercyhurst University is the host school for the event being played at the Lake View Country Club near Erie, Pa. The 16 teams and 95 golfers will play a final round of 18 holes on Saturday. The course is playing to a par of 72 over 5920 yards.
«Read the rest of this article»
Tennessee Tech Sports Information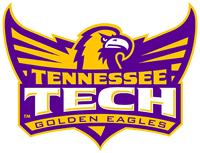 Ledbetter, KY - It didn't take long for the Tennessee Tech women's golf team to see a record fall this season, as sophomore Whitney Robertson took home All-Tournament honors at the Jan Weaver-Murray State Invitational Tuesday afternoon.
Robertson, who hails from Clarksville, Tennessee, completed an impressive 54-hole round with a 76 on the final day of the tournament, finishing the event in fifth place with a final scorecard of 74-72-76=222. Her score marked the lowest three-round total in program history, edging out teammate Maddi Evert's 223 at the MTSU Blue Raider Invitational last fall.
«Read the rest of this article»
APSU Sports Information Office

Clarksville, TN - Kirk Kayden, who has guided Austin Peay State University men's golf program to unprecedented success during 10 years as the program's head, resigned Thursday afternoon to accept another head-coaching opportunity.
Kayden guided the Govs to two Ohio Valley Conference Tournament championships since taking over in 2004, capturing the crown in 2009 and 2013.
«Read the rest of this article»

Clarksville, TN – Nearly 40 golfers competed in the Inaugural School Resource Officer/Reserve Golf Scramble Friday morning at Swan Lake Golf Course.
The team taking home first place were Tom Daugherty, Lewis Boyd, Ed Fowler, Ronald Lott, with second place going to Brian Prentice, Ron Farley, Ray Johnson, Pat Vaden and the team to take third was Joey Henicle, Travis Hanley, Stephen Sewell, Matt Jeffers.
«Read the rest of this article»