Topic: Guess What I Heard
Clarksville, TN – In just seven years, Treva Gordon has become an actress, singer, playwright, writer, motivational speaker, mentor, TV and radio personality. She has made an impact on not only Clarksville, but other cities in Middle Tennessee. "We're doing some great things that's affecting the community. We're excited about what God is doing," she said.
Gordon was born in Detroit, MI. When she was two, her family relocated to River Rouge, MI. Working hard was something that she learned to do at a young age. Gordon had her first job when she was seven. For $1.00 a day, she would sweep the floor at a store in her neighborhood.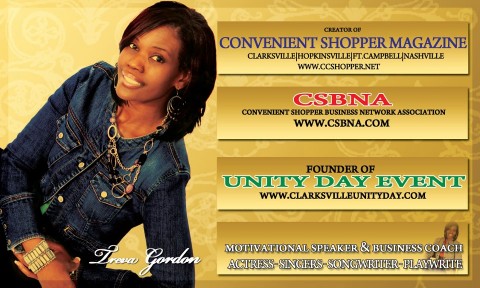 «Read the rest of this article»
Clarksville, TN – The Gospel play "Guess What I Heard?" will be performed at the APSU in the Clement Auditorium on Saturday, January 22nd 2011 at 2:00pm and at 7:00pm. The play is based on the book written by Camilla Vargas. It  is produced, written, and directed by Treva R. Gordon; with writing assistance by Lavon Bravy. Associate directors include Alphonse & Benetta Prather, Lavon Bracey, and Jacqueline Lisenby.
Guess What I Heard is not your ordinary gospel music theatrical play. Comprised of 6 vignettes that touch on stalking in a relationship, baby momma drama, spousal cheating, spousal abuse, self esteem, & suicide. These stories are based in the real world, and are applicable to the lives of people in our community. «Read the rest of this article»