Topic: Hawaii
Written by Laurie Cantillo / Dwayne Brown
NASA Headquarters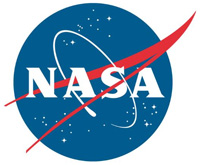 Washington, D.C. – Telescopes in Hawaii have obtained new images of Jupiter and its Great Red Spot, which will assist the first-ever close-up study of the Great Red Spot, planned for July 10th. On that date, NASA's Juno spacecraft will fly directly over the giant planet's most famous feature at an altitude of only about 5,600 miles (9,000 kilometers).
Throughout the Juno mission, numerous observations of Jupiter by Earth-based telescopes have been acquired in coordination with the mission, to help Juno investigate the giant planet's atmosphere.
«Read the rest of this article»
Fort Campbell, KY – Blanchfield Army Community Hospital will host a battalion change of command ceremony on the hospital's A building front lawn at noon June 30th, 2017.
Lt. Col. Patrick T. Birchfield will relinquish command to Lt. Col. Deidre B. Lockhart, who most recently served in Hawaii as the Chief of Support Operations for the U.S. Army Pacific Surgeon Cell. During that time, she joined the USARPAC Coordination Element in Korea as the Deputy Director and the Republic of Korea Army 2nd Operational Command Lead Liaison.
«Read the rest of this article»
Written by Sgt. Neysa Canfield
101st Sustainment Brigade, 101st Airborne Division (AA) Public Affairs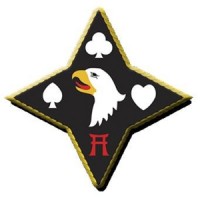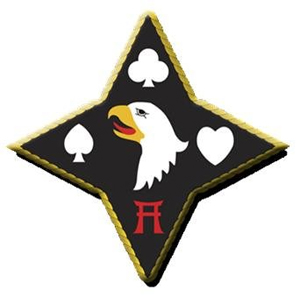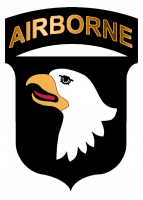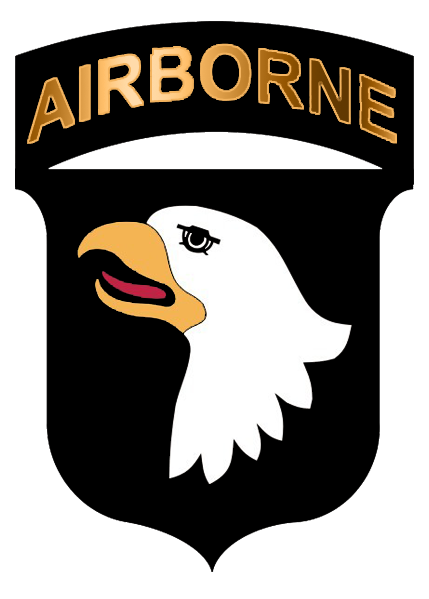 Fort Campbell, KY – Staff Sgt. Shenea Andrews, the chaplain assistant noncommissioned officer in charge for the 101st Airborne Division (Air Assault) Sustainment Brigade, 101st Abn. Div., proudly walked across the stage of Wilson Theater to receive her bachelor's degree after beginning her journey almost nine years ago.
"This accomplishment means a lot to me," said Andrews, a Tampa, Florida native. "It means all the hard work I put in mornings [before physical training], during lunch, and after work paid off."
«Read the rest of this article»
Written by Laurie Cantillo / Dwayne Brown
NASA Headquarters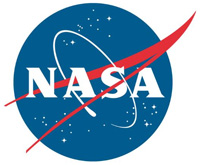 Washington, D.C. – NASA scientists have found a wide diversity of minerals in the initial samples of rocks collected by the Curiosity rover in the lowermost layers of Mount Sharp on Mars, suggesting that conditions changed in the water environments on the planet over time.
Curiosity landed near Mount Sharp in Gale Crater in August 2012. It reached the base of the mountain in 2014. Layers of rocks at the base of Mount Sharp accumulated as sediment within ancient lakes around 3.5 billion years ago. Orbital infrared spectroscopy had shown that the mountain's lowermost layers have variations in minerals that suggest changes in the area have occurred.
«Read the rest of this article»
Written by Carol Rasmussen
NASA's Earth Science News Team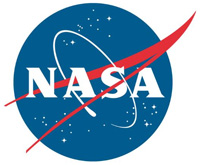 Washington, D.C. – A NASA-funded field campaign getting underway in Florida on May 25th has a real shot at improving meteorologists' ability to answer some of the most fundamental questions about weather: Where will it rain? When? How much?
Called the Convective Processes Experiment (CPEX), the campaign is using NASA's DC-8 airborne laboratory outfitted with five complementary research instruments designed and developed at NASA.
The plane also will carry small sensors called dropsondes that are dropped from the plane and make measurements as they fall.
«Read the rest of this article»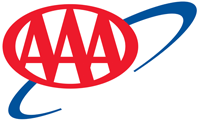 Tampa, FL – Gas prices have dropped slowly on the week. Today's national average price for a gallon of regular unleaded gasoline is $2.39, a three cents drop from one week ago; however, it is an increase of nine cents over last month and 18 cents more than this time last year. One year ago, the country was experiencing higher consumer demand and prices were increasing.
Fast forward to today, consumers are still experiencing higher gas prices over last year due to the OPEC agreement, but we are not seeing substantial increases at the pump due to increased gasoline inventories and low demand across the country.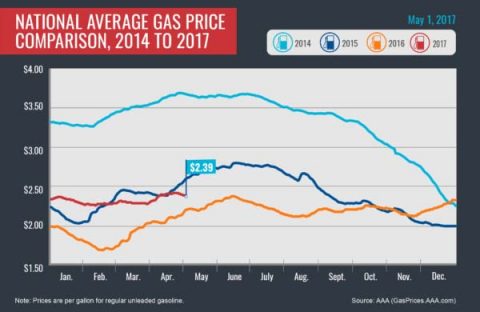 «Read the rest of this article»
Written by Alan Buis
NASA's Jet Propulsion Laboratory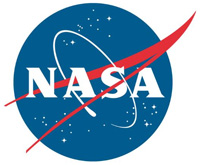 Pasadena, CA – NASA pulled off a scientific double play in Hawaii this winter, using the same instruments and aircraft to study both volcanoes and coral reefs. Besides helping scientists understand these two unique environments better, the data will be used to evaluate the possibility of preparing a potential future NASA satellite that would monitor ecosystem changes and natural hazards.
The advantages of studying active volcanoes from the air rather than the ground are obvious. Coral reefs may not offer the same risks in a close encounter that volcanoes do, but there's another good reason to study them by remote sensing: they're dotted across thousands of square miles of the globe.
«Read the rest of this article»
Written by Alan Buis
NASA's Jet Propulsion Laboratory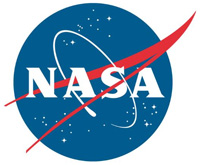 Pasadena, CA – Some climate models are suggesting that El Niño may return later this year, but for now, the Pacific Ocean lingers in a neutral "La Nada" state, according to climatologist Bill Patzert of NASA's Jet Propulsion Laboratory, Pasadena, California.
The latest map of sea level height data from the U.S./European Jason-3 satellite mission shows most of the ocean at neutral heights (green), except for a bulge of high sea level (red) centered along 20 degrees north latitude in the central and eastern Northern Hemisphere tropics, around Hawaii. This high sea level is caused by warm water.
«Read the rest of this article»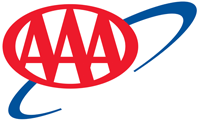 Tampa, FL – After remaining relatively flat, the national average price for regular unleaded gasoline has now fallen for 10 straight days to today's average of $2.30 per gallon.
Today's national average is one cent less than one week ago and two cents more than one month ago. Compared to this same date last year, consumers are paying 37 cents more per gallon at the pump.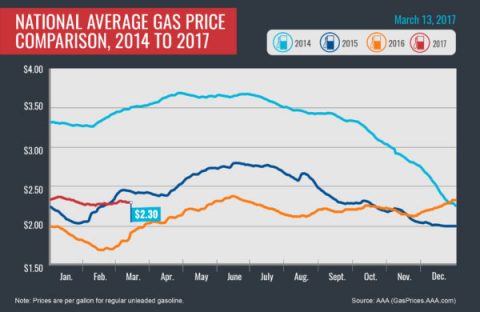 «Read the rest of this article»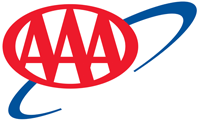 Tampa, FL – Oil prices slipped fractions of a penny over the weekend, reaching today's national average price for regular unleaded gasoline of $2.31 per gallon. Today's price is still two cents more than one week ago, four cents more compared to one month ago and 50 cents more per gallon year-over-year.
Retail prices continue to fluctuate but have remained between $2.28-2.32 for more than a month as reports of increased U.S. production continues to counter OPEC rebalancing efforts.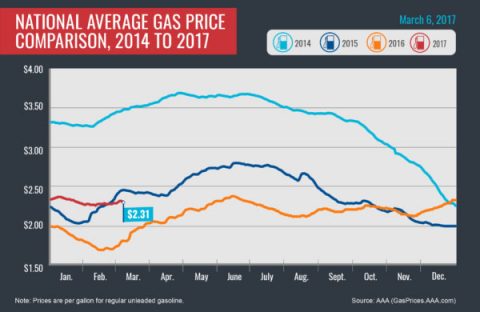 «Read the rest of this article»