Topic: Jane Winter
Tennessee State Representative Joe Pitts also speaks to 4th Graders at Minglewood Elementary School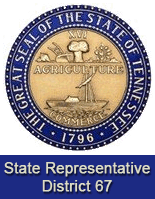 Nashville, TN – Tennessee State Representative Joe Pitts (D-Clarksville) has introduced legislation to require those individuals under the age of 18 who are applying for a motorcycle operator's license to complete a state approved training course prior to receiving their license.
This measure is the result of a recent study completed by the Tennessee Department of Safety, a bill also sponsored by Rep. Pitts in 2012, that shows motorcycle injuries and fatalities are up sharply in the state.
«Read the rest of this article»
Tennessee Department of Education Names 2012-13 Principal, Supervisor of the Year

Nashville, TN – A Clarksville elementary school principal and a Warren County Schools director earned top honors for their work in Tennessee education.
Jane Winter, principal of Minglewood Elementary School in Clarksville-Montgomery County Schools, was named Tennessee's 2012-13 Principal of the Year. She has served as principal at Minglewood since 1994.
Bobby Cox, former assistant director for teaching and learning in Warren County Schools, was named Tennessee's 2012-13 Supervisor of the Year. Cox now leads the district as the director of schools.
Both awards were announced Tuesday during a statewide conference for education leaders. «Read the rest of this article»