Topic: Jobs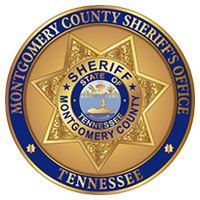 Clarksville, TN – The Montgomery County Sheriff's Office would like to remind citizens of job related scams. A job related check cashing scam has recently been reported to the Sheriff's Office by a local citizen.
Check cashing scams frequently begin with an email correspondence offering a job. Checks, money orders or wire deposits will be sent to the victim for "processing" or to pay for job related expenses.
The victim will be asked to cash the check or money order and send a percentage of the funds back to the scammers. Once the funds are sent back to the scammers the victim's bank or financial institution learns that the check/money order/wire transfer was fraudulent. The funds are then subtracted from the victim's account and they are made liable for the lost money.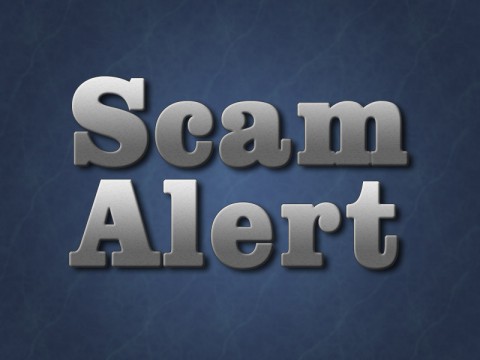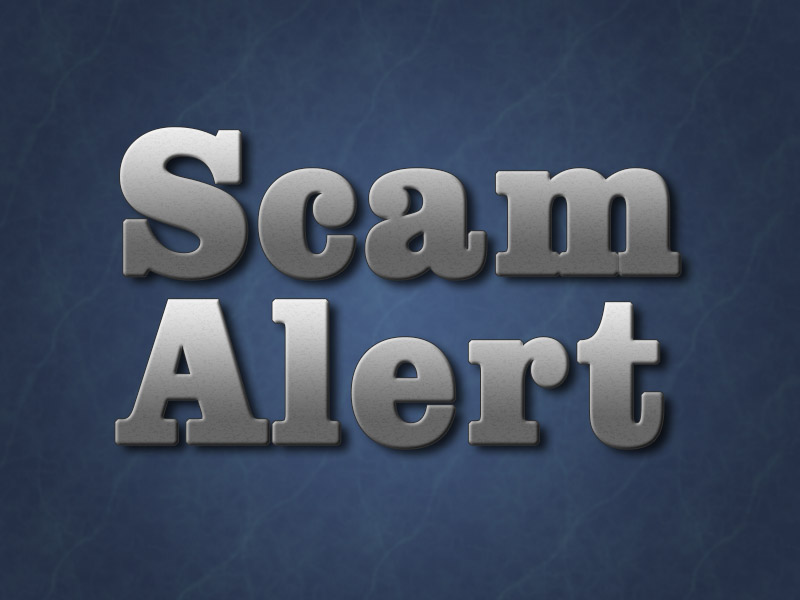 «Read the rest of this article»

Nashville, TN – Finding a student job that's flexible with school schedules can often be difficult. While they do exist, there are some job offers that really are too good to be true.
As the fall school semester approaches, the Tennessee Department of Commerce & Insurance's (TDCI) Division of Consumer Affairs wants to equip students with the basic knowledge needed to avoid job scams.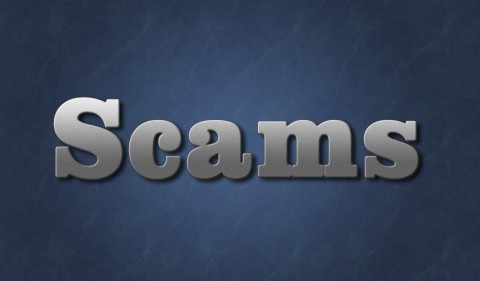 «Read the rest of this article»
Clarksville Parks and Recreation needs seasonal and part-time workers
Clarksville, TN – The City of Clarksville Parks and Recreation Department has dozens of seasonal and part-time jobs – many of them ideal for ambitious teens looking for summer work.
The jobs include everything from Summer Youth Program Assistant, to Seasonal Grounds & Facilities Maintenance Assistant, to Lifeguard and more.
«Read the rest of this article»

Clarksville, TN – The Clarksville metropolitan statistical area (MSA) ranked 19th in the nation for fastest job growth. A report released today from 24/7 Wall Street, a Delaware-based financial news company, studied employment and job growth from October 2015 to October 2016 for 387 metro areas and announced the top 25 U.S. cities.
The Clarksville MSA added more than 4,700 jobs, an increase of 4.61%, with total jobs at 106,811 in October 2016.
«Read the rest of this article»
BACH nurse shares career path, urges others to join team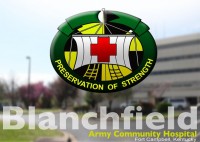 Fort Campbell, KY – A civilian licensed practical nurse at Blanchfield Army Community Hospital (BACH) loves her job and urges other nurses to consider a career at BACH, as nearly two dozen nurse positions open soon.
A military family member for years, Candace Martin had been around military treatment facilities most of her life. Her father had served in the Army for 20 years, so she was familiar with military treatment facilities as a patient, having received care since childhood.
«Read the rest of this article»

Nashville, TN – Tennessee was ranked the top state in the nation for job creation resulting from foreign direct investment (FDI) in 2015, according to the recently released 2016 IBM Global Location Trends report.
The annual report from the IBM Institute for Business Value measured the number of jobs created or committed by foreign-owned companies in each state during the 2015 calendar year.
«Read the rest of this article»
Employers in Middle Tennessee Lead the State in Job Opportunities

Nashville, TN – The Tennessee Department of Labor & Workforce Development (TDLWD) reported Friday almost 200,000 jobs were posted on the Jobs4TN.gov website in April 2016.
That marks a record number of job opportunities employers across the state have advertised on the site.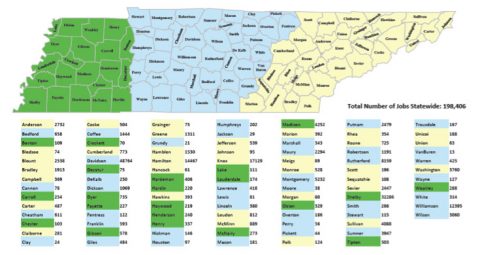 «Read the rest of this article»
Estimated 112,000 Total Jobs in All Occupations Available Annually Through 2024

Nashville, TN – Tennessee's long-term industry and occupational employment projections for 2014-2024 released today show the state's economy is projected to grow at an average annual rate of 1.3 percent with expected total employment of 3,432,960 by 2024 and total annual job openings of 112,880.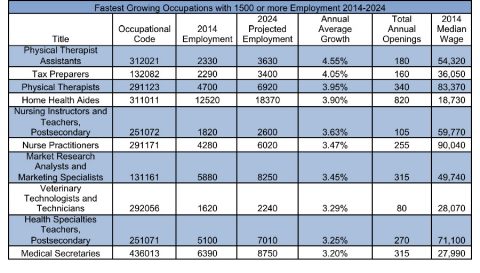 «Read the rest of this article»
Tennessee Unemployment Rate at 4.5% for March

Nashville, TN – Tennessee employers have tens of thousands of open positions for qualified applicants across the state.
With Tennessee's latest unemployment rate at its lowest level since June 2007, there is an abundance of job openings across the state.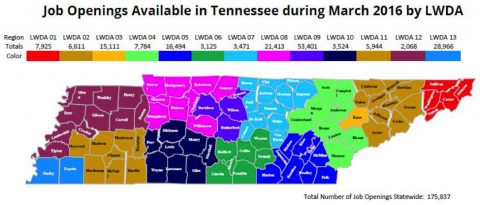 «Read the rest of this article»
JOBS4TN allows users to search local Jobs, Share on Social Media, Filter Attributes and Requirements

Nashville, TN – Tennessee Department of Labor and Workforce Development Commissioner Burns Phillips is announcing a new iPhone and Android mobile app that makes finding available Tennessee jobs even easier.
The free mobile application brings thousands of employment opportunities to smart phones with advanced location and sharing features.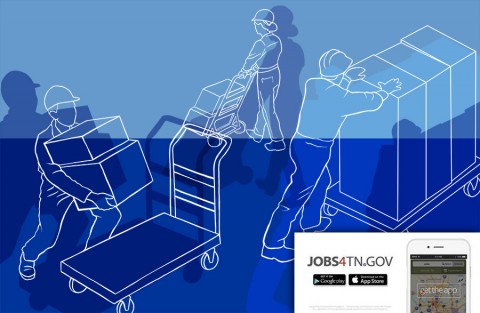 «Read the rest of this article»