Topic: Joe Pitts
Written by Joe Pitts
Tennessee State Representative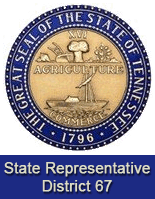 Nashville, TN – Clarksville, TN – Noted local artisans, Larry Martin and Lyndel Littleton, will unveil their latest works recently donated to the Wendell H. Gilbert Tennessee State Veterans Home in Clarksville, Tennessee.
The unveiling will take place on Friday, October 6th, 2017 at 11:00am at the Veterans Home, 250 Arrowood Road, Clarksville. Artists, designers and a host of others will be present for the unveiling. The public is invited.
Larry Martin donated an original water color painting to be hung in the chapel of the facility.
«Read the rest of this article»

Nashville, TN – To commemorate Tennessee's annual Carbon Monoxide Awareness Day (September 18th) the mother of a carbon monoxide victim is speaking out in a powerful testimonial video from the Tennessee State Fire Marshal's Office (SFMO) highlighting the dangers of carbon monoxide poisoning.
Clarksville resident Christine Watson is raising awareness of carbon monoxide poisoning which claimed the lives of her daughter and son-in-law (Jon and Kathryn Watson Over) as well as their three friends (Jim Wall, Tim Stone and Allison Bagwell-Wyatt).
«Read the rest of this article»
Clarksville, TN – The City of Clarksville formally rededicated the restored Arlington Hotel monument on Second Street, along with the Montgomery County Historical Society and Planters Bank, which donated money to make the project come alive.
The stone monument commemorates the Arlington Hotel, a three-story brick building that stood on the site from 1887 until it was razed in 1973. The City's Cumberland Place Parking Plaza garage was built on the site in 1992.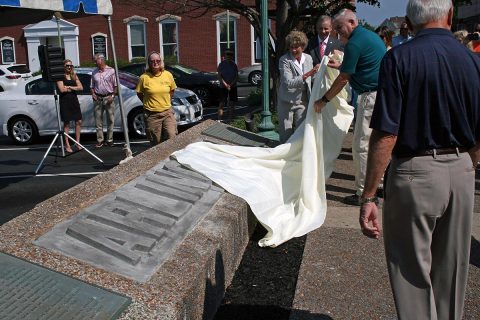 «Read the rest of this article»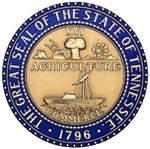 Nashville, TN – On Sunday, June 18th, 2017, Sebastian Alexander Motes received a special honor from the House of Representatives of the One Hundred Tenth General Assembly of the State of Tennessee. House Resolution No. 172 was presented to Sebastian by Representative Joe Pitts during the morning worship service at Bethel Cumberland Presbyterian Church.
The resolution was adopted by the House of Representatives on May 9th during Sebastian's tenure as a legislative page to commend his outstanding service to the One Hundred Tenth General Assembly.
«Read the rest of this article»
City of Clarksville, Tennessee Housing Development Agency thank lenders for helping homebuyers
Clarksville, TN – Several local lenders and real estate professionals received a hearty "thank you" this week from Ralph Perrey, executive director of the Tennessee Housing Development Agency, for their effectiveness in helping homebuyers use THDA programs.
Earlier this year, THDA announced a new program — Hardest Hit Fund Down Payment Assistance (HHF-DPA) program — which offers an additional $15,000 to homebuyers who use a THDA Great Choice mortgage to purchase a home in neighborhoods hard hit by the 2009 national economic downturn and have been slower to recover.
«Read the rest of this article»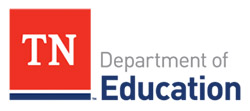 Nashville, TN – The Tennessee Department of Education has released the Dyslexia Resource Guide, which offers assistance to schools for identifying and supporting for students showing characteristics of dyslexia.
This guide provides districts with information related to screening procedures for dyslexia, specific interventions, professional learning resources, and reporting requirements.
«Read the rest of this article»
Written by Joe Pitts
Tennessee State Representative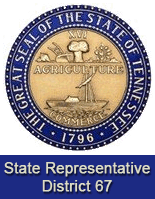 Nashville, TN – In 2006 the folks of House District 67 gave me the high honor of electing me the first time to be their State Representative. I always referred to the opportunity as a "two-year contract" between me and those that I represent. And I knew I would one day have to say good-bye to this opportunity and that day is on the horizon.
At the conclusion of the 110th Tennessee General Assembly, in 2018, I will retire from this season of service. The time just seems right. It is time for me to step aside, and allow another citizen legislator to experience the excitement of helping their constituents…some of the finest people anywhere.
«Read the rest of this article»
Written by Joe Pitts
Tennessee State Representative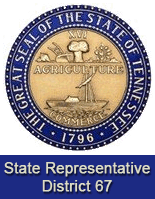 Nashville, TN – The IMPROVE Act, Tennessee Governor Bill Haslam's proposal to fund critical infrastructure projects and offer local government the option to fund transportation needs passed the House of Representatives on Wednesday.
The more than six hour debate saw House members carefully and thoroughly consider dozens of amendments and counter proposals to the IMPROVE Act. At the end of the debate, the bill cleared the House by a narrow margin.
"I have been out front and very public about my disappointment in our State government's neglect, in recent years, to address our over-burdened roads, highways and dangerous bridges with a responsible funding plan."
«Read the rest of this article»
Written by Joe Pitts
Tennessee State Representative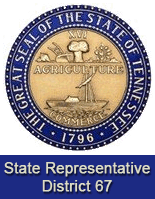 Nashville, TN – On Monday April 10th, I was honored to recognize Mr. Gordon Wayne Miller on the occasion of his retirement. Mr. Miller is the current executive director of the Tennessee Organization of School Superintendents (TOSS). Prior to coming to TOSS, he enjoyed a 27 year career at Lenoir City Schools.
HB 500 sponsored by Tennessee State Representative Joe Pitts, has passed the Full Senate and Full House and is on its way to the Governor for his signature. This legislation was requested by members of the Board of Osteopathic Examination to increase members' per diem reimbursement for their meetings.
These volunteers spend precious time away from their medical practice, seeing patients, to provide guidance and oversight of Doctors of Osteopathic Medicine.
«Read the rest of this article»
Written by Joe Pitts
Tennessee State Representative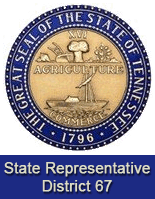 Nashville, TN – House Bill 20/Senate Bill 23 sponsored by Rep. Joe Pitts (D-Clarksville) and Senator Mark Green (R-Clarksville) passed the Local Government Sub and Full committees.
"There were four competing proposals to provide property tax relief for disabled veterans, low income senior citizens and permanently disabled citizens, and I teamed up with Rep. John Forgety (R-Athens), a retired US Army First Sergeant, to help push House Bill 20 out of the Local Government Committee," Pitts said.
«Read the rest of this article»