Topic: Josh Baggett

Clarksville, TN – Burt Elementary teacher Kenzi Neuman is being recognized for the initiative she took in entering Burt Elementary School in a state lottery which will allow fifth graders to visit the Tennessee State Museum on Feb. 15 and view the actual Emancipation Proclamation and Thirteenth amendment, which will be on display there for only 72 hours. An Abraham Lincoln impersonator also will visit the students at their school February 4 to impart more knowledge about these historical documents.
«Read the rest of this article»

Nashville, TN – The Tennessee School Boards Association has selected David B. Smith as its 2011 Volunteer for his leadership and work in the CMCSS 100% Graduation is Clarksville's Business project.
Launched in 2008, the 100% Graduation Project Team has had Smith's leadership and involvement from the start.
«Read the rest of this article»

Clarksville, TN – The Clarksville-Montgomery County Board of Education is being honored by the Tennessee School Boards Association (TSBA) for its efforts to effectively govern public schools for more than 28,000 students.
TSBA will present its prestigious Board of Distinction Award, which recognizes outstanding performance by the entire school board, at a public board meeting to highlight the accomplishments of Clarksville-Montgomery County's elected education leaders. The award will be presented by Gracie Porter, Davidson County Chairman and Mid-Cumberland District Director at the Clarksville-Montgomery County Board of Education meeting in August. «Read the rest of this article»

Clarksville, TN – Giving Clarksville-Montgomery County School System students real-world knowledge and hands-on experience has been made possible by this month's Board of Education Point of Pride recipient, the Fort Campbell Federal Credit Union.
 
CMCSS's Career Technical Education (CTE) has worked closely with FCFCU president and CEO Stewart Ramsey, vice president of retail operations Melody Swindall and executive vice president Maria McKee to plan and implement the student credit unions at Northeast High School and Rossview High School.
«Read the rest of this article»

The team of Bret Campbell/Joey Tuck/Brad Glassell/Randy Spell ran away with the Saturday portion of the 24th Annual Governors Golf Classic, played at Swan Lake Golf Course.
That quartet shot an impressive 22-under par 49 in the scramble.
On the women's side, which covered both Friday and Saturday, the team of Britney Campbell/Amanda Phillips/Jeanette Kramer/Carla Hazelwood, which played Friday, won first place at -16 to ease by the Saturday team of Beth Goodowens/Missy Rye/Margaret Jones/Jane Stevens, who -12.
On the men's side, a scorecard playoff settled second place as the team of Jake Peterson/George Plaster/David Shipley/Dave Loos came in at -19 but shot a 24 on the back nine. That allowed that group to slip past the group of Wayne Ard/Conn Butts/Joe Douglas/Bob Thomps, who also shot a -19 but had a 25 on the back nine.
«Read the rest of this article»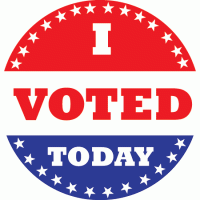 With the turnout at the August 2010 election just a measly 19.04% of registered voters, voters have sent a message. It seems that they do not feel that their vote, their voice really makes a difference.  This is a trend that we as a nation need to work on changing.
The roots of the current apathy towards voting can likely be traced to the current economic uncertainty; along with concerns about job security, such as seen in the recent announcement that 700 people in Clarksville will be losing their jobs at the Quad/Graphics printing plant in North Clarksville.
«Read the rest of this article»