Topic: Kelly Services
Clarksville and Montgomery County companies are looking for Employees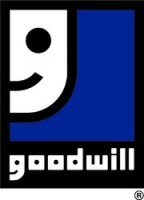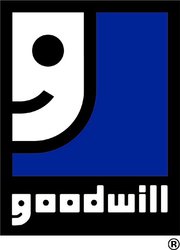 Clarksville, TN – The job market may be sluggish in some areas, but many employers in Clarksville and Montgomery County are adding to their employee base.  To help connect businesses with qualified job candidates, Goodwill's Career Solutions Center in Clarksville will host a job fair on Wednesday, June 15th from 9:00am until noon.
The center is located at 1592 Fort Campbell Boulevard, next to Goodwill's retail store. State Senator Tim Barnes is expected to drop by the event at 8:00am and County Mayor Carolyn Bowers plans to meet with employers and job candidates mid morning. «Read the rest of this article»

Draughons Junior College in Clarksville hosted their annual career fair on June 5th. The event brings local agencies and employers together with hundreds of  people who are actively seeking employment.
Some like Barbara Lucas had been looking for work (in the legal field) for over 6 months. She is currently considering returning to school. Jonathan Ligon said he was laid off 5 months ago, since then he has been unsuccessfully looking for work as a welder.  Beverly Cossingham unemployed for five months, is looking for an administrative or clerical positions. However, Katie Nolan probably summed it up best.  "I am looking for anything at this point, anything", she said.
«Read the rest of this article»

Draughons Junior College in Clarksville will be hosting "Hot Jobs in the City", a Community Career Fair on Friday June 5th from 10:00a.m. – 2:00p.m. Refreshments will be served! Q108 and The Beaver 100.3 FM, will be hosting a live remote from 11a.m. – 1p.m with  door prizes being given away every 10 minutes.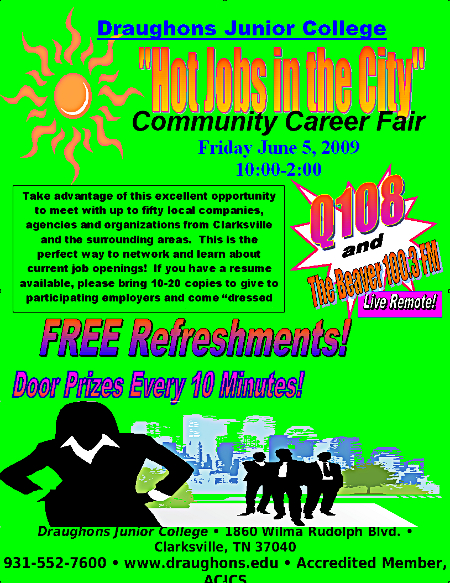 The last four career fairs they have held have been a huge success with over 300 people in attendance.
Employers and agencies planning to attend include: Montgomery County Government, 5 Star Radio Group, Goodwill Industries, THEC, Avon, Convergys, TN Department of Labor, Youth Villages, NIA Association, Cover Tennessee, Montgomery County Election Commission, Home Instead Senior Care, Fort Sill National Bank, US Bank, Blanchfield Army Community Hospital, Kelly Services, Troops for Teachers, Regions Bank,  Dr. Samson Orusa, Heat & Frost Insulators, Eiro Research, Tastefully Simple, TN Rehabilitation Center, Army and Air Force Exchange Services, Clarksville Police Department, Scentsy Wickless Candles, Sam's Club, Spring Meadows, The Kennedy Law Firm, Lowe's, Kohl's Brown, Brown and Associates, Clarksville Dental Center, Woodland Hills Youth Development Center, Tennessee National Guard, and Sendout Cards. «Read the rest of this article»