Topic: Kim McMillan
Clarksville, TN – One of the things that makes Clarksville such a great place to live, work and raise our families is the way our people come together to help.
Every year, I am amazed by the generosity I see in every corner of our community.  We are a group of people who care about each other, encourage each other and help each other.
«Read the rest of this article»
Clarksville, TN – Clarksville Mayor Kim McMillan has proclaimed November 29th, 2014 as "Small Business Saturday" in Clarksville.
Originally created in 2010, Small Business Saturday recognizes the unique needs of small business owners and the importance of the goods and services they offer. Falling between Black Friday and Cyber Monday, this is a day that celebrates small, independently-owned businesses that help boost our local economy through job creation, service in our community and preservation of our neighborhoods.
«Read the rest of this article»
Clarksville, TN – Clarksville Mayor Kim McMillan is announcing the City of Clarksville's plans to assist the homeless during the expected frigid temperatures.
Over the next two days, the temperature is predicted to fall well below freezing. The Mayor and the City's Office of Housing and Community Development have been monitoring the availability of options for homeless people in Clarksville to get out of the elements, especially during the nighttime hours.
«Read the rest of this article»

Clarksville, TN – The weekly Clarksville Parks and Recreation Department Recreation Report provides Clarksvillians with a glimpse at the activities and events that are available from the Parks and Recreation Department for them to enjoy together as a family.
This weeks highlights include: Christmas on the Cumberland Grand Opening, Giving on the Cumberland Returns to Christmas on the Cumberland, Register now for December Swim Lessons, Christmas in Occupied Clarksville and Clarksville Park and Facility Rentals.
«Read the rest of this article»

Clarksville, TN – The City of Clarksville's Christmas on the Cumberland is sure to create lasting memories this holiday season as thousands experience the captivating displays of over one million lights!
Join the City of Clarksville and US Bank as we celebrate Christmas on the Cumberland's 16th year with a grand opening ceremony, Tuesday, November 25th, 2014 at 6:30pm at the McGregor Park RiverWalk and Museum.
«Read the rest of this article»
Clarksville, TN – For most of us, Veteran's Day is a day of special meaning. I believe that's especially true for those of us who call Clarksville, Tennessee our home.
Every day we see men and women in uniform working and volunteering in our community. There are also hundreds of people who have stayed in Clarksville after their active-duty years and who continue to make our community richer.
«Read the rest of this article»
Clarksville, TN – Clarksville Mayor Kim McMillan reminds everyone that all City of Clarksville offices will be closed on Tuesday, November 11th, 2014, in recognition of Veterans Day.
City offices will reopen Wednesday, November 12th, 2014 for regularly scheduled business hours.

Montgomery County, TN – The latest business to earn Clarksville-Montgomery County Green Certified and host a Green Ribbon Cutting is the Tree of Life Center.
Montgomery County Mayor Jim Durrett, City of Clarksville Chief of Staff Bill Harpel, standing in for Clarksville Mayor McMillan, and Chamber of Commerce Director Melinda Shepard were there to congratulate the owner and employees for their work.
«Read the rest of this article»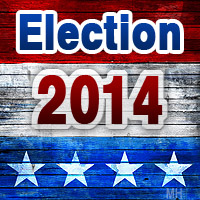 Clarksville, TN – Across Tennessee yesterday, the voters went to the polls to select their representatives for a variety of Federal, State, and Local offices. In Montgomery County voters cast ballots for the Tennessee Governor, U.S. Senator, a Congressman , three Tennessee House seats, the Clarksville City Mayor, and half of the city council seats. Voters also cast ballots on 4 seperate Amendments to the Tennessee Constitution, and a local referendum on allowing retail food stores to offer sell wine in Clarksville; all were approved. Voter turnout was exceptionally low with just 8.09% of the voters choosing to cast ballots in Montgomery county.
In a hard-fought race to become the next Mayor of the city of Clarksville, current Mayor Kim McMillan was reelected with 46.47% of the vote. Challengers Bill Summers and Jeff Burkart split 53.45% of the vote.
«Read the rest of this article»

Clarksville, TN – Today, Monday November 3rd, 2014, the Clarksville Police Department welcomed Zachary Baggett and Randolph Puskas.
The New Officers and their families, along with Deputy Chief Michael Parr, and other City Officials, gathered at City Hall, while they were sworn in by Clarksville Mayor Kim McMillan.
«Read the rest of this article»