Topic: leap organization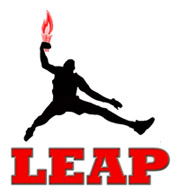 Clarksville, TN – LEAP Organization is preparing for its 6th Annual Step Show Competition at West Creek High School on October 24th. This competition is an inspiring, upbeat, and fun dance competition designed to showcase the talented young people we have in the community.
This event was the brainchild of two sisters, Deanna and Valerie Armstrong, who were among the five initial LEAP participants in 2009. The sisters wanted to offer a quality event where school teams can enter and perform to help the community youth foster a deeper love and commitment to dance.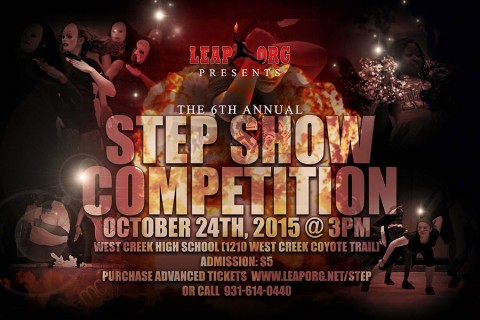 «Read the rest of this article»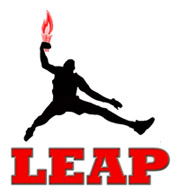 Clarksville, TN – Tennessee Gun Country hosted Shoot for a Cause, a charity event for gun owners, and non-owners alike, to learn about firearms and practice on the range. The event was open to the community and held on the gun range with July 25th designated for 100% of the proceeds to be donated to the LEAP Organization.
The donation will enable LEAP to educate their youth participants in gun safety and violence prevention.
Executive Director Richard "Reason" Garrett had concerns regarding the community support for this type of event. "Initially I was concerned about how the community would respond to this kind of event given the recent unfortunate gun related tragedies.
«Read the rest of this article»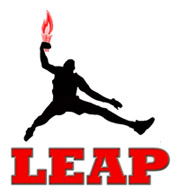 Clarksville, TN – On Sunday, August 16th Beachaven Winery concert series 'Jazz on the Lawn' will feature music by the Back Road Brigade sponsored by the Joe Padula Show on 1400 WJZM. The music starts at 1:00pm and goes until 4:00pm.
The theme for this event is Toasting to Youth Development with 10% of proceeds from wine sells being donated to the LEAP Organization.
LEAP is a 501c3 nonprofit youth development organization that instills positive moral growth and sustainable life skills in youth.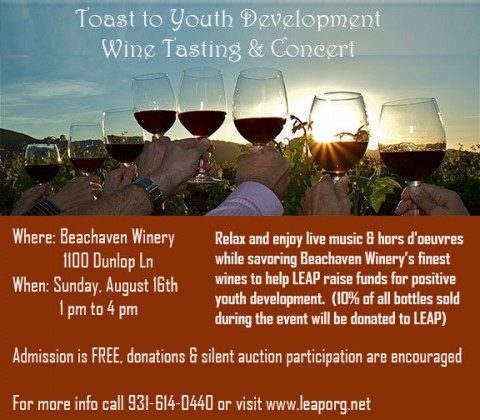 «Read the rest of this article»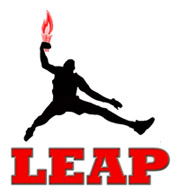 Clarksville, TN – New York City was the destination for the LEAP Organization's 5th Annual Education Excursion. Youth from Clarksville along with chaperones and community members embarked on a four day journey to New York to educate LEAP youth by exposing them to other cities, their cultural differences and historical landmarks.
Places that were visited included the 911 Tribute Center and Memorial Center, Rockefeller Center/Top of the Rock, Empire State Building, Statue of Liberty, Luna Park Coney Island, Madison Square Garden, and Madame Tussauds Celebrity Wax Museum in addition to several museums and sight-seeing cruises.
«Read the rest of this article»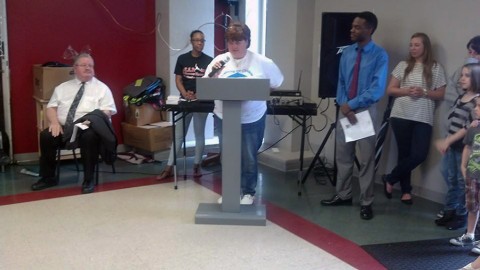 Clarksville, TN – The sixth annual Foster Care Awareness Family Day celebration was recently held at the LEAP plaza. Despite inclement weather about 450 members of the Clarksville Community gathered together to learn about foster care and learning what it takes to become a foster parent.
Hosted by the Department of Children Services, Centerstone, Health Connect, Clarksville Family Therapy, OmiVisions, Youth Villages, Mental Health Cooperative, and the LEAP Organization, the goal of this event was to create greater awareness of children in need who remain in state custody and want to become members of foster families.
«Read the rest of this article»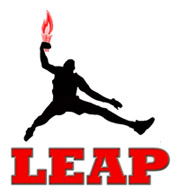 Clarksville, TN – LEAP Organization was pleased to recognize Pastor Steve Estep, Yolanda Stewart, and Angela Hopkins for their distinguished service as board members. They have successfully guided the organization in its mission to instill positive moral growth and sustainable life skills development in youth during their time of service.
Pastor Steve Estep served as Vice President from 2010 to 2013. One of Pastor Estep's biggest contributions to LEAP was when he graciously opened the doors of Grace Church of the Nazarene to allow LEAP to operate the youth development programs until LEAP acquired the current facility. His church was very welcoming and supportive of LEAP'S endeavors.
«Read the rest of this article»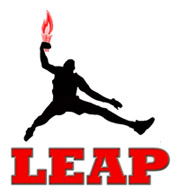 Clarksville, TN – On Wednesday, February 11th, 2015, CSM(R) Sidney Brown was presented a $500.00 check by City Councilman Richard Garrett on behalf of the LEAP Organization to support the APSU CSM(R) Sidney Brown Scholarship Endowment which benefits active duty military, veteran students, their spouses and children, and APSU ROTC cadets.
After receiving the donation, CSM(R) Brown delivered a message to youth enrolled in the LEAP youth development program encouraging them to pursue higher learning opportunities at collegiate institutions to aid them in reaching their goals.
«Read the rest of this article»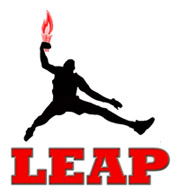 Clarksville, TN – Saturday, January 31st, 2015 marked the 2nd Annual LEAP Gala Celebrating Youth Development at the Emmanuel Family Life Center. Clarksville  Mayor Kim McMillan issued a proclamation with was delivered by City Councilwoman Wanda Smith designating January 31st Youth Development Day and urging those is the Clarksville community to take time on this day to acknowledge the work of the LEAP Organization in making a positive impact on youth in our community.
The Gala opened with a string musical ensemble by the Brio Strings as guests were greeted, seated, and served by youth and mentors. Other entertainment included performances by West Creek High School Step Team, the Distinguished Steppers Unlimited, Mercedes Johnson singing "Confidence" by Tasha Cobb, and a Youth Fashion Show organized by Sharon Edwards featuring fashions from local designers ELO.
«Read the rest of this article»
Clarksville, TN – The LEAP Organization is proud to announce its 4th annual  7 Points Quest Scholarship Essay contest for high school seniors designed to encourage and promote the 7 principles of Leadership, Enlightenment, Academic Achievement, Perseverance, Outreach, Responsibility, and Growth.
The LEAP Organization recognizes the importance of encouraging youth to be productive and responsible citizens, and is honored to provide resources to assist youth in their quest to pursue higher learning opportunities. «Read the rest of this article»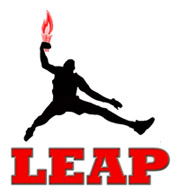 Clarksville, TN – On a crisp October Saturday LEAP organization in collaboration with the Clarksville Housing Authority hosted a Block Party in Lincoln Homes. Laughter could be heard as you approached the block party. It was coming from dozens and dozens of children enjoying free hot dogs, popcorn, and ice cream as well as playing games, jumping in the inflatables provided by A Jump'n Good Time, and live music from DJ Greedy.
LEAP Site Lead Dorlisha White spearheaded the event with the help of Martha Witherspoon of the Housing Authority.
«Read the rest of this article»