Topic: Leslie Harrison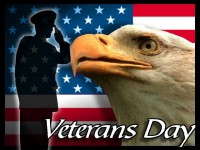 Cunningham, TN – On Friday, November 9th, 2012, Montgomery Central Elementary School held their 2nd annual "Veteran's Day Celebration" to salute our Military in honor of Veteran's Day. All of the students participated in the event with group performances as well as grade level performances.
The celebration started at 9:00am in the MCES gymnasium. Several veterans and current members of the Armed Services were on hand to be honored. The students were wearing lots of red, white and blue colors.
«Read the rest of this article»
As part of the ongoing Christmas Festivities in our area, the Montgomery Central Elementary School's Honor Choir performed at Borders in Governors Square Mall on Monday evening.
The Honor Choir is a group of students in grades 3-5 who are selected in an audition at the beginning of each school year. The choir performs at all school programs, and has been featured in of performances at Governor's Square Mall and the Rivers and Spires festival. The MCES Honor Choir will open their Christmas program showcasing the 5th grade class on Thursday night, December 17th at 7:00 p.m in the MCES Gymnasium. The event is free and open to the public.
A video used to be embedded here but the service that it was hosted on has shut down.
«Read the rest of this article»