Topic: Lon Chaney

Clarksville, TN – On November 22nd, 2012, around 3:00am, Clarksville Police Officer Sven Szczerbiak spotted a Saturn Ion at the intersection of Madison Street and Richview Road which was stopped at a green light and not moving.
When he checked on the driver of the vehicle, Logan Blakeley, was found passed out and the engine was running. Once Blakeley was awake, the officer could smell alcohol, found Blakeley slow to react to instructions, and was unsteady on his feet.
«Read the rest of this article»

Clarksville, TN – On February 16th, 2012, around 9:00pm, Clarksville Police officers were called to 171 Wallace Boulevard for a welfare check of the children living in an apartment.
Officer Jeff Danault arrived and contacted the residents, Aaron Miller and Caroline Gregory. He could smell the odor of marijuana coming from inside of the apartment. When officers entered the residence, they found almost a quarter pound of marijuana, pills, drug paraphernalia and a partially burnt marijuana cigarette and a blunt.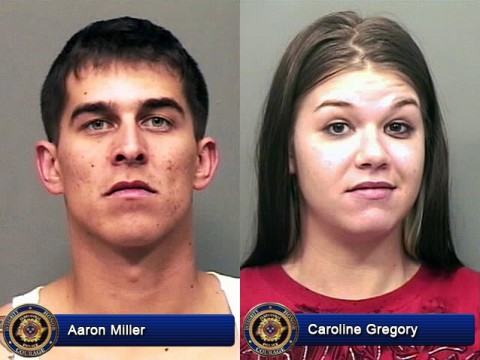 «Read the rest of this article»