Topic: Mark Green
Tennessee State Representative Joe Pitts chosen by peers to serve as Secretary of the Tennessee Legislative Veterans Caucus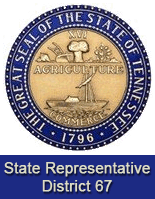 Nashville, TN – House Bill 800 (Rep Joe Pitts, D-Clarksville)/Senate Bill 56 (Sen Mark Green, R-Clarksville) would authorize students who are members of the National Guard or a Reserve unit of a branch of the United States military and who are eligible for the Tennessee Promise Scholarship, but cannot enroll in college in the fall term immediately following completion of high school due to certain military commitments, to enroll in the first term beginning after completion of such commitments without losing eligibility for the scholarship.
The bill passed the Education Administration and Planning Full Committee on Tuesday, March 10th and is currently in Finance, Ways and Means.
«Read the rest of this article»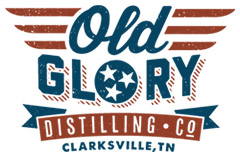 Clarksville, TN – Construction of the Old Glory Distillery has begun on Alfred Thun road and the President of Old Glory Distilling Co., Matt Cunningham shared designs, future products and his motivations to start the project in a presentation at the Hilton Garden Inn, Friday, February 6th.
Several people including Tennessee Senator Mark Green and the Executive Director of the Clarksville Convention & Visitors Bureau (CVB) Theresa Harrington were in attendance and spoke along with Cunningham at the event.
«Read the rest of this article»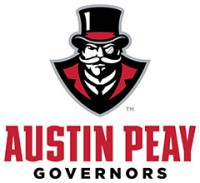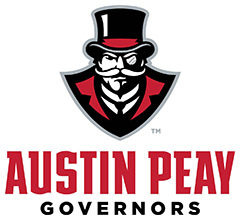 Clarksville, TN – On Saturday the community gathered on Austin Peay State University to attend the ceremonies opening the brand new APSU Governors Football Stadium. The new world-class facility replaces a 68 year old stadium originally built in 1946 as the Clarksville Municipal Stadium.
The new stadium cost $19 million, and has four levels, with most of the offices and dressing rooms, as well as a training room, on the first floor. On the second floor, there will be meeting rooms and an additional weight room. Fans on levels 3 and 4 will find the amenities of club seating and skyboxes – new features to the stadium. The skyboxes are tiered stadium-type seating with up to 22 seats per viewing room. In addition, each skybox has a bar with locations for bar stools, tables and chairs to seat four to six people.
«Read the rest of this article»

Clarksville, TN – The Clarksville Area Chamber of Commerce is pleased to announce the 2014-2015 Chamber Board of Directors.
The Chamber elects new leadership each fiscal year, with the fiscal year running from July 1st, 2014 to June 30th, 2015.
«Read the rest of this article»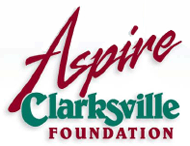 Clarksville, TN – On Monday evening, Dr. Mark Green and Joe Pitts announced that the Aspire Clarksville Foundation had garnered nearly $4 million in pledges, surpassing the current goal, and previous campaigns, by a wide margin.
Aspire Clarksville, an economic development foundation to benefit Clarksville-Montgomery County, Tennessee, officially announced in February that the goal for the entire Aspire V "Focus On The Future" Campaign was $3.8 million.
«Read the rest of this article»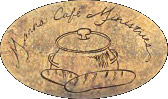 Clarksville, TN – Manna Café Ministries is holding "Grits and Gravy," a fundraiser breakfast sponsored by Align MD and Riverview Inn, on June 19th from 7:00am to 9:00am at Riverview Inn (50 College Street).
Guest speakers will include Tennessee State Senator Mark Green and State Representative Joe Pitts. «Read the rest of this article»
Montgomery County, TN – On Tuesday, May 27th, Tennessee State Senator Mark Green presented Emergency Medical Services A-Shift with Proclamations from the State of Tennessee, along with state flags that have flown over the Capitol, for their heroism that he recently witnessed on an accident scene.
«Read the rest of this article»
Clarksville, TN – It is a solemn occasion when a nation gathers together to honor its soldiers, those who lived to come home, but even more importantly those who did not. The body of U.S. Army Staff Sergeant Lawrence Woods was buried in Arlington National Cemetery on March 21st of this year. There are 27 remaining missing POW/MIA's from the State of Tennessee. Each one was honored in a ceremony held in front of the William O. Beach Civic Center at Veterans Plaza in Clarksville Tennessee on Sunday evening.
The Vietnam Veterans of America, Chapter 396 holds this Memorial Day Vigil each year to remember the men and women who were left behind in Vietnam when American forces left that country in 1975.
«Read the rest of this article»
Written by Joe Pitts
Highlights of the session includes legislation to address Methamphetamine production, Education and a Balanced Budget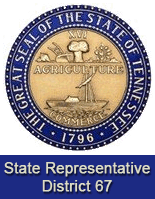 Nashville, TN – The second session of the 108th Tennessee General Assembly ended with a whimper on Thursday, April 18th, 2014, as the members of the House of Representatives and Senate adjourned sine die for the year.
The annual session started out with great promise in improving the lives of Tennesseans, and mostly met those expectations with a few exceptions.
This is part two of the series discussing the session's opportunities and challenges.
«Read the rest of this article»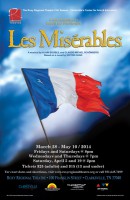 Clarksville, TN – the Roxy regional theaters currently staging their production of the Victor Hugo Classic Les Misérables. Called Epic, grand and uplifting, Les Misérables has captured the hearts of audiences around the world with its powerful affirmation of the human spirit. The Musical is running through May 10th.
Will Sevier stars as the noble Jean Valjean, who has been released after 19 years of unjust imprisonment in pre-revolutionary France, only to find nothing in store for him but mistrust and mistreatment. Breaking his parole in hopes of starting a new life, he initiates a life-long struggle for redemption during which he is relentlessly pursued by police inspector Javert (played by Donald Groves), who refuses to believe criminals can change their ways.
«Read the rest of this article»