Topic: McGregor Park
'Christmas Around the World' leads big list of City activities
Clarksville, TN – Celebrate "Christmas Around the World" and cheer on Coach Will Healy, architect of Austin Peay State University's amazing 2017 football success, at the 58th Annual Clarksville Christmas Parade beginning at 5:00pm Saturday, December 2nd in Downtown Clarksville.
Healy, whose Governors gift-wrapped an 8-4 turnaround season for fans, will be this year's grand marshal. He'll be surrounded by an array of floats and parade entries embracing the "Christmas Around the World Theme" through music, dress and decor.
«Read the rest of this article»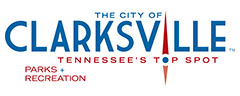 Clarksville, TN – Clarksville's McGregor Park RiverWalk was filled with music, dancing, and fans of Santa & Mrs Claus at Tuesday's official lighting of the city's 2,000,000 light holiday display.
Christmas on the Cumberland kicked off its 19th year with a grand opening ceremony that began at 5:30pm.
«Read the rest of this article»
Grand opening to feature official lighting of holiday display and special guests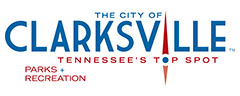 Clarksville, TN – The City of Clarksville's Christmas on the Cumberland is sure to create lasting memories this holiday season as thousands experience the captivating display of more than two million lights.
Join with friends and neighbors to celebrate Christmas on the Cumberland's 19th year with a grand opening ceremony at 5:30pm, Tuesday, November 21st, 2017 at the McGregor Park RiverWalk and Museum.
«Read the rest of this article»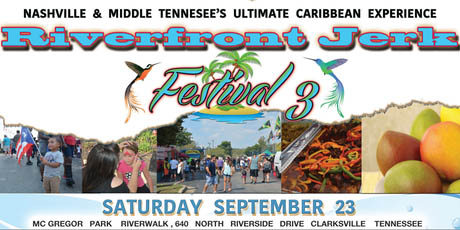 Clarksville, TN – Riverfront Jerk Festival 3 took place this past Weekend at McGregor Park, and organizers estimate this year's crowd topped 3,500 people.
Billed as the Nashville/Clarksville Metropolitan Area's Caribbean music and food festival. The 3rd annual one-day event featured more than two dozen food and craft vendors from as far away as Atlanta and Florida, representing many Caribbean islands.
«Read the rest of this article»
City of Clarksville welcomes South Korean visitors
Clarksville, TN – An 11-person delegation from Gunpo, South Korea, recently completed a Sister City visit to the City of Clarksville that included tours of City facilities, a local factory and visits to RiverFest and local entertainment venues.
In 1999, Gunpo and Clarksville both approved an agreement establishing a Sister City relationship, designed to expand cultural understanding and cooperation.
«Read the rest of this article»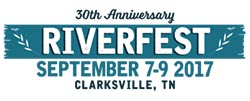 Clarksville, TN – Riverfest 2017 is shaping up to to be one of the most successful of recent years, (based on attendance) according to Clarksville Parks and Recreation's Robert Rayburn.
"We hear from a lot of people that say we are limited by McGregor Park," Rayburn said. "I think the success of this weekend shows that we can do more. We want this event to keep growing and improving."
«Read the rest of this article»

Clarksville, TN – LST-325 opened for tours in Clarksville on Thursday, September 7th, 2017 at the McGregor Park Boat Ramp. The ship will be available for tours September 7th-15th.
The LST (Landing Ship, Tank) is a floating monument to the past. The ship was used in various missions in World War II including the invasion of Sicily and the Normandy invasion. Visitors are able to climb aboard and explore the ship as the crew provides a glimpse into her past.
Military enthusiasts, history buffs, and school groups will learn how it was instrumental in battles dating back to World War II.
«Read the rest of this article»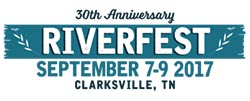 Clarksville, TN – Sunny and pleasant weather is forecast Thursday through Saturday for Clarksville's Riverfest Celebration, offering a welcome change from last week's storms and flooding.
Heavy rains swept through Clarksville early Friday, pushing the Cumberland River to flood stage, covering McGregor Park's two outdoor stages and forcing Clarksville Parks and Recreation to close the park.
«Read the rest of this article»
Clarksville, TN – Trees and power lines were knocked down by high winds late Thursday and early Friday across the city, while heavy rains forced water over roadways in some low-lying areas.
Emergency management officials said Clarksville saw from 6 to 7.5 inches of rain overnight, and winds with gusts up to 44 mph. The rain was pushing the Red River and the Cumberland River to flood stage. Localized flash flooding was occurring along the creeks and streams that flow into the rivers.
«Read the rest of this article»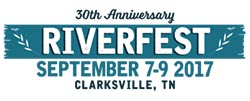 Clarksville, TN – Join the City of Clarksville and Budweiser along the banks of the Cumberland River to celebrate Clarksville's river heritage and the 30th anniversary of the annual Riverfest Celebration, September 7th-9th, 2017.
This free, three-day music and arts festival features three stages of diverse local and nationally known entertainers and cultural groups, plus delicious food and fun for the entire family.
«Read the rest of this article»