Topic: Medal of Honor recipient
Written by 5th Special Forces Group (Airborne) Public Affairs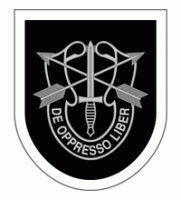 Fort Campbell, KY – Soldiers, families and friends from 2nd Battalion, 5th Special Forces Group (Airborne), also known as The Legion, gathered together on the morning of September 22nd, 2012, to pay tribute to a veteran and former member of the unit.
The tribute was in the form of the newly dedicated battalion operations complex, now named Beikirch Hall, for 2nd Bn., 5th SFG (A), in honor of Mr. Gary Beikirch, a Medal of Honor recipient.
«Read the rest of this article»
The following is a salute to a fallen veteran of the Vietnam War. In honoring his past exploits and his passing, honor is given at once to all who have worn, are now wearing, and will wear the uniforms of US Military Services.  Rest now, Brother. Day is done.
You're an 19-year-old kid. You're critically wounded, and dying in the jungle in the Ia Drang Valley, November 14, 1965,  LZ X-ray, Vietnam.  Your infantry unit is outnumbered eight to one, and the enemy fire is so intense from 100 or 200 yards away that your own Infantry Commander has ordered the MediVac helicopters to stop coming in.
You're lying there, listening to the enemy machine guns, and you know you're not getting out. Your family is half-way around the world, 12,000 miles away, and you'll never see them again. As the world starts to fade in and out, you know this is the day. «Read the rest of this article»