Topic: Mississippi

Nashville, TN – Tennessee Attorney General Herbert H. Slatery III has joined a coalition of 20 States asking a federal district court in Texas to hold the Affordable Care (ACA) unconstitutional and to enjoin the entire law.
"The lawsuit filed today explains that in 2012 in NFIB v. Sebelius the U.S. Supreme Court narrowly upheld the core provision of the ACA—the individual mandate—because the Court viewed ACA's penalty for not complying with the individual mandate as a 'tax'", said Attorney General Slatery.
«Read the rest of this article»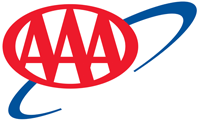 Tampa, FL – The national gas price average has been steadily decreasing for nearly two weeks dropping from the year-to-date high of $2.61 (on February 5th) to today's national average of $2.53.
Motorists in nearly every state are paying less on the week with Midwest and Southern states seeing the largest price drops at the pump. Hawaii (+2 cents) and Indiana (+1 cent) were the only states to see increases.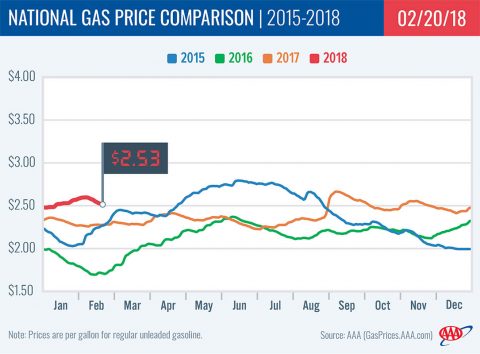 «Read the rest of this article»
#19 Tennessee Vols at Ole Miss Rebels
Saturday, February 24th, 2018 | 12:00pm CT
Oxford, MS | The Pavilion | TV: SEC Network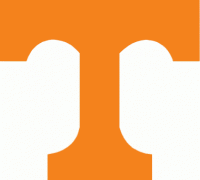 Oxford, MS – No. 19 Tennessee will play its first of back-to-back road games on Saturday, February 24th taking on the Rebels at The Pavilion at Ole Miss. The game will tip at 12:00pm CT and will be televised live on SEC Network and streamed online via WatchESPN.
The Vols (20-7, 10-5 SEC) are coming off their 20th regular-season win of the year, the first time achieving that mark since 2009-10 (23), after defeating Florida at home on Wednesday night. Admiral Schofield and Grant Williams fueled Tennessee's offense, combining for 39 of UT's 62 points (63 percent) in the matchup. Williams, who finished with game-high 23 points, scored 11 of UT's final 18 points. Schofield chipped in 16 points.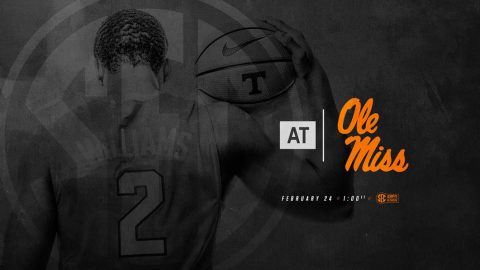 «Read the rest of this article»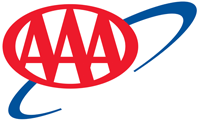 Tampa, FL – At $2.58, the national gas price average has decreased for the first time week-over-week this year. Today's price is 3 cent less than last week, 6 cents more than a month ago and 30 cents more than a year ago. Motorists can find gas for $2.50 or less at 53 percent of gas stations across the country.
"Gas price averages are less expensive for 78 percent of states compared to last Monday. Motorist filling up in the Midwest, South and East Coast are most likely to see the positive change at the pump," said Jeanette Casselano.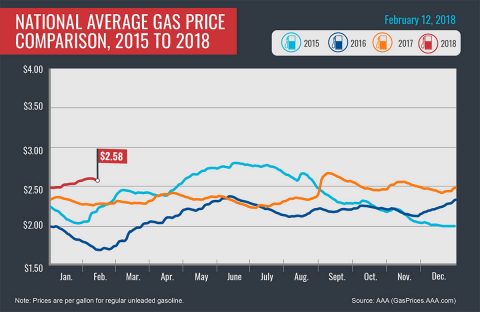 «Read the rest of this article»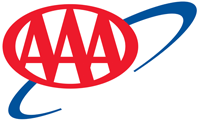 Tampa Bay, FL – At $2.58, the national gas price is four cents more expensive on the week. Across the country, motorists in 47 states and Washington, D.C. have seen pump prices increase as much as 9 cents with the Great Lakes, Central, South and Southeastern states seeing the largest increases.
The Energy Information Administration (EIA) reports an increase on the week in gasoline demand and inventories.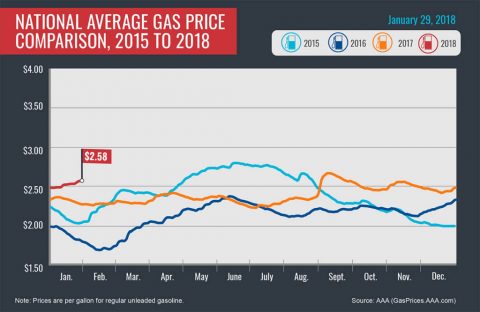 «Read the rest of this article»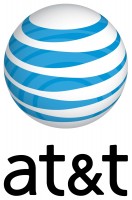 Nashville, TN – AT&T* has expanded internet access in communities throughout Tennessee to better serve those in rural and urban areas alike.
As part of our FCC Connect America Fund commitment, AT&T has deployed high-speed internet service to rural and underserved locations in parts of 51 counties serving more than 37,000 Tennessee locations.
For much of this rural deployment, AT&T is using its Fixed Wireless Internet service. Launched in Tennessee in June of 2017, this innovative service delivers an internet connection with download speeds of at least 10Mbps and upload speeds of at least 1Mbps to homes and small businesses.
«Read the rest of this article»

Clarksville, TN – Clarksville Police are trying to locate Eddie Coburn who has an active Custodial Interference warrant (Felony).
Eddie Coburn violated a parenting plan agreement, in which, he was not supposed to remove Evahan Coburn, age 1, from the state without the mother's permission.
In October 2017, Coburn was given permission to take the child to Memphis, but was supposed to return the child a few days later.
«Read the rest of this article»

Clarksville, TN – After snow and ice delays, Urgent Team, one of the Southeast's largest independent operators of urgent and family care centers, has finally opened in Clarksville at 1690 Fort Campbell Boulevard in front of Walmart.
«Read the rest of this article»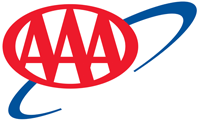 Tampa, FL – Gas prices jumped four cents on the week landing today's national average at $2.53. According to the Energy Information Administration (EIA), gasoline demand increased 164,000 bbl on the week to register at 8.8 million.
The demand measurement is the highest demand for the first EIA report of January since 2011. The demand increase is a contributing factor to this week's higher pump prices.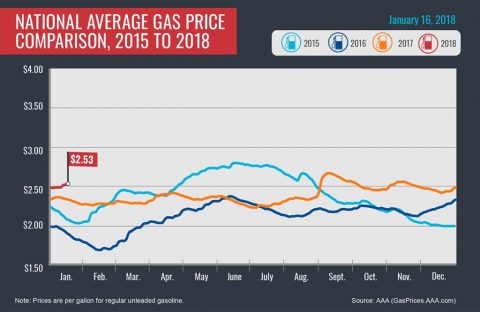 «Read the rest of this article»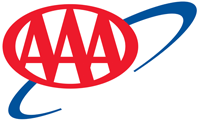 Tampa, FL – The national gas price average has held steady at $2.49 for nine straight days.
Many motorists across the country are seeing more expensive gas prices at most six cents on the week, while prices are cheaper for a select few states: Indiana (-10 cents), Ohio (-7 cents), Michigan (-6 cents), Kentucky (-4 cents), Illinois (-2 cents), Colorado (-1 cent), Montana (-1 cent), New Mexico (-1 cent) and Washington, D.C. (-1 cent).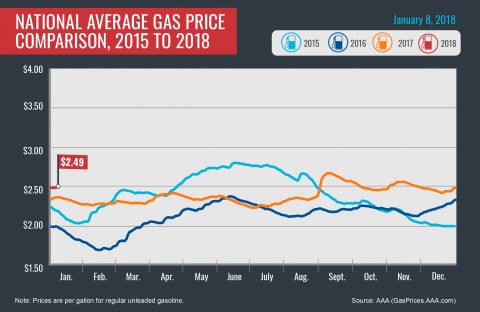 «Read the rest of this article»