Topic: MOntgomery County Sheriff's Office

Montgomery County, TN – The Montgomery County Sheriff's Office is seeking victims in a scam that was perpetrated by two arrested Wednesday.
Jonathan Stults, 23, who gave a 524 Cedar Valley address and Briana Staraugh, 23, who both gave a 524 Cedar Valley address were booked into the Montgomery County Jail on charges of theft of service. Their bond was set at $10,000.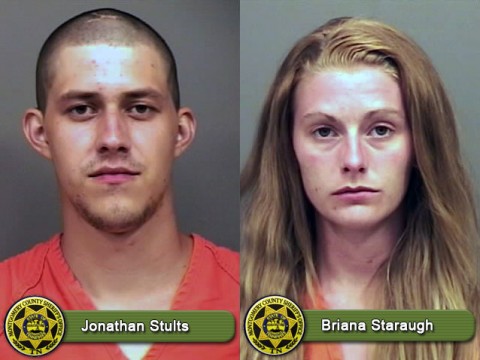 «Read the rest of this article»

Montgomery County, TN – Montgomery County Sheriff John Fuson and the Montgomery County Sheriff's Office (MCSO) is hosting the second in a series of three meetings, dubbed Community Information Exchanges, to address the concerns of the community and get feedback from citizens about activity in their particular area of the county.
This meeting will be for citizens in the communities south of the river in Montgomery County (zones 4 & 5, see graphic) and will be held at 6:30pm Tuesday, June 30th at Pleasant View Baptist Church, 1388 Cumberland Heights Road, Clarksville, TN. This includes all areas in Montgomery County south of the Cumberland River.
«Read the rest of this article»

Montgomery County, TN – Just days after her family reported her missing, a Montgomery County Sheriff's Investigator was able to track down a kidnapping victim and arrest her alleged captor.
Gary Nations, 32, who gave a Hendersonville, Tennessee address was charged by MCSO officials with kidnapping and aggravated assault. He already had warrants out for violation of probation and escape. His bond was set at $255,000.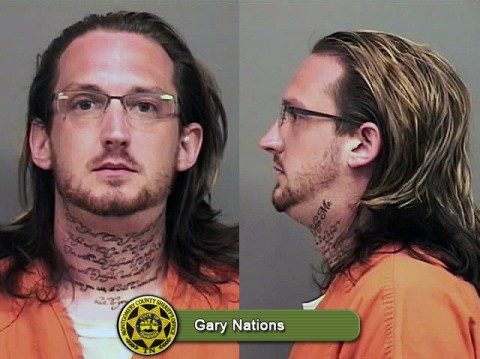 «Read the rest of this article»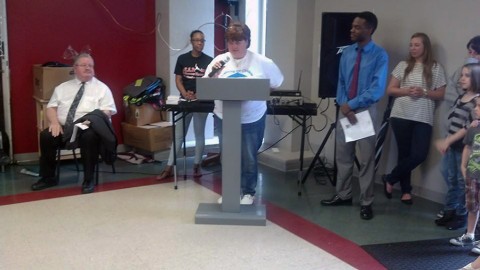 Clarksville, TN – The sixth annual Foster Care Awareness Family Day celebration was recently held at the LEAP plaza. Despite inclement weather about 450 members of the Clarksville Community gathered together to learn about foster care and learning what it takes to become a foster parent.
Hosted by the Department of Children Services, Centerstone, Health Connect, Clarksville Family Therapy, OmiVisions, Youth Villages, Mental Health Cooperative, and the LEAP Organization, the goal of this event was to create greater awareness of children in need who remain in state custody and want to become members of foster families.
«Read the rest of this article»

Clarksville, TN – On June 3rd, 2015, the Clarksville Police Department secured a Criminal Homicide warrant for Bobby Lenor in connection with the May 22nd, 2015 shooting death that occurred on the 1100 block of College Street.
Today, June 4th, 2015, Bobby Lenor is in custody after turning himself into the Montgomery County Jail at approximately 12:15pm.
«Read the rest of this article»


Clarksville, TN – This morning, Clarksville Police Officers responded to multiple vehicle burglaries at preschools or child care facilities that were all in the same area of Clarksville.
One occurred at the Village of Sango Preschool on Country Lane, two occurred at Hilldale Church of Christ Preschool on State Highway 76, and one occurred at Just For Kids II LLC Child Care Center on Ashland City Road.
«Read the rest of this article»

Clarksville, TN – State of Tennessee and local officials from both Kentucky and Tennessee took the podium to explain the upcoming roadside safety checkpoints and saturation patrols slated for Montgomery County, Tennessee and Christian County, Kentucky tonight and tomorrow night, May 22nd and 23rd.
The locations of the checkpoints will be on U.S. 41-A near the state line.
«Read the rest of this article»

Washington, D.C. – A group of Montgomery County Sheriff's deputies and a Clarksville Police officer sat around the dinner table during National Police Week last week. They first exchanged stories about Deputy David "Bubba" Johnson, but they soon found themselves discussing the devastating night they lost him.
On January 12th, 2014, Johnson was killed in a crash where his car left the roadway.
They all remember responding to the crash, unable to believe that they had lost one of their own. Some couldn't finish their stories as tears welled up in their eyes and their voices broke.
«Read the rest of this article»

Clarksville, TN – Shortly after 4:00am today, Montgomery County Sheriff's Deputy Randy Paddock was travelling South on Fort Campbell Boulevard when he smelled smoke. Paddock began checking the area and found a building behind the Starlite Lounge with flames shooting fifty feet or more into the air.
Clarksville Fire/Rescue was dispatched at 4:04am and had to pull down a locked gate to get to the structure.
«Read the rest of this article»

Clarksville, TN – A crowd of about seventy people gathered at Clarksville Police Headquarters this morning to observe Police Memorial Day and to honor the lives of those gave all for their community.
Clarksville Police Chief Al Ansley thanked those who attended and read a letter from a citizen thanking local officers for their courage and protection. He reminded the audience of the many officers who have already been killed this year and how they received so much less coverage and attention than those rare officers who are accused of misconduct.
«Read the rest of this article»