Topic: Morale Welfare & Recreation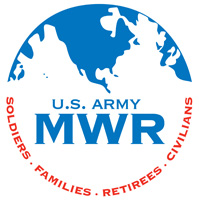 Fort Campbell, KY – Winter Wonderland featuring the Annual Tree Lighting will be held on Friday, December 5th at the Town Center Park beginning at 3:00pm and ending at 7:00pm.
Activities will include entertainment, music, games, inflatables, a photo booth, and more.
Santa Claus will be there for photos so don't forget to bring your camera!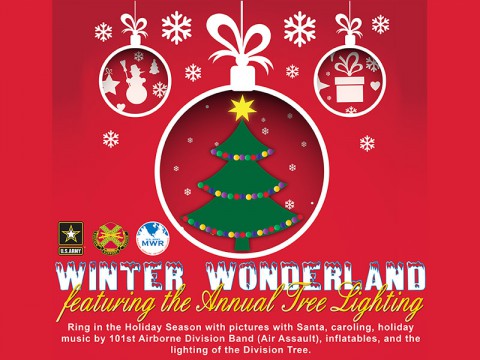 «Read the rest of this article»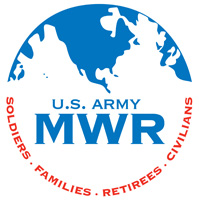 Fort Campbell, KY – Plan now to join MWR at Hooper Bowling Center for a Family friendly New Year's Eve Party.
On December 31st, starting at 8:00pm and ending at 1:00am, Hooper will be ringing in 2015 with bowling, pizza, party favors and sparkling cider.
Your group of up to eight will enjoy unlimited bowling, shoe rental, one large one-topping pizza, a pitcher of soda, party favors, sparkling cider for a New Year's toast to ring in the New Year and loads of fun! «Read the rest of this article»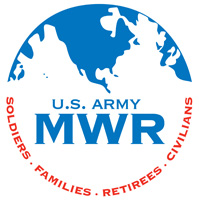 Fort Campbell, KY – The Child, Youth and School Services (CYSS) Middle School and Teen Program will hold their annual Holiday Family Feast at Taylor Youth Center (TYC) on Saturday, November 22nd.
Family activities start at 2:00pm with dinner starting at 5:30pm. This free Thanksgiving feast is open to the community. Taylor Youth Center is located at 80 Texas Avenue, Fort Campbell, KY.
For more information about the Holiday Family Feast, please call Taylor Youth Center at 270.798.6343.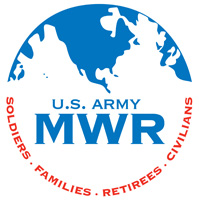 Fort Campbell, KY – Our visiting author for Brunch and a Book on November 18th will be Hannah Conway. Hannah is a Kentucky native, Fort Campbell Army wife, stay at home mother of two, and speaker who lives in Clarksville Tennessee.
She will be discussing her debut novel, The Wounded Warrior's Wife, a work of fiction exploring military relationships during and after deployment.
There will be copies of the book available for purchase if you would like to have one signed. The cost will be $10.00 if you pay with cash or check and $12.00 if you use a debit card.
«Read the rest of this article»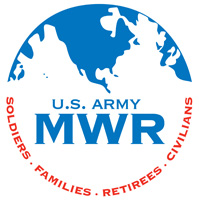 Fort Campbell, KY – Hooper Bowling Center has some exciting special activities planned for November!
As always, you can enjoy a Pizza and a Lane special on Tuesday.
Beginning at 5:00pm we offer one lane for an hour of bowling for up to eight bowlers, shoe rentals, one large one-topping pizza and a pitcher of soda (with one refill) for only $25.00. Extend your lane time an additional hour for only $14.00. «Read the rest of this article»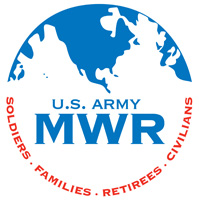 Fort Campbell, KY – There's no reason to sit around the barracks on Thanksgiving, Christmas and New Year's Day.  The Zone is open normal hours on all holidays!  We know you want someplace fun to go spend the day, hang out with friends, maybe grab a bite to eat and we're here for you.
Holiday activities at The Zone are sponsored by USAA (Title Sponsor) and University of Phoenix – Military Division (Premier Sponsor).  Sponsorship does not imply Army endorsement.  See AR 215-1, para. 11-8d. «Read the rest of this article»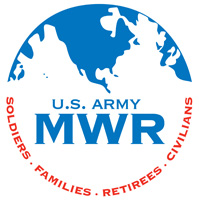 Fort Campbell, KY – Join us for a Turkey Trail Ride at Fort Campbell Riding Stables on November 15th and 16th. We will have four rides each day, at 9:00am, 10:30am, 1:00pm and 2:30pm.
Be sure to watch the trees for "turkeys" hanging on the branches while you enjoy a guided trail ride through the beautiful scenery of Fort Campbell.
Reach up and grab a turkey as you ride by because at the end of the ride there will be a drawing and the person holding the winning "turkey" will receive a free frozen turkey from the Stables. «Read the rest of this article»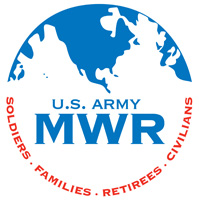 Fort Campbell, KY – Estep Wellness Center has released the November class schedule. A new month brings exciting changes and includes the following:
New instructors for the month of November include Sonya and Jess. Estep would also like to welcome back Kristen who will teach a Cycle class on Saturday, November 15th at 10:00am.
TurboKick is a new class that will be taught by Sonya on Mondays at 5:45pm and Tuesdays at 4:30pm.
Cycle will be offered at 9:00am on Mondays and Wednesdays with Journey. «Read the rest of this article»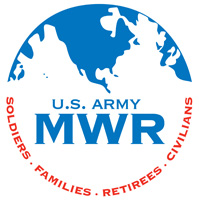 Fort Campbell, KY – Join us at Fryar Stadium on November 15th for the Culminator – the final 2014 Eagle Challenge Fitness Tour (ECFT) event. The Culminator will consist of a 10K, 5K and 1 Mile Fun Run.
First place medals will be presented to the top finishing WTU Soldier, top finishing Stroller participant, and to the overall male and overall female in both the 10K and the 5K races. First, second and third place medals will be presented to the top three finishers in each age division of the 10K and the 5K races.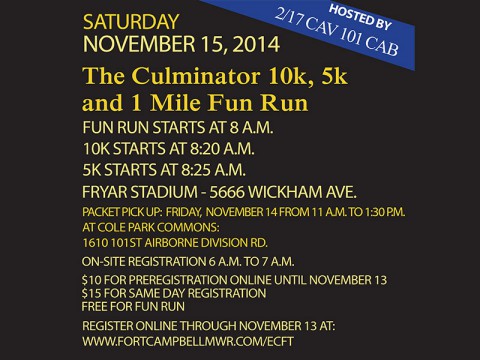 «Read the rest of this article»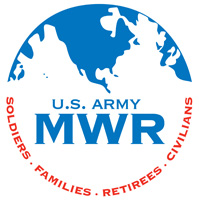 Fort Campbell, KY – Do you find the thought of building a resume confusing? Army Community Service (ACS) Employment Readiness Program is here to help with a "Resume for Results" workshop.
This class will be available on several dates for your convenience. Join ACS on November 12th or December 10th from 10:00am to 12:00pm. This class will cover the basics of how to create a Civilian resume.
For more information about Resume for Results, please call ACS Employment Readiness Program at 270.798.4412.