Topic: Northeast High School
Roadway is needed to relieve congestion in high-density section of Clarksville
Clarksville, TN – Clarksville Mayor Kim McMillan and the Clarksville Street Department urge citizens interested in a project to ease traffic congestion in Northeast Clarksville to attend a public meeting at 6:00pm Monday, October 24th at Northeast High School.
The City of Clarksville will host the meeting to discuss the project and the environmental study under way for the proposed Northeast Connector and related improvements.
«Read the rest of this article»

Clarksville, TN – Weekend badges for Clarksville's first ME2 Convention (ME2Con) are on sale now. ME2 Con is a Multiverse Entertainment Expo at the Riverview Inn in Clarksville, Tennessee on November 4th-6th, 2016.
ME2 is Clarksville's newest geek culture fan convention. The multi-day event centers around cosplay, entertainment, technology, artists and makers that has something for everyone. This convention is for makers, creators, builders, writers, cosplayers, techies, Trekkies, artists, gamers, geeks and more.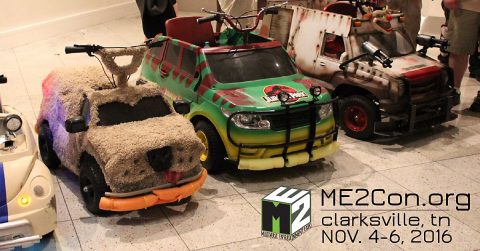 «Read the rest of this article»

Clarksville, TN – On August 18th the Clarksville Police Department launched an investigation at the request of the Clarksville Montgomery County School System involving the Northeast High School Football Team.
The investigation failed to produce sufficient evidence for criminal charges. At no time was a member of the coaching staff a focus of the investigation.
«Read the rest of this article»

Montgomery County, TN – Advanced Placement (AP) students of the Clarksville-Montgomery County School System have the chance to win a brand new car from Wyatt Johnson, technology from Premier Medical Group, gas cards from William Beach Oil Co. and free pizza from Domino's for passing one or more AP exams.
A total of 544 students, who passed 844 exams, are eligible to participate in the 8th Annual Wyatt Johnson Pass and Go event. For each AP exam students pass with a score of 3, 4 or 5, their chances increase to win.
«Read the rest of this article»

Clarksville, TN – The Clarksville Area Chamber of Commerce recognized five award winners at its 2016 Annual Membership Dinner and Gala on Thursday, June 23rd. Chamber Chairman Tommy Bates and Membership Chairman Brandi Bryant presented the following awards.
«Read the rest of this article»

Clarksville, TN – According to APSU, more than 300 former U.S. Army ROTC cadets will be inducted into the inaugural class of the Army Hall of Fame during a ceremony at Fort Knox, Kentucky on June 10th that will also celebrate the 100th anniversary of the Army ROTC program.
A 2000 graduate of Northeast High School (NEHS) in Clarksville, Gregory C. Mabry Jr. earned his Bachelor of Science in sociology from APSU in 2004.
«Read the rest of this article»

Clarksville, TN – Clarksville Police Detective Gregory Rosencrants is requesting public assistance locating a runaway juvenile.
The runaway juvenile is 16-year-old Maurice Gaines from Clarksville, TN.
Maurice was recently seen in the Northeast High School area.
«Read the rest of this article»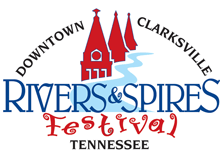 Clarksville, TN – The 2016 Rivers and Spires Festival shattered previous attendance records, bringing over 49,000 people into downtown Clarksville over the April 14th-16th weekend. This year's event was the largest Rivers and Spires to date with the 2010 Festival previously holding the record at 42,073 when the Charlie Daniels Band performed.
"The Festival definitely did what it was supposed to do; bring people downtown, promote the community and offer free family entertainment for all ages. We are very pleased with how the event went this year," said Theresa Harrington, Executive Director of Visit Clarksville.
«Read the rest of this article»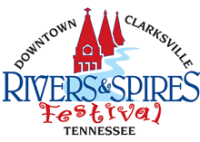 Clarksville, TN – Behind the scenes at the Rivers and Spires Festival, hundreds of volunteers invest time and energy into keeping the festival clean, safe and fun for all attendees.
In 2015, more than 300 local high school students volunteered their time in Rivers and Spires' Family Fun Zone and Toddler Town areas. In all, the students logged nearly 900 hours of service time.
Two of the participating schools were selected to win last the Mayor's Volunteer Cup Trophy in 2015 based on service hours, student participation, and attitude.
«Read the rest of this article»

Clarksville, TN – The Clarksville Police Department is investigating several vandalisms to vehicles in multiple subdivisions. Sometime in the late evening hours of March 5th, 2016 to March 7th, 2016, an unknown suspect(s) shot at several vehicles with what appeared to be BBs.
In one of the incidents, a witness heard, what sounded like fireworks, at approximately 11:00pm on March 7th, 2016 and looked out the window to see an older model gray car drive off from the area (Glenhurst Way). The observed damages included broken windows and vehicle body damage.
«Read the rest of this article»